If your office is like ours, watching a fresh batch of user testing videos is more exciting than the Mad Men premier, and usability test videos are passed around the office like dancing cat videos. While watching videos has always been fun, organizing videos, making clips and annotations, and finding that one really good video has been a bit more painful than it should be.
We've completely redesigned your account page. It's now a "Dashboard" that's going to make your life a lot easier.
1. Search -- Anything and Everything
---

Instantly search comments, user names, annotations, question text, and URLs to find the exact video you're looking for. You can easily sort and filter the results by status, rating, date and more.
2. Share With Your Team
---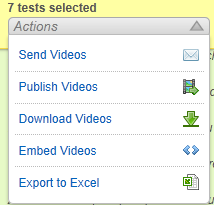 Once you've found the perfect video (or collection of videos), simply click the action bar and instantly share the joy of fresh user testing videos with your team via
Email
Publish to Web URL
MP4 Download
Embed Code
Excel Export
3. Play Tasks
---
It's like a DVR for usability tests. Go right to the task you want to watch.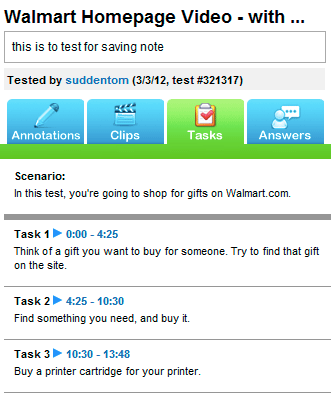 You no longer have to scroll back and forth searching for where a tester started Task 4, just choose the desired task from the new Tasks Pane and be teleported right to that section.
4. Create a Video Clip from an Annotation
---
This feature has existed for a while, but we've added a friendly reminder. When you notice something noteworthy in a video, click in the annotation text box (the video will pause and the timestamp will be recorded). Save the comment and then click the "Create Clip from Annotation" icon. Individual clips can be emailed and downloaded in a variety of formats.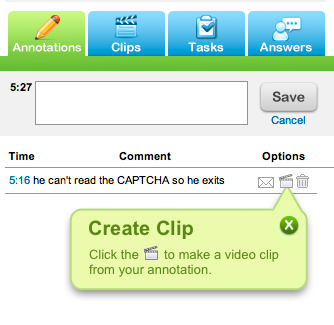 5. Categorize Results with Labels
---
Gmail style labels allow you to effortlessly organize your videos by type, project, department, client or any other schema you can dream up... Good, Bad, Ugly, etc.
Five free user tests go to the person who emails us the most inventive label set at support@usertesting.com!
5.5 Social Envy
---
If you aren't following us yet on Twitter, don't delay, follow today. You'll find epic usability fails, links to the latest research from usability experts and new product announcements. Plus, we always like to hear from you, so send us your ideas and comments @usertesting.

P.S. We're hiring! Do you know someone in Silicon Valley who'd like to work for UserTesting.com? We have lots of new job openings in development, marketing, sales, UX, customer service, and more.