As B2B marketers, we are many things when it comes to our company's success. We are lead generation machines. We are masters of Big Data. We are front-line defenders of brand. We are competition squashers. But how often do we remind ourselves that we are also Keepers of Happiness?
Prospects don't see themselves as just a number. They're looking for a solution to their problems. They need to find a way to help their employees work more efficiently. They want to look good in front of the Boss. Wouldn't it be nice if we actually helped them?
Consider who your target market is. What are the pressures for them within their role? Yes, they're buyers, but they're humans too. The sooner you can help someone accomplish their goals and address their needs, the more likely you are to close a deal. By creating an incredible online experience for your prospects, you're effectively making it easier for them to do their job. And when that happens, you'll win too.
Here are five experiences within your B2B site you should optimize.
1. Content Landing Pages
On mature B2B websites, it's very likely that first-time visits aren't always directly to the Index page. If you've got great content distribution, a vocal customer base, an active social presence, and a solid search optimization team, you need to consider multiple entry points, not just the homepage.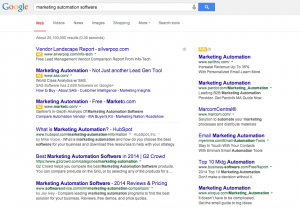 Marketo's paid ad sends people to a landing page that hosts a gated Gartner report.
Since I don't actually sell marketing automation software, I can only make an assumption that this is a pretty important landing page for Marketo. Given the competitive marketing automation space, I'd guess that these are very desirable search terms to show up for, and expensive to stay in the top 3 on Google's search results page.
While stats would tell us how many people are visiting this page, and how many are submitting their information, they aren't going to tell us what we could do to get more people to fill out the form. For that, you need to get inside the head of your website visitors by getting qualitative feedback from them.
2. Resource Section
Educational resources are a big part of many B2B content strategies. In my experience, I've found that helping people become well-informed on a topic relevant to their job or purchase decision has major benefits. Not only do people genuinely appreciate relevant information, boosting good-will, there's a possibility they'll share the content with co-workers or peers.
There's a lot we can learn from Cision's resources section—they've got a beautifully designed and easy-to-navigate website that users find helpful and enjoyable to use.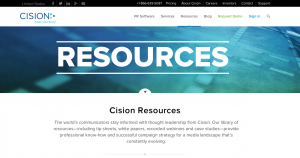 We ran a quick user test on Cision's resource section; below is a clip from a user highlighting content that particularly stood out to her.
By "watching over the shoulder" of real people, like the woman in the video above, marketers can unlock everything from new content ideas to UI changes to help people locate what they need. How companies organize their resource section could have a significant impact on user experience. Content that is easy to find, download, and share is mission-critical for marketing teams who are serious about their content (and lead generation) strategy.
3. "About the Company" Pages
When considering the purchase funnel, B2B marketers need to assume that serious buyers are going to vet a company before making a purchase decision. Establishing brand trust is vital for B2B companies. This is especially important in today's hyper-connected world, where corporate reputation travels far and wide. Knowing who the leaders of an organization are, who their clients are, and which analysts have written about them can boost trust and impress prospects. Not many business leaders are likely to endorse a company that lacks transparency and neglects their image online.
Intel has devoted a significant portion of their site to telling their story. They have invested in an entire section that highlights corporate culture, their commitment to technology, and of course the more standard executive summaries and newsroom content.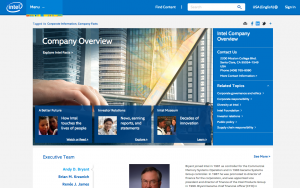 It's important for companies to tell their story and relate to others through good media. Not only will this reassure buyers (or investors) that they're making a good decision; this kind of content is often used by people who are considering employment with the company.
4. Free Trial Requests
Many marketing teams rely on free trial requests to help them meet their lead generation goals. By the time a buyer requests a free trial (or demo in some cases) you've got them on the hook. They're interested. This is a critically important step, since it is also the hand-off from Marketing to Sales.
Essentially, all of the work we as marketers do can be waved goodbye if a free trial request isn't handled well. By this, I mean the registration flow, the timing of the follow-up, and the (hopefully) seamless transition from passive to active selling. By setting up a simple, easy-to-use requesting process (like the one shown below by InVision) you're paving the way towards a solid relationship with your prospects.
Landing page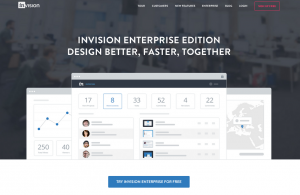 Trial request form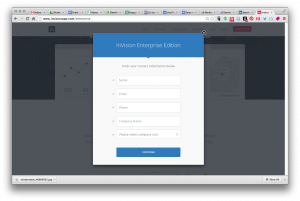 Follow-up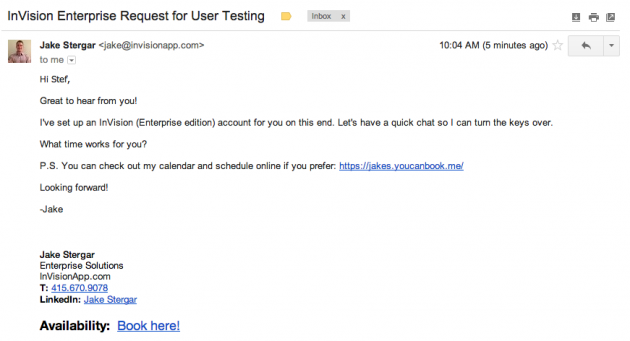 After requesting my free trial, I was sent a personal, timely follow-up email from Jake at InVision.
Great! They filled out the form! Your job is done! Or is it? You need to track the follow-through! By running a study on your entire Free Trial request flow, you will learn about what people expect to have happen, what they wish they could learn on their own, and probably some ideas for improving the marketing-to-sales handoff.
5. Pricing Page
Ah yes, the Pricing page. The debate rages on.
Do you show the prices, or require people to speak with a Sales rep to get the information they want? Do you show pricing for individual plans, and gate your Enterprise prices? Should you stop worrying so much about your bottom line, and start giving customers what they want when they want it? Or, should you follow the thinking of some of the industry's top lead gen teams, and continue gating information?
If you're trying to answer these questions on your own, you're missing some important information. Find out your prospects' expectations so you can tailor an experience that meets their needs as well as your sales team's needs.
Below you can see Atlassian's bold pricing page. No gimmicks, no mystery fees. Their approach to transparent pricing allows prospects to get all of the information they need, customize their solution on their own, and pay for it when they're ready. While this isn't a one-size-fits-all answer, it works for Atlassian's prospects.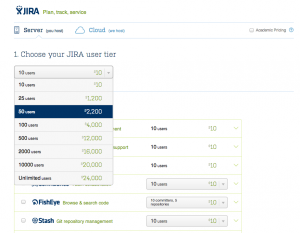 When the customer wins, we all win
We need to stop considering visitors for what they can give us (ie: location, industry, budget, phone number, company name, role) and consider, instead, what we can give them. We should consider the emotional reactions to our user experiences, and pause long enough to consider the "happiness scale" every now and then.
If marketers focus on nurturing relationships through the creation of unique, engaging, and helpful interactions on the web, we're going to come out as winners. And really, who doesn't want to be a winner?