Name: Mo (Shlomo) Goltz
Location: San Francisco
Official title: Senior Interaction Designer
Company: UserTesting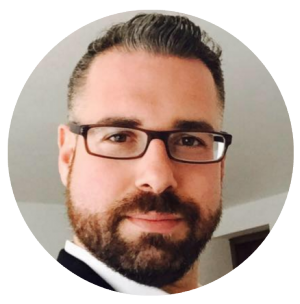 Tell us a bit about your background, and what you do for UserTesting now.
I've studied graphic design, strategic design, and ethnography which informed my work at Salesforce and Hearsay Social. At these companies, I introduced new processes and methodologies to my teams in order to be more user-centered and iterative. I also educated other departments about the impact design and research can have on the bottom line.
How do you prepare for your day every morning?
With lots of caffeine in my system, I look over my calendar to make sure I'm prepared for all meetings. On my way to work, I read a collection of design, technology, and business blogs to keep up-to-date on how these industries are evolving.
What's the first thing you do when you get to your workspace each day?
I put on my headphones, listen to my favorite Spotify playlists, and grab some cold water, and a snack to fuel my creativity.
Where do you fit into the team? Who do you interact with most on any given day?
I work on all teams in engineering and product. My partners in crime are Product Managers, whom I brainstorm, ideate, and whiteboard with almost every day. Together we challenge each other's thinking and tackle projects from different perspectives that bring light to issues that we wouldn't have thought of if working independently.
What's the best thing that's happened at work recently?
I published progress of my work on the company intranet for all to see. The feedback I received was amazingly helpful and helps other departments give their two cents on what they think from their point of view. Through sharing design work, I've gotten to know people throughout the company. Sharing and being transparent during the whole creative process has been so empowering.
What does your desktop look like? How is it organized?
I'm definitely cluttered, but there is order within the chaos that is my desk. Surrounding me are a mini-library of design literature, a sketchbook with the full regimen of drawing materials. I use two monitors, where my laptop is below my monitor. I also have an ergonomic seat to help me keep a healthy posture.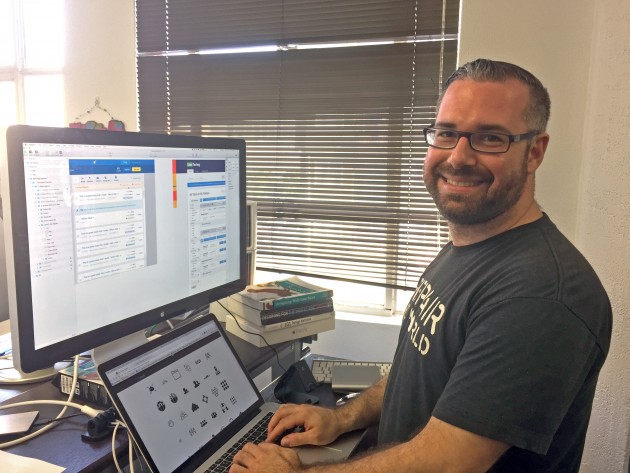 What applications do you use on a daily basis? Are there any you couldn't live without?
Sketch and Invision are my main tools. I've experimented with various prototyping tools over the years, and nothing fits the bill just yet. I use the Adobe Creative Cloud Suite as needed, but not as much as I used to. Whiteboards and sticky notes are my favorite tools in meetings and workshops. I'm also looking forward to Adobe's Project Comet to be released!
What's the #1 piece of advice you'd give to other UX designers?
Take the time to really talk to, observe, and ultimately sympathize with your users. Often designers work in the 'ivory tower' of the office and don't get to see users in their everyday environment, using the products you helped create. Part of getting to know users is partnering closely with other departments such as Customer Successes to know what's happening on the 'front lines'.
In your opinion, what's the biggest misconception about the world of UX?
I often read about companies looking for 'unicorns' who can design and code, but I don't agree with that approach. It's helpful for small teams to find someone who's a generalist, but often that's the cost of robust knowledge and experience in one area. Many people have skill sets that can go wide or deep, but very rarely both at the same time. In my experience, hiring for more specialized roles has yielded more success. Designers need to know enough about code to be dangerous, but they can also offer ancillary skill sets such as product definition and research, which are often overlooked.
Where do you go for inspiration? What are some of your go-to blogs, sites, podcasts, or books?
I look for inspiration in many ways. I certainly read tons of blogs and books about design, but I think it's more important to mention that for me, it's essential to look for new ideas in fields not directly related to tech or UX.
The reason for this is that I find creating products that are easy for users to pick up, and result in pleasing experiences, is based on matching their mental models. These models are informed by everyday experience that touch every part of life.
Keeping my eyes and ears open for thoughtful and nuanced experiences around me is inspiring. Great design is 99% invisible and bad design is painfully obvious. I try to be introspective and self-aware by asking myself why I like or dislike experiences as I go throughout my day.
I take notes on these thoughts which I see through the lens of interaction design. Good artists borrow, great artists steal, and I steal ideas and patterns from all walks of life. The more I learn about different cultures, activities, and lifestyles, for instance, allows me to draw from a disparate smorgasbord of ideas that others have come up with to make life more efficient and pleasurable.
I never know when someone smarter than me has solved a problem that's tangentially related to the projects I'm working on. Collecting a library of delightful and meaningful experiences that have affected me is a great way to think about issues with a refreshed and new perspective.
Want to know more about Mo?
You can find him on LinkedIn, Twitter, and Smashing Magazine!