It feels like a broken record at this point, and yet still worth repeating: CX is the new battlefield. According to Forrester Research, the customer experience can be broken down into three main components:
Welcome to the emotion economy
In its most recent annual CX Index, Forrester made this statement,
Emotion has a bigger influence on customer loyalty than effectiveness or ease in nearly every industry.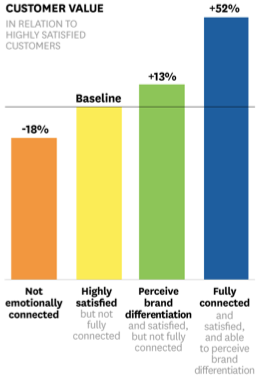 Via Harvard Business Review
This research confirms findings from a study recently published in the Harvard Business Review. They found that as customers increased their level of emotional connectedness with a brand, their value increased alongside it. And there was a massive increase in value when they reached the highest level of emotional connectedness, which was defined as fully connected. Those "fully connected customers" are 52% more valuable, on average than those who are just highly satisfied.
These emotionally connected customers buy more of your products and services, visit you more often, exhibit less price sensitivity, pay more attention to your communications, follow your advice, and recommend you more. They are your biggest advocates. In other words, emotional connections have a business impact.
Making emotional connections at scale
Businesses recognize the importance and value of making emotional connections at scale through AI. As a result, we are seeing the beginning of what is coming to be called the "emotion economy," a range of interconnected software and services which seek to fulfill the promise of emotionally-aware machines. One market research firm recently forecasted the global affective computing market will grow from $9.3 billion in 2015 to $42.5 billion by 2020.
Can AI truly understand, empathize, and emulate emotion?
According to VP of IBM Watson Stephen Gold, Watson can "generate a psycholinguistic profile of an individual in literally milliseconds." Such applications can factor in emotion, tone, language, sentiment, purchase history, and social media stats.
But in order for machines to really take the next step in becoming trusted—which is a critical bridge to cross in developing new and loyal customers—they need to be able to understand and emulate human emotion.
Emotion AI drives business results
While it will likely be a while before machines can produce realistic, real-time empathy, we're already designing and delivering AI-driven experiences that require emotional understanding and emulation to be successful.
Take The North Face for example. The retailer now has a site that greets shoppers with questions and responds with context-driven coat recommendations. This conversational interface, powered by IBM Watson, mimics a personal shopper providing recommendations based on the customer's specific needs.
And The North Face has seen business results from this AI-driven experience. According to Cal Bouchard, The North Face's VP of Digital Commerce & Experience,
Shoppers who use the AI tool convert more often than those who do not. And the average order value is a mid-double-digit percentage better for shoppers who use AI compared to average shoppers...
Get human insights to inform emotion AI design
Before taking the leap, it's important to put these AI experiences in front of real people to ensure they solve a problem, and work as expected – and not just to jump on the bandwagon (e.g. see how helpful the Amazon Echo and Google Home were for 100 people during the holidays!)
We recently gathered feedback from shoppers using the North Face jacket recommender (clip below). After going through the study, and performing common online shopping activities with the tool, the participant remarks, "This is actually fast-tracking my shopping experience." Clearly, this experience provided value to this shopper.
Compare that to the experience of a shopper using a similar recommendation tool on the Levi's website. After a clunky "conversation" with the bot, the shopper was confused by a tool that was supposed to streamline a fairly common browsing and purchasing experience.
The future of affective computing is promising, but as you can see with these two examples, implementation is key. Companies can't scale AI-driven experiences without truly understanding and empathizing with customers. Otherwise, they run the risk of developing an experience that evokes the wrong emotion or doesn't react appropriately to people's responses—which ultimately results in unhappy customers and less-than-ideal business results.