The three largest U.S. banks–Bank of America, JPMorgan Chase, and Wells Fargo–have seen a gradual decline in growth of active mobile banking users (BI).
To find out WHY, we conducted the third installment of the UserTesting CX Index Series: the Banking Mobile Customer Experience (CX) Index, a competitive benchmarking study comparing the mobile app CX of BofA, Chase, and Wells Fargo.
Hundreds of mobile banking customers evaluated the banking apps based on five factors—Ease of Use, Speed, Credibility, Aesthetics, and Delight.
Key findings
I love the Bank of America app and love how much time it saves me. I'm able to get things done much more quickly than if I had to go to the bank or ATM and MUCH better than if I had to call Bank of America.

–Bank of America customer, 45 yrs old
Overall lowest-rated banking app was Wells Fargo,

due to customers having extreme difficulty navigating to their monthly online statements.

Aesthetics was the highest-scoring factor

, due to all the bank apps' overall modern, attractive, and professional-looking visual branding.
I like the color scheme; it's simple and bold at the same time. I particularly like the gray [background] for the account balances, which make them easy to see, even in the dark.

–Wells Fargo customer, 42 years old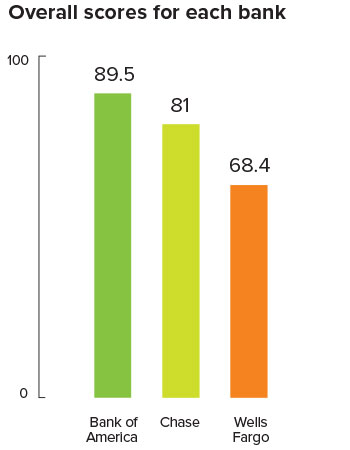 Big opportunity: Make fraud alert setup easy
The last finding is critical. Setting up fraud alerts was no simple task across all the banking apps, yet 44% of U.S. consumers rate banking fraud as their biggest concern in life (FICO).
Interestingly, despite most customers' challenges with setting up fraud alerts, the most frequently-cited reason for high credibility ratings was the numerous security features provided by each app. Many noted that just having those options made them feel "safe" or "secure" while using the apps.
Because items were in a place where I expected them to be, it makes it feel as though the company put time and energy into making a trustworthy product.–Chase customer, 33 yrs old
While having security options boosts credibility, making sure they work can make or break the experience. What's more, the incentive for banks to drive greater digital engagement directly impacts their bottom line. Bain found that every time a customer calls or visits a retail bank, it costs the bank $4; however, if that same transaction can be completed via a mobile app, it costs only 10 cents.
One task away from a delightful—or dreadful—experience
According to Forrester Research's US Banking Customer Experience Index, 2017, "Angering your customers isn't as harmful to their loyalty as making them feel annoyed, disappointed, or frustrated."
Consistent with Forrester, our study revealed an important lesson. If not for a single, simple task—viewing a past statement—Wells Fargo may have rated much better with customers. The frustration and annoyance customers felt while attempting to complete this task negatively impacted their perception of the entire experience.
The key to delighting customers comes from continuously gathering human insights. Understanding where to assist or delight banking customers in their journey will empower banks to provide them with an experience that exceeds expectations—and ultimately benefits their bottom line.
Learn more
For more consumer insights to improve the mobile banking customer experience, check out the complete Banking Mobile CX Index.