Black Friday is right around the corner, and you know what that means—shopping and tons of it. Black Friday has become just as much of a holiday tradition as turkey and stuffing. Thinking about Black Friday usually elicits images of bleary-eyed shoppers lined up outside stores preparing for the inevitable human stampede to snatch up a great deal, while impulsively grabbing anything that looks remotely gift-able.
To learn more, UserTesting conducted a small study with 25 consumers throughout the United States. We asked consumers to share their Black Friday shopping rituals to better understand whether one of the biggest shopping days of the year is really as chaotic as its reputation implies.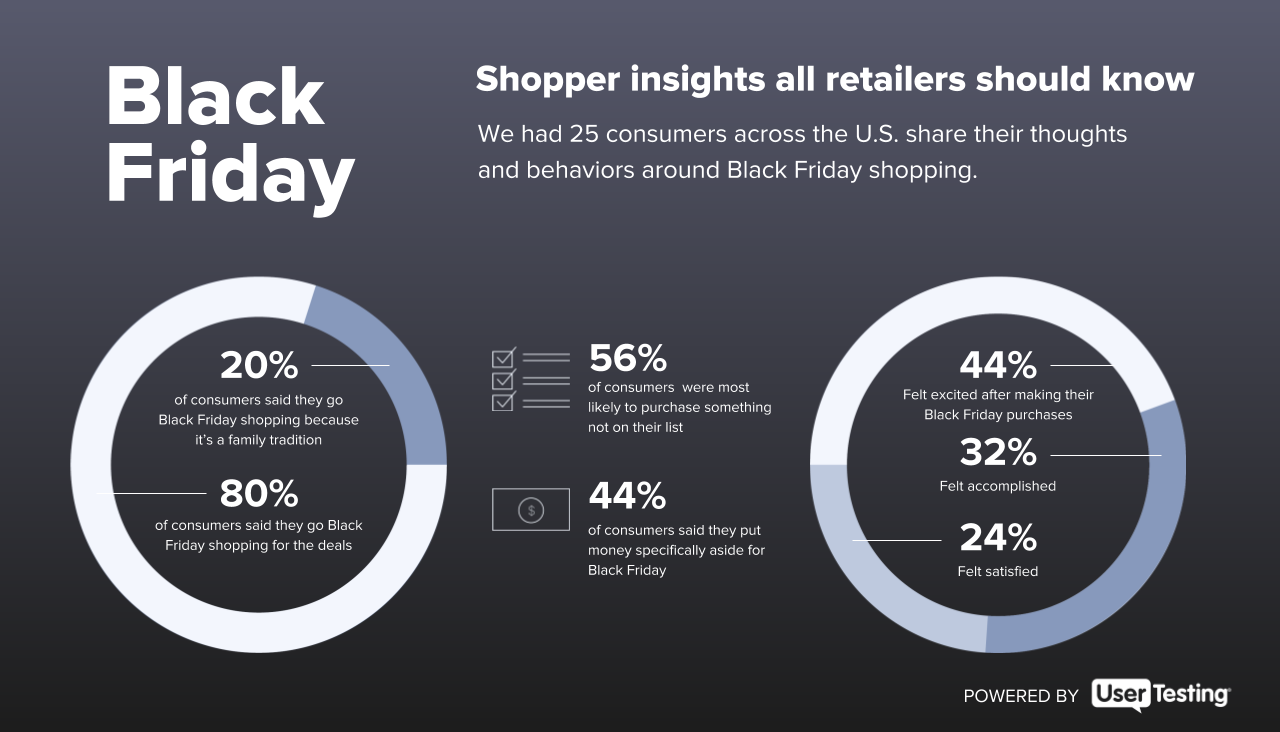 Deals, deals, deals
We wanted to find out what's driving people out of their warm beds and into the stores at all hours of the day and night—some stores actually open on Thanksgiving night to get a jump on sales.
Not surprisingly, 80% of consumers said they go Black Friday shopping for the deals. People view Black Friday as a time to get the majority of their holiday shopping done. It's the biggest opportunity of the year for them to buy something on a steep discount. Many of the consumers noted that it's the best time for them to get big ticket items that they've had their eye on all year long, with some of the most popular items like electronics, appliances, and even cars being mentioned.
Consumers also use Black Friday as an opportunity to connect with their family and bond over a shared experience—20% of consumers noted this was why they shopped. Similar to the feeling of completing a scavenger hunt, they feel like they worked together with their family members to get the best deals possible.
My daughter comes in from out of town and we go out late and early. The last couple years we go on Thanksgiving Day and come home sleep and go back the morning of Black Friday. After we're done shopping, we go for breakfast together. - Female, 54 years old
It's important for retailers to make finding those deals easy to uncover especially with so much competition, but not without losing a personalized touch. Shoppers are more than just another number, by making them feel like they're a valued customer they're more likely to come back on the other 364 days. Retailers have the opportunity to turn a one day shopper into a lifelong customer.
Is it on the list?
Black Friday has earned a reputation for inspiring a lot of impulse purchases, so we asked participants if their Black Friday shopping involved a list. Who needs that when you can just browse the aisles and buy whatever your heart desires.
80% of the consumers went into their Black Friday shopping with a list in hand. We're not talking about any old list either, some had detailed lists with everything from the items they were going after, to the store's actual location, so they could be strategic about what stores they were headed to.
I'm a very organized shopper and I almost never go shopping just without a list. I have a list of stores I'm going to and what I'm getting at that store and how much it's going to cost me. - Female, 33 years old
One consumer even does some pre-Black Friday recon and goes to the stores so he can map out where the items he wants are located to make the process easier on the day of.
Now more than ever shoppers are coming into Black Friday prepared. So how can retailers assist them in their search for everything they're hoping to snag on Black Friday? Find ways to make it easier for your customers to get around and find the thing they want to purchase.
Target's list feature in their app, taps into your location to find out what store you're at so they can tell you the exact aisle the items on your list are located on. Many stores are now adopting mobile devices to quickly and easily check out customers that are paying with a card. Eliminating as many barriers as possible to help expedite the purchase process will leave your customers happy and your lines moving.
Too good to pass up
Just because shoppers have lists doesn't mean that they're not open to some occasional impulsive splurging. When we asked our consumers to rate on a scale from 1 to 5 (5 being the most likely), the likelihood that they would come home with something they didn't plan to all 100% gave a rating of 3 or higher, with 56% saying that they were most likely to purchase something that's not on their list.
So if shoppers are so prepared and know what they want beforehand, how do these impulse purchases happen? The answer is simple, it's the deals. The majority of consumers noted their reason for impulsive purchases was simply because they saw a deal that was too good to pass up.
I go with a list, but there's always that impulse buy at the end of the shopping trip. I'll see something on the shelf that is a good deal that I didn't see advertised. - Male, 41 years old
It probably helps that some consumers save up for Black Friday—44% of consumers said they put money specifically aside for Black Friday, while the rest either had a general budget or a mental cap for their overall holiday shopping. All of this allowed them to feel comfortable and in some cases, plan for those impulse purchases.
This means that retailers have a unique opportunity to create enticing deals that appeal to their target demographic. Shoppers have their must-have items, but they're also willing to be a little impulsive if the price is right. By understanding customer habits and considering their needs, retailers can offer up irresistible deals to delight their customers.
Mission accomplished
Black Friday is often depicted as a marathon and not for the faint of heart. But our study showed that consumers actually felt pretty good once they finished their shopping. 44% said they felt excited after making their Black Friday purchases, 32% felt accomplished, and 24% felt satisfied.
Many of the consumers noted that they were excited to have completed their holiday shopping by the end of Black Friday, while others mentioned that they were excited about the great deals they found for the items on their lists. Some consumers were already itching to give their gifts and couldn't wait to see the recipient's reaction.
I would say overall I feel almost excited. I like coming home with my car full [of] bags—it's almost like Christmas for adults. - Male, 33 years old
Black Friday—don't believe the hype
Overall, consumers felt like their Black Friday shopping has usually been a success. Whether shoppers are out looking for deals or just keeping their family traditions alive, it's important for retailers to create experiences that keep them wanting to come back for more.
Note to retailers: Try taking customer experience a step further beyond just making sure your return policy is generous and those customer service lines are short; find ways to make your customers feel valued in the midst of the holiday rush (hot chocolate provided while you wait in line, anyone?), they'll be grateful and more likely to return for another year of deals and shopping extravaganza.