What's for dinner tonight?
If you're like me, and the answer to that question conjures up images of a restaurant or a microwave, instead of a kitchen, services like Blue Apron offer the chance to feel like a bonafide chef. Blue Apron's mission is "to make incredible home cooking accessible to everyone" by delivering locally sourced ingredients for your dinner to your doorstep. We set out to evaluate Blue Apron's service experience, from sign up through meal preparation, with four self-identified amateur cooks. The study was divided into two portions: signing up for the service online and preparing the meal. Using the UserTesting mobile recorder on their phones, participants walked us through the unboxing of ingredients and reflected on how their dishes turned out.
Signing up
Signing up for a service through www.blueapron.com included selecting a plan, a dietary and delivery preferences, and entering payment information. All of our participants selected Blue Apron's 2-Person Plan, which included delivery of ingredients for three meals per week.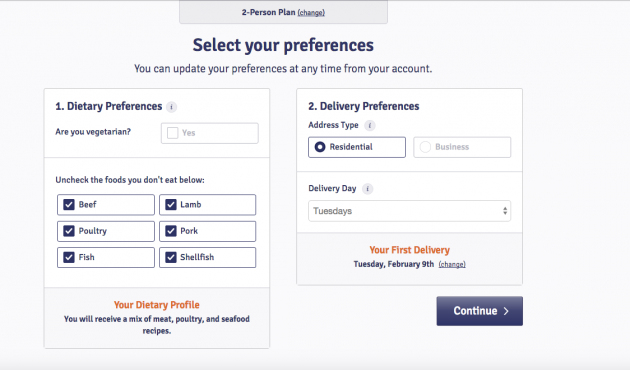 While signing up for the service, several participants hit some snags when creating their dietary profile. Dietary preferences are unique to each person. When faced with defined buckets, such as vegetarian or which kinds of meat to eat, two of our participants hesitated because their partner's preference differed from their own. If the other half in their 2-Person Plan was a vegetarian and they were not, it limited the types of recipes they could receive. They did not a see a way to account for differences in dietary preferences among people in the same plan. Choices were based on each plan (as defined by Blue Apron) and not on each person within the plan.
Unboxing
Once their package of ingredients arrived from Blue Apron, participants eagerly opened their boxes. Unfortunately for three of our participants, their Blue Apron boxes had suffered a bruising journey to their doorstep, resulting in some broken produce and dented cans, and moments of disappointment.
But bruised tomatoes and damaged squash aside, our fledgling chefs continued to examine their delivery. Participants appreciated the sticker labels, which identified each individually wrapped ingredient, and that each ingredient was portioned to the amount needed in the recipe.
As they pulled out one ingredient after the other, they referred to the included instruction card to make sure they understood what they were looking at. A blurb to explain where the produce came from excited one participant, who valued supporting local businesses.
Cooking the meal
Fast forward 30 minutes to an hour later, and all of our participants have successfully completed their meals. Proudly noting the likeness between their completed dish and the photo in the instructions, participants felt the experience overall was a success.
Although everyone was able to sit down to a meal, following the instructions posed some challenges. It took all participants longer than expected (based on instructions) to complete their meal. Being the novice cooks they were, several wanted more guidance on basic cooking skills, like how to cut different types of vegetable or what type of pots and pans to use. They admitted that they might not have the right "set up" for an optimal outcome. Two of our participants also "scrambled" for ingredients at different stages of the cooking, having followed the numbered instructions in order, instead of reading through everything at the beginning.
Even without knowing the difference between slicing a carrot jardiniere or julienne (and who does, really?), these at-home chefs in the making were willing to try Blue Apron again. Sitting down to his "Crispy Catfish with Sicilian Eggplant Caponata," one participant summed up the experience as one of empowerment:
"It took someone like me, who does not necessarily cook that much or consider himself an experienced cook, gave me a bunch of ingredients, very clear instructions, and I prepared a meal that was way beyond my ability to cook."
Conclusion
Overall, our participants accomplished their goals at each stage of Blue Aprons' experience: signing up on the website, accepting the delivery, unpackaging ingredients, and preparing their meal in spite of challenges in following instructions with their limited culinary skills. So the next time you're tasked with hosting out of town guests or want to impress a potential paramour, services like Blue Apron might make you consider the home-cooked meal. Bon appetit!