We all want to keep our brains sharp, and Lumosity and Elevate are the top two brain training apps on the market that claim to help people improve critical cognitive skills.
People over 55 are among those who could benefit from these brain training apps, but designing apps for folks over 55 isn't necessarily the same as designing apps for younger digital natives. We set out to understand how seniors would use these apps, what aspects of the apps they enjoyed, and whether or not they'd continue to use either of the apps. For this study, we recruited six participants who were over the age of 55, who had never tried brain training applications, and rated themselves as "average" for their experience with technology.
As part of the onboarding process, both apps asked participants to perform a series of tasks to help customize the app for each individual, and we observed as users completed a survey about their goals of brain improvement, played few sample training games, and registered for an account.
Introductory difficulties
Lumosity started with a set of introductory slides about how the app works and the benefits of using the app. A few participants had some initial difficulties moving on to the next slide. One user attempted to tap the circles on the bottom rather than swiping to the next page. While this interaction might have been more intuitive for a 20-year-old user, it was not as clear for this participant as it was intended to be.
Onboarding and registering
Both apps had a few tasks before users could get started, and we noticed the sequence and style of the onboarding tasks had a huge impact for the first-time users. Both apps started with several survey questions regarding what skills users would like to improve through the app.
In Elevate, users selected "yes" or "no" for six preliminary questions regarding the skills they wanted to improve. Lumosity, on the other hand, required users to answer five sets of multiple choice questions.
Some participants thought Lumosity's survey was too long and lost patience when they had difficulty understanding the questions. However, others commented that more in-depth preliminary questions indicated that Lumosity provided more training on different aspects of the brain.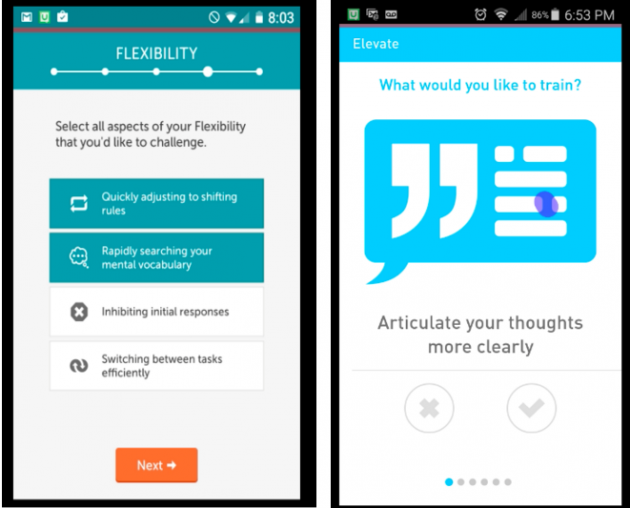 Preliminary goal tests: Lumosity on the left and Elevate on the right
Comparing the two apps, the majority of participants thought that setup was easier on Elevate because there were fewer tasks they needed to do before they could try the games.
The baseline fit test, including sample brain training games, was the most critical task for the whole onboarding process, giving users the chance to experience the core value of the app. This task came after the preliminary questions on Elevate, but it came after the account registration for Lumosity. When the participants were creating an account on Lumosity, some of them were frustrated by how some questions made a difference for their training, e.g. age, and thought the preliminary tasks were a bit overwhelming before the training. The order of these sections was important for participants' experience, and a further study could test if this pattern applies to a broader group.
In terms of registering, users preferred Elevate simply because it asked for less information upfront.
Training experience
Both apps provided a great training game experience. With the clear guidance, users didn't have many difficulties interacting with various games in either app.
So which app did the users like more? It depends.
Some users preferred Lumosity because they thought the games were much more entertaining and engaging than Elevate. These users thought Lumosity was more "fun" than the written and verbal tasks in Elevate.
One user believed Lumosity would make her sharper: "I do think it (Lumosity) will keep my mind sharper, because I do need to pay attention to things, and I will probably go back and use it a few times."
Other users preferred Elevate, and noted that it was easier to understand how the training tasks would improve their semantic thinking and writing skills.
Several participants thought the games in Elevate were more likely to actually challenge their brains.
Participants felt the games in Lumosity were just procedural tasks involving hand-eye coordination and were not training their brain. One stated "[Elevate] was more about using my mind, whereas Lumosity was more playing games and using my speed more than anything."
Most of our participants enjoyed trying out the brain training apps and were interested in continuing to use them.
Conclusion
The insights from even a small sample with the target demographic provide a glimpse into how seniors use and might benefit from these brain training apps, and some of the issues we observed may even apply to a much broader audience.
For further study, we would consider running a longitudinal study with participants on each of the two apps. As the participants used the brain training apps every day over a long period of time, we would be able to observe how they interacted with every game in the apps, and we could understand how the brain training apps impact users' day-to-day behaviors.