Meet Shadavia Jones, aka "Davey." We've been lucky to have Davey as part of the UserTesting family since 2015. Read on to learn how she went from Customer Success Coordinator to supporting our customers around the world as an Onboarding Manager.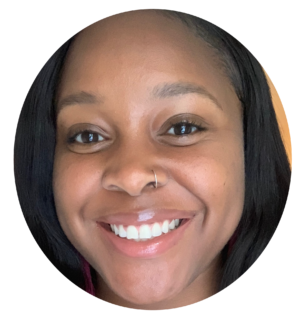 How did you hear about UserTesting, what was your first role here, and what were the first few months like?
I started out as a Customer Success Coordinator at UserTesting in 2015 after finding the job listed online. Right before I applied, I had been going through a transitional phase. I wanted to break into tech, but it was important that I found the right fit—a place that I could call home for at least the next few years.
I made a list of things that I valued in a company: a small team where everyone would know each other by name, a growing but stable company that hadn't raised too much capital too quickly, a product that I could obsess over, and a leadership team that I believed in and that gave back to the community. UserTesting checked off all those boxes for me.
My first six months took me for quite a ride. I learned a ton about UX, supported research projects for some of our largest customers, organized and led community service efforts for the entire company, and most importantly, found another family in California away from my own in New York City.
How did you then go from Customer Success Coordinator to Onboarding Manager?
One of the great things about working at UserTesting is that there's so much opportunity to deepen your knowledge and become a subject matter expert in any area of the business. For me, that's always been learning how to speak our customers' language, addressing their unique needs, and pushing the boundaries of our product to meet those needs.
No matter the situation, I always have a quick resolution, a temporary workaround, or a path to a long-term resolution. It comes back to being in the business of people first. I build relationships and establish trust with our customers.
Honing in on this trusted advisor mindset, and sometimes crisis management skill set took me from Customer Success Coordinator to Customer Success Manager to Strategic Customer Success Manager to User Research Specialist, and finally to my current role, Onboarding Manager.
How long were you a Customer Success Coordinator for and how did your next promotion come about?
I was a Customer Success Coordinator for four months, a Customer Success Manager for a year, and a Strategic Customer Success Manager for a year and a half.
In January 2018, our Chief Customer Officer created a new team that would focus on the new customer experience (CX). I was one of the two people hired to be a User Research Specialist and roll out a program that would support all new customers.
In November that same year, I was promoted to Onboarding Manager. I'm currently responsible for leading the execution of onboarding programs for East Coast and international (EMEA) customers. Since then, our team has now grown to four people.
Tell us more about what you do now
My main responsibilities are to introduce new customers and teams to the UserTesting platform, serve as an on-demand User Research expert, and ultimately help customers achieve success in the first 60 days.
Essentially, I get to hang out with my favorite brands for a few months to talk about all things UX and CX and how to bring their customers' voices to the decision-making table. I get to teach and learn from the best of the best.
What's unique about working at UserTesting?
The people! I've met so many amazing people throughout my journey here—employees and customers alike. Everyone is always willing to lend a helping hand and teach you something new. Work doesn't always feel like work, and I feel incredibly fortunate to work with some of the friendliest people and brightest minds.
What was the biggest lesson that you've learned from your time here?
Embrace mistakes. Failing fast and often is the most enriching path to success. Never be afraid to raise a red flag when something isn't working just because that's the way it's always been done. Never be afraid to pivot. The quicker you can admit that you've made a mistake, the better.
At UserTesting, you're encouraged to make mistakes and learn from them. You're empowered to roll out even better solutions as a result. In the end, it helps us all become better employees and helps our customers see the value in having UserTesting on their side.
What advice would you give to someone who was looking to grow in their career?
Take the risk. Whatever it is that you've been mulling over or has maybe given you heart palpitations, it will most likely be the most rewarding experience of your life. Do what feels "right" and not what feels "perfect". Thanks to UT, I've been able to live and thrive in 2 major cities, travel all over the U.S., and now I'm making my way through Europe. If I had been too afraid to take the risk, I wouldn't feel as confident in my craft as I do today.