Planetary, a Brooklyn-based digital development firm, was tasked with redesigning a client's mobile app to improve usability. The iOS app, HelloSign, allows users to scan, sign and send documents from their Apple devices.
With a little help from UserTesting, Planetary Co-Founder and Partner Joshua Gross and his team uncovered design flaws and improved the app's rating to five stars in the App store!
How did Planetary do it?
With budget limitations keeping their project scope small, Joshua and his team set out to identify and fix HelloSign's biggest usability issues. By running user tests, they were able to identify an important site feature that was confusing users.
Upon opening the app, users were taken to a screen that prominently featured an email and password field, as well as a large "Sign Up" button. The button to sign in could be found below, with a less vibrant, gray background.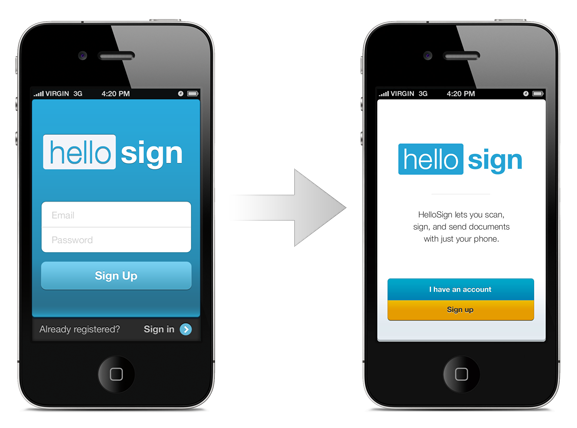 The original (left) and revised (right) welcome screens.
"The tests revealed a major problem with the authentication screens," Josh said. "It seemed to be a stumbling block because most users weren't clear about whether they were in the 'sign up' or 'sign in' state."
After identifying this issue, Planetary redesigned the welcome screen and made both options easily accessible. Once users selected an option, they were taken to a new screen that allowed them to manually enter their information or use their Google account.
Through testing and multiple design iterations, Planetary utilized UserTesting to create an experience that HelloSign users found worthy of five stars. While UserTesting provided Planetary with a budget-friendly usability testing solution, Josh said he found the most value in the quality of the results and turnaround speed.
"The results came back fast and everything was exceptionally useful," he said. "It made everything easy."