You're in a new city. You're lost, you're hungry, and you just want to get where you're going as quickly as possible. You whip out your phone, do a quick search and boom: You find yourself staring at a non-mobile friendly transit website. No fun.
Enter CityMapper to the rescue.
CityMapper is real-time transit application that aims to help you reach your destination quickly and with ease. From New York to Hong Kong, CityMapper boasts an ever-expanding catalog of international metro area maps.
But it's not just another map app: CityMapper has a slew of interesting features such as a calorie counter, for those who want to plan out a jogging route, and even a bus stop locator that lets you plan your bus route based on whichever stop is closest to you any given moment.
The app also provides travelers with real-time transit information and updates to help them avoid train delays, heavy traffic, and other issues that might slow down their commutes.
If you're ever lost in a new city, CityMapper just might help you find your way.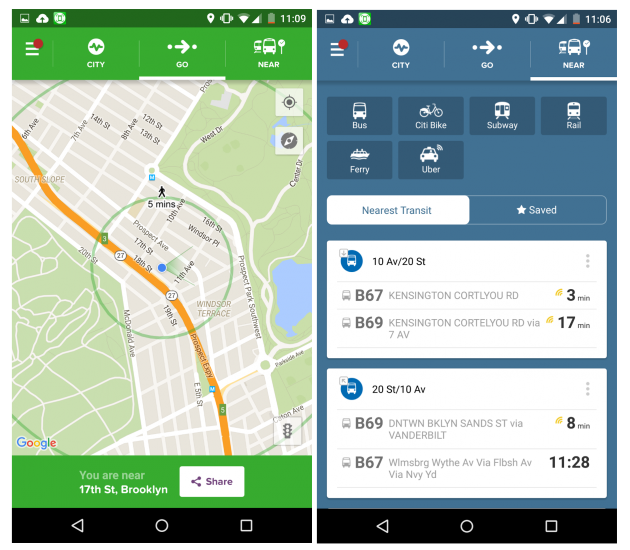 What's interesting about CityMapper?
For this study, we wanted to see if users could pick up the CityMapper app, plan a trip, and get from their current location to their destination with relative ease.
Because CityMapper provides users with a host of real-time transit information, it was important for us to attempt to capture real user experiences while they were actually happening.
With the help of our awesome mobile screen recorder, we aimed to capture accurate feedback from participants using the CityMapper app in the wild.
Setting up the study
For this study, we screened for users in the New York City Metro area by asking users to select their current city from a large list of metro areas. This was important because we needed to be sure that all of our participants were using the same version of the CityMapper app.
This test required users to go on a trip outside their homes so we could get accurate information about how people interact with the app when they're in transit. We made sure to recruit participants who were willing to record themselves planning a trip, traveling, and later arriving at their planned destination.
Lastly, a challenge we faced was making sure users could take our test in the wild and still provide audible feedback. To avoid encountering a lot of noise while the test participants were on buses and trains, we asked the users to pause the screen recorder once they were in transit. When participants arrived at their destination, they restarted the screen recorder to finish giving their impressions on the app's functionality and accuracy.
How CityMapper makes transit easy
CityMapper's impressive experience won over the users in our study.
With its intuitive user interface, it was easy for users to jump right in and start planning a trip with the app.
Once users started planning a trip, they were impressed with the real-time updates on train delays and other elements. They also liked that the updates were a part of the natural flow when planning a trip, there is an "i" icon that indicates train delays, instead of sequestered on a separate page. Participants used the updates to seamlessly avoid train delays and other potential travel setbacks.
Users were also impressed that the app fetched their GPS location and provided them with their nearest transportation options. Users easily found the closest bus stop or train station, which helped them choose the best route.
Overall, CityMapper appealed to users with accurate trip estimation and a feature set that helped them navigate quickly and accurately through the city. It's important that users stay up-to-date when traveling, and CityMapper's real-time transit information provides just that.
Even the most seasoned New York City travelers can find value in CityMapper. One user said, "This is kind of the next generation, the next evolution of [transit apps]... I've lived in New York for 16 years and don't really get excited about transportation apps, but I think so far this one has really impressed me."