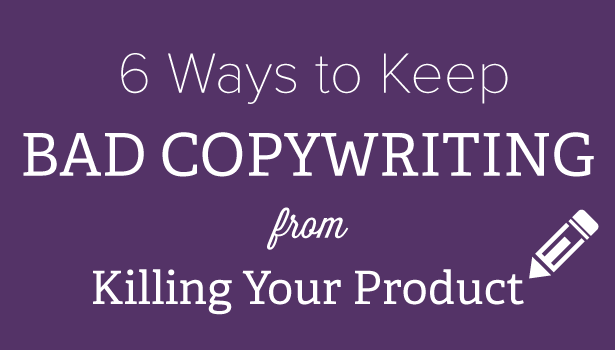 People don't read.
We strain over writing the perfect customer support emails, website copy, FAQs, and item descriptions, and they largely go unnoticed. People just don't have the attention span.
It wasn't always this way. In 2000, the average person's attention span was 12 seconds. In 2013, it was 8 seconds. Internet users typically read only 28% of words on an average web page.
If users aren't reading the ways in which your product can makes their lives better, they might not ever try it out. In that case, indifference (or ignorance) is the greatest insult.
Here are some ways in which we as product designers can fight the good fight for user attention and improve UX with better copywriting.
1. Write like an advertising agency.
This is a big one and encompasses many of the points stated below. Advertising agencies have long known how to convince a consumer to buy, and UX copywriting should be thought of in the same manner.
Every single line of text on your product has a chance to be meaningful.
While you may not be selling a product with each and every written word, you are convincing the user to give you their time. Every single line of text on your product has a chance to be meaningful.
For example, let's say I'd like to book a vacation rental in Costa Rica. I could search VRBO and "Explore over 1 million listings across our family of brands," but what do I know or care about their brands?

As the user, I don't have much reason to care about the "family of brands."
In the VRBO example, I'm told that I'm about to explore, but I'm not sure where (or which brand) I'm going to end up on. Also, why should I care about the brand? There is a lack of clarity why I should do my "exploring" with VRBO.
Alternatively, I could search on Airbnb where I can "Rent unique places to stay from local hosts in 190+ countries."

Airbnb's copy convinces me that I'm going to find what I actually want.
With Airbnb's copy, I'm compelled to search instantly (and rent from) more unique places in more countries than I can name off the top of my head. From the landing page, it's pretty clear that they'll probably have rentals in Costa Rica, and they'll be "unique," which is a powerfully persuasive word.
2. Keep it short.
We've only got 8 seconds of our users' attention---if we're lucky.
Long sentences take more time to read and are harder to process. The same goes for big/long words.
Also, keep in mind that your audience might not be reading at an advanced reading level. The average reading level of most literature given out in hospitals is at 6th grade. Instead of expecting them to come to you, meet them where they are. If you aren't sure, use sites like this readability indicator to check yourself.
3. Give the "why" instead of just the "what."
Don't tell your users what they should do without giving them a darn good reason. For example, let's have a look at UrbanDaddy.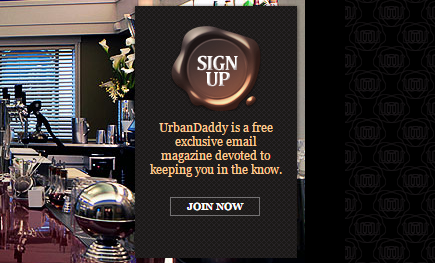 This copy uses emotional language to persuade the reader.
They probably could've gotten away with "Join now" to get their users to sign up for their newsletter (as many sites do), but they used this as an opportunity to paint the picture for the user with some emotional words that create a visual image.
UrbanDaddy says, "UrbanDaddy is a free exclusive email magazine devoted to keeping you in the know." A user can not only read that and get excited, but they can picture themselves getting this email and being happy. If you allow a user to visualize the benefit of their next action, they are more likely to do it.
Don't tell your users what to do without giving them a darn good reason to do it.
To learn more about the benefits of using powerful visual adjectives, refer to the book Cashvertising. It's got a cheesy name, but it's filled with gold.
4. Use bullet points. (See what I did there?)
Bullet points are easier to read than blocks of text.
They allow for scan-ability.
And they are just fun to use.
5. Write like your users speak.
There's nothing that says "this product can't be trusted" more than some jumbled SEO words.
If your users have a niche skill set, don't be afraid to use words that they use, even if it would seem like jargon to the average Joe.
However, as a general rule, avoid internal words and jargon. This is a tricky one, because what you write might be crystal clear to an approving colleague, but will not make any sense to a user. When in doubt, test it.
6. Don't be afraid to have fun!
Humor can be the difference between a boring site selling cheap craft supplies in envelopes and a viral site about glitter bombing your enemies. Something funny and surprising on your product could mean a shared water cooler comment (and that's cheap marketing!)
If, after all of these tips, you're still unsure if you've written good copy, put it through the mom/husband/someone not in the industry test. If you've got some niche users and that just isn't a possibility, a resource like UserTesting is great for making sure sure that your product is getting in front of the right (and less biased) people.
Keep in mind that people always read more when you are looking over their shoulder and/or recording their screen. Pay attention to any questions they have afterward, and ask yourself if they would've gotten the gist if they only read 28%.
What percent of this article did you read?