We're pleased to introduce Enhanced Metrics: visualizations of behavioral data such as click paths, page views, and other quant elements, that give customers even more information at a glance and support fast discovery of critical insights.
We know that customers love uncovering new and interesting insights from watching video clips as users interact with their websites, apps, and other experiences. We also know that customers don't have a lot of time to dig around for these findings—the proverbial needle in a haystack—when reviewing their completed tests.
So we're releasing Enhanced Metrics, as well as redesigning our existing Metrics. By presenting a high-level summary and a visually based, more intuitive view of completed tests, customers can more quickly identify patterns or outliers to hone in on the video clips most worth investigating.
The first module we're releasing in our new Enhanced Metrics displays click paths and other behavioral snapshots: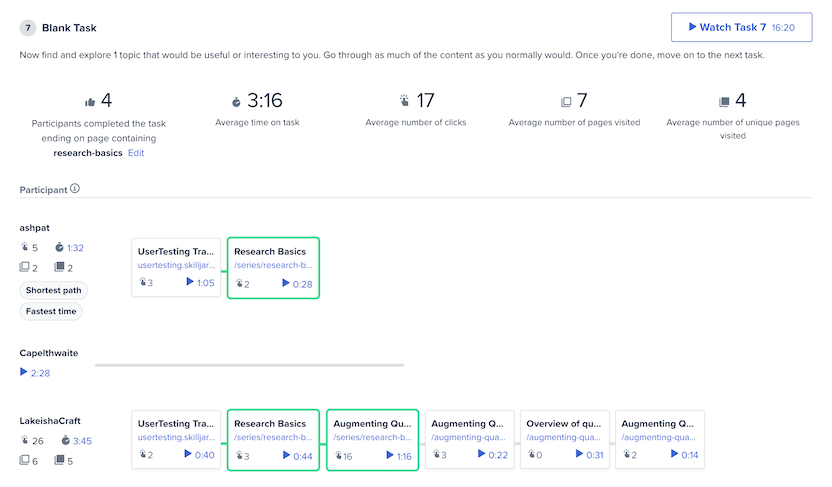 For each task, you can see the different web pages that the user visited in their effort to complete the task. You can set success criteria to instantly see (via the green highlight) whether your test participants were ultimately able to reach a success or conversion page or if they visited a specific page in their journey.
With this information as well as averages available at the top, including time on task and number of pages visited, you can immediately understand how test participants compare and use this information to prioritize viewing the clips.
For example, you may want to view test participant videos that took much longer than the average to understand the challenges they may have encountered while completing that task. Or, that tester may have shared more thoughts and opinions resulting in a longer clip, which might yield more insights or a different point of view.
Hannah Moyers, Design Researcher at IBM and Enhanced Metrics beta participant, shares,
This new feature saved us hours of analysis. Previously, we were reviewing each video individually and then tracking data across each by hand.
Moyers continued, "The value of Enhanced Metrics was being able to identify areas of struggle in aggregate, as well as quickly pinpointing anomalies when running usability tests. We were also able to begin tracking common paths when users are going through instructions or training docs—getting a broader picture of how people consume information and helping us to improve users' comprehension at every point."
In addition to releasing Enhanced Metrics, we also redesigned our existing Metrics, organizing video clips according to the tasks and questions in your unmoderated tests. By displaying clips using charts and other visuals, customers can better identify areas of interest to inform how they spend their time viewing video clips.
In the example above, you may want to prioritize investigating the one test participant that gave a rating of 1 to see why their feedback differed so greatly from the rest of the testers on this question. You'd be able to view the video clip by hovering near that part of the chart and selecting the tester who provided feedback associated with that rating.
Enhanced Metrics is available to Premium subscription customers. Our basic Metrics are available to all subscription customers.
For a more thorough walkthrough of new Enhanced Metrics watch the video below:
To learn more about our design update to standard metrics watch the video below:
Want to learn more?
If you'd like to learn how UserTesting can help you understand your customers through on-demand human insight, contact us here.