Every Tuesday, UserTesting studies a different topic to share here on the blog. We hope you'll learn some nifty research techniques and get inspired to run some insightful tests of your own. Enjoy, and check back in next Tuesday!
---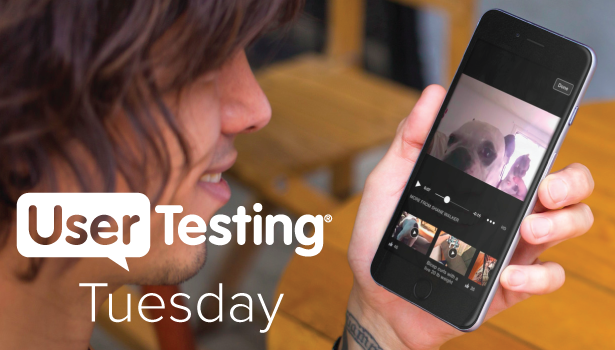 Facebook is rolling out a new Suggested Videos feature in an effort to encourage more video content, more advertising opportunities, and more competition with YouTube. After users watch a video on their news feed, they'll be presented with a list of related videos (and yes, sometimes there will be video ads that play between the suggested videos).
Anyone who's ever fallen down the rabbit hole of related videos on YouTube knows how tempting (and fun) it can be to enter what Facebook's VP of Partnerships calls "a video consumption experience."
With Facebook video views growing at a staggering rate (approximately 4 billion video views per day as of April 2015, up from 1 billion per day in September 2014), it seems the time is right for suggested videos and video ads.
So we wondered:
Are people ready to think of Facebook as a platform for watching videos?
Will they be interested in watching suggested videos?
Will they tolerate video ads as part of their video consumption experience?
Facebook is currently testing the suggested videos feature on the iPhone, so we ran a study with 10 iPhone users to observe how they interacted with videos on Facebook and whether they would be open to suggested videos and video ads.
Interacting with Facebook videos
For the first part of our research, we were interested in simply observing how users watch videos on Facebook and hearing them talk about their video viewing experience.
All 10 of our participants said they watch videos on Facebook at least occasionally, and several mentioned they've been noticing more and more videos in their news feeds lately.
When we asked test participants to find a video they'd like to watch in their news feed, several users pointed out they've noticed that videos now autoplay as they scroll through the updates, and they had mixed feelings about this. Two complained about encountering videos with distressing or inappropriate content, and two others said they suspected the autoplaying videos used up their battery and their data.
However, most participants relied on the autoplay function to help them decide what to watch. They scrolled through their feed, watching the first few seconds of a video silently on autoplay to determine whether they wanted to watch it or not. When they found one they wanted to watch, they tapped the video to continue watching with the sound on.
A few users also clicked links in their news feed to external sites to watch videos outside of Facebook.
Openness to suggested videos
It probably comes as no surprise: Facebook users love watching videos online. Several users remarked on how they often find themselves wandering the rabbit hole of related content on YouTube. In fact, 8 out of 10 of our participants said they watch related videos often or very often on YouTube.
8 out of 10 participants also said they would be likely or very likely to watch suggested videos on Facebook.
All 10 said they would like Facebook to include suggested videos, but 5 added the caveat that they'd only watch the suggested videos if they seemed interesting and relevant.
One participant explained that she enjoys getting suggestions for content related to something she's just watched because it relieves the decision paralysis of looking for new videos and allows her to discover new things. "Sometimes I get overwhelmed searching for things to watch. [With suggested content] I don't have to think about what I want to search for, it just pops up for me."
Openness to video ads
Most users recognize ads as a fact of life. When we asked the test participants, "Do you usually continue watching videos on the internet if there is an ad at the beginning?" 9 out of 10 said "yes," with 5 adding the disclaimer "unless the ad is really annoying."
Of course, a few users said they prefer to skip ads as quickly as possible. 7 of the participants in our study said they'd be fine with having video ads along with the suggested videos in their news feed, but only if they could skip the longer ads after a few seconds, like they can on YouTube.
Conclusion
The next step for Facebook will be to roll out the suggested videos feature to users on all devices. But there are still some questions about how Facebook will successfully monetize video.
For starters, Facebook will need to determine how to address video piracy and intellectual property concerns for video producers and media outlets.
There's also the fact that plenty of people will still post and share links to videos from external sources (including YouTube) rather than uploading them to Facebook. Will Facebook find a way to incorporate their suggested videos and ads into those experiences too?
As Business Insider points out, the big challenge will be getting enough high-quality, original video content uploaded to Facebook.
Finally, Facebook will also need to prove to marketers that their video ads are a worthwhile investment, and that users will actually watch suggested videos and video ads. If the participants in our study are any indication, Facebook users are ready for more video consumption and video ads.