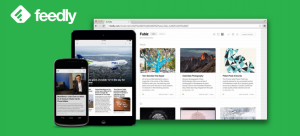 Feedly, a service that allows people to customize the way they gather, read, and share online content, has grown to over 15 million users in the last year.
What's their secret to keeping that many users happy and engaged?
Frequent feedback.
Feedly Co-founder and Design Lead Arthur Bodolec takes an approach of "designing with your ears." While working on improving the registration and onboarding process, he decided to run a few tests with UserTesting before launching a new experience.
The fast feedback allowed Bodolec's team to iterate quickly, saving valuable time and producing better results.
"I would launch a couple of tests in the morning, go meet some people for an hour, and come back to great feedback—allowing me to iterate in the afternoon!" said Bodolec.
To get the full story of how Feedly uses UserTesting to improve their product, read the case study here.