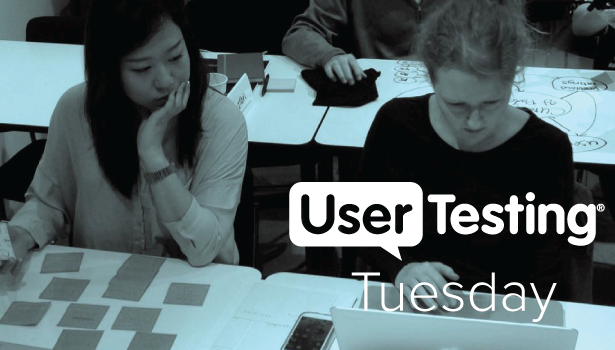 When you're learning UX design, getting real user feedback is a huge key to developing a user-centered mindset.
General Assembly's User Experience Design Immersive is a 10-week program that teaches user research, interaction and interface design, prototyping, testing, and working with teams and clients. Students get to experience hands-on UX design and build their portfolios, while learning from industry-leading UX professionals.
In instructor Jill DaSilva's class, students used UserTesting to validate their design decisions and uncover UX issues in their projects.
The assignment
During the course, seven General Assembly students formed three teams to build prototypes and run UserTesting studies on them to help them refine their ideas. Here's what the teams discovered through their testing.
Team #1: Etsy request feature, Connectsy
The challenge for this team was to develop a feature that would allow Etsy shoppers to request custom-made items from sellers. They created a request platform called Connectsy.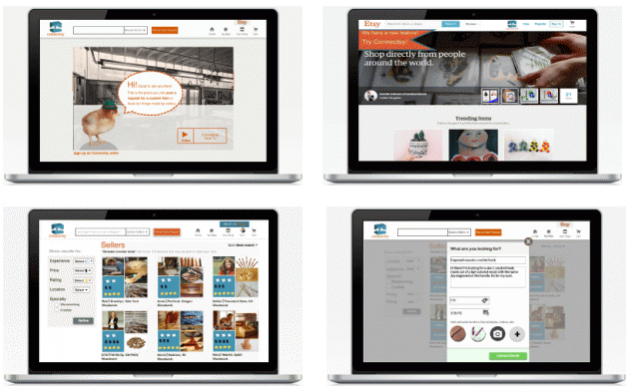 Four pages of the Connectsy experience
One of their main findings was that users didn't understand how easy it actually was to request an item! The original homepage design featured a video with a long, descriptive block of text. It turns out that users misunderstood it, thinking they would have to submit their requests via video. On learning this, the team replaced the video description with the simple phrase "How to Connectsy."
The team also found that users wanted to be able to filter search results after searching for a vendor, especially when there were hundreds of potential sellers to sift through.
As the students noted, "Overall, users liked the concept of Connectsy. They expressed interest in using the feature but did not always understand how to post an item request or find an artisan to request an item from. By guiding users more effectively through the process of using Connectsy, we feel positive that it would be a successful feature."
Team #2: Yelp travel app
In this exercise, three students imagined they were designing an app that would lead to more engagement with travel reviews on Yelp. The solution they developed was a travel itinerary app for the Yelp community.
Wireframe with notes from test sessions
Through user feedback, the team discovered that they needed to make some changes to the navigation, including adding labels to the categories and streamlining the search feature, to help users find their way around the app.
The team stated, "Creating a new app for a highly successful company was no easy task, and the feedback we received was pivotal. Not only did it help us improve our design, but it also helped us validate our concept."
Team #3: Product pages for Me Undies
The third team's job was to assess product listing pages and product detail pages for the online underwear store Me Undies and find ways to increase order sizes.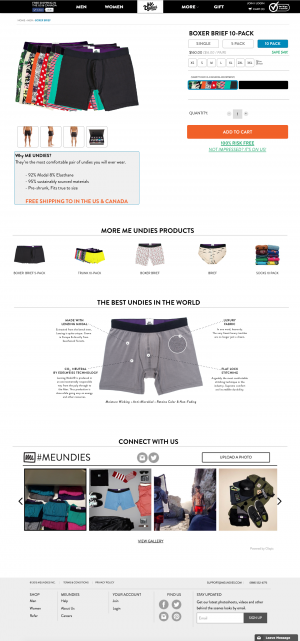 Shoppers preferred a clean and simple product page.
After listening to user feedback, the designers learned that users didn't read as much of the copy as they expected, so they decided to reduce the product descriptions down to easy-to-read key selling points. They also learned that users really valued a clean, simple product listing page. Finally, they found an opportunity to upsell by adding a suggestion during checkout to "Add a Pair for Her" to increase the average order size.
The team said, "Being able to user test all 7 iterations of our designs and make changes along the way really streamlined the process and created an ideal environment for rapid prototyping."
The takeaways
The students immediately understood the value of testing throughout the design process to validate decisions and fix issues. They agreed that testing designs with real users is a key to building a successful site or app.
One student summed up the testing and iterating experience: "UserTesting was an amazing opportunity to test our design assumptions early on... Insights from seeing what questions the testers had, and seeing the video of them answering the questions provided a lot of insight, and was key in enabling a lean UX design process."
Thanks to the students, Chelsea Hassler, Allison Rowley, Lacey Jane, Kristy Kelly, Robby Choate, Juha Hemanus, and Jackie Tanner, for sharing their projects and test results with us.
And special thanks to Jill DaSilva and General Assembly for the awesome UX instruction they provide!