In March of this year, we opened our first East Coast office in Atlanta. Some of our Bay Area employees moved out to Atlanta to help to open the office and begin a new adventure in their careers. One of those UserTesting pioneers was Corporate Account Executive Jake Bieber, who's now in his second year with the company.
Name: Jake Bieber
Location: Atlanta, Georgia
Official title: Corporate Account Executive
Company: UserTesting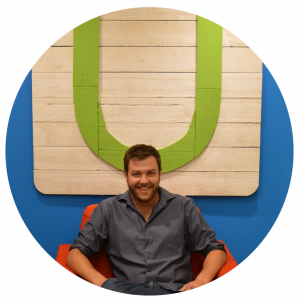 Why did you decide to join UserTesting?
I was working at a small company where employees could feel their impact and you felt like you were making a difference. It eventually grew into a very large corporation, which made you feel like a small fish in a big sea. I was talking to a friend of mine who worked at UserTesting, and it sounded like a great opportunity, so he had me come in and visit. I was immediately attracted by the close-knit culture. Everyone was excited to work there, and their input was valued because it was a growing company. That initial feeling of really being able to leave my fingerprint on the company was what really drew me in.
Even though we're a company of almost 300 people now, we haven't lost that start-up feel.
How did you decide to move to Atlanta?
It was a very exciting opportunity to help grow the company and solidify UserTesting's presence on the East Coast. Also, UserTesting is great at developing and hiring within, so I saw this as a good opportunity to advance my career in the company. I'm dedicated to this company and our mission and am excited to see where this move takes my career within UserTesting.
Is Atlanta as you envisioned it?
We've been able to continue the great culture that UserTesting has back in California. I was expecting it to be a social, fun, hardworking group, and that's exactly what we have here. People here are dedicated to growing UserTesting, and at the same time, create an enjoyable workspace.
Outside of UserTesting, it's been a growing experience. I didn't have many expectations or any idea of what it was going to be like, since the first time that I saw Atlanta was when I landed at the airport. Every adventure I've had in Atlanta has been a brand new one, and a positive one at that.
What's the atmosphere in the Atlanta office like?
There's probably about 10-15 Bay Area transplants and 10-15 hires from the Atlanta area. I think everyone that raised their hands to move out here is excited to continue building UserTesting. The people that have joined the team from Atlanta have continued the hard work that it takes for a new office to grow. Everyone out here knows the goals of the company; they want to work here and they're excited to learn. The atmosphere when it comes to employees is one of excitement. As for the business atmosphere of Atlanta, it's quite relaxed. It's not as cutthroat as New York, LA or San Francisco. It allows you to take a deep breath and thrive in the position that you're working in.