Every Tuesday, UserTesting's Research Team studies a different product to share here on the blog. We hope you'll learn some nifty research techniques and get inspired to run some insightful tests of your own. Enjoy, and check back in next Tuesday!
---
In a world of smartphones, smartwatches, and the Internet of Things, credit cards may soon be a thing of the past.
Mobile payment apps like Google Wallet store users' debit, credit, and gift card information, allowing them to make purchases online and in stores that use NFC—without the need for a plastic card.
The study
Here at UserTesting, we decided to explore how first-time users interact with Google Wallet. How do they feel about keeping their payment information in their phones? What's it like to make a purchase in a store using only the Google Wallet app?
To find out, we ran a study with five users. We asked them to install and explore the app on their phones, and we gave them each a $10 Walgreens gift card to load into the app. Then we asked them to go to their nearest Walgreens and buy something under $10 using the app.
What we learned
Getting started
In general, users were excited about the app. It was easy to set up, the interface was intuitive, and our test participants immediately understood the navigation.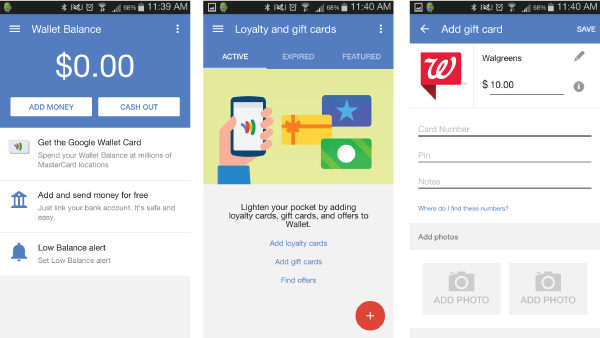 Google Wallet's interface is clean and intuitive.
There's no need to create a new account and password; the app simply connects with the user's Google account. Two users who each had multiple Google accounts suggested it would've been helpful if the app prompted the user to choose which account they'd like to use with Google Wallet.
Security
As with any app that handles sensitive personal information like credit card or bank account numbers, some users were concerned about security.
While Google Wallet requires users to select and enter a PIN to access the app, a couple of our test participants wanted more reassurance that their information would be safe.
"It's a new app, so the level of confidence is lower than using money in other formats that are established and trusted and known." - Female test participant, 44
The users in our test expressed mixed feelings about having all of their card info in one place. While they liked the convenience, they could also imagine the danger in having all of their cards lumped together, protected by only a 4-digit PIN. One user pointed out that she often hands her phone over to friends to share pictures and articles, but would never do that with her wallet. Two users said that they'd continue using Google Wallet to store their gift cards, but they wouldn't enter their credit card, debit card, or bank account info into the app.
Using the app in stores
While the users found the app very easy to set up and navigate, there was a little more confusion when it came to actually making a purchase in a brick-and-mortar store.
The users noticed that there wasn't a first-time tutorial when making a purchase in a store, leading them to wonder whether they were doing everything right. Two test participants said they wished they'd had clearer instructions while making an in-store payment for the first time. One felt embarrassed that she took too long figuring out how to make the payment and held up the checkout line.
Unlike most other apps, the user experience with a payment app extends to the in-store experience and the cashier as well. Three users noted that the store employees weren't familiar with Google Wallet, so they weren't able to offer any additional help to the users. While this will probably change as more and more consumers adopt mobile payment technology, it can currently be a confusing experience for users and cashiers.
Looking ahead
Mobile payment apps like Google Wallet face the challenge of balancing convenience and security. While some users are quick to adopt technology that makes their lives easier and eliminates the need for repetitive tasks, others prefer to wait until more people they know have tried it and found it to be safe.
Google Wallet may soon be in for some stiff competition. Its competitor, Apple Pay, will integrate with the new Apple Watch, making walletless payments as simple as a tap of the wrist.
Most folks aren't throwing away their plastic cards just yet. But if Google Wallet and its competitors continue to focus on providing a secure, easy-to-understand, and delightful user experience, we may start to use mobile payment apps more often than credit cards in the very near future.