Don't let data have you dressed in the wrong costume
With Halloween fast approaching, we wanted to know what the hottest costume trends were this season. We came across an article in Glamour Magazine that listed the top 10 Halloween costumes from data gathered by Pinterest and Lyst. As we scrolled through the list we were left scratching our heads and asking ourselves, could this really be the list of top costumes for Halloween? It felt like something was missing, but we wanted to see for ourselves if that was the case.
To learn more, we conducted a study with 40 women across the U.S. We asked them to read through the article on Glamour titled, "Here Are the Top Halloween Costumes for 2018, According to the Internet." We asked them to let us know their thoughts about what Pinterest and Lyst said were the top Halloween costumes for 2018. The results were not what you'd think. Here's how searches, pins, and big data missed the mark!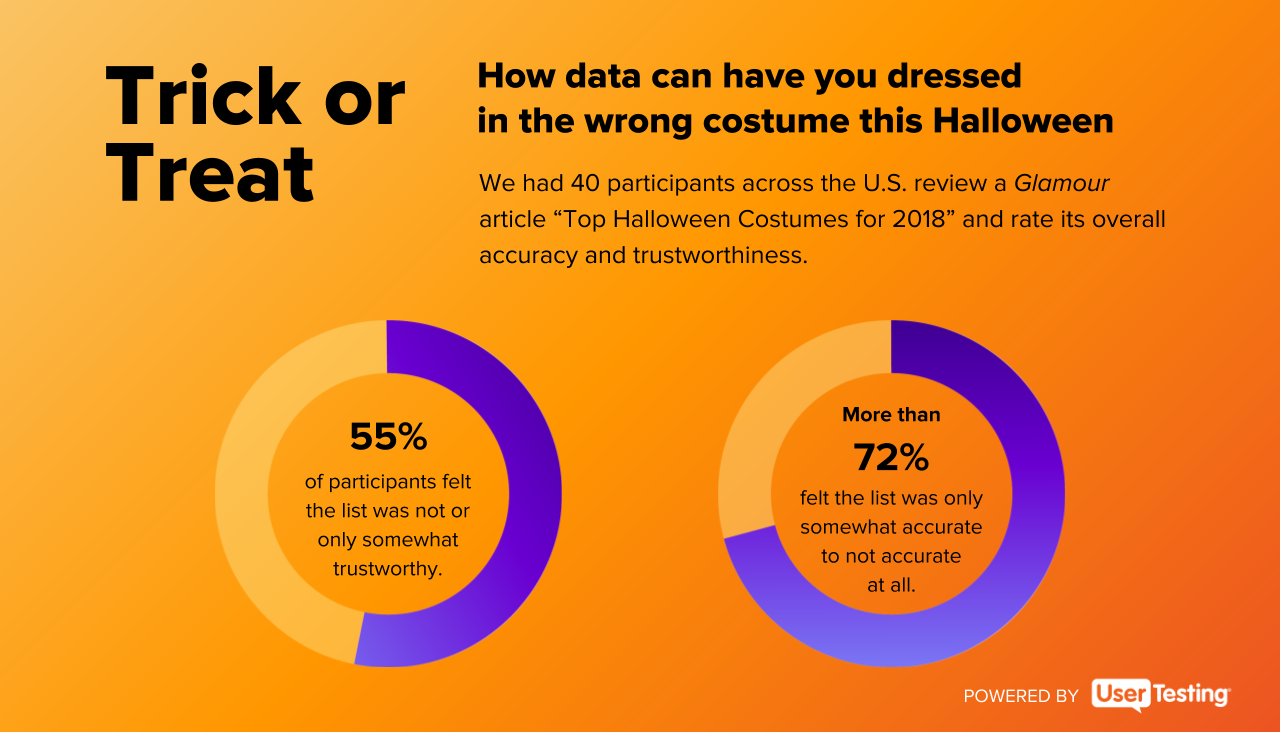 Data doesn't tell the whole story
While the list's numbers may point you in the right direction they don't tell you why you're headed that way—or what to do when you get there. Over half of the participants felt that the article "missed the mark" when it came to providing relevant costume suggestions and inspiration.
When asked to rate the accuracy of the list on a scale from 1 to 5 (5 being the most accurate), 72% of participants gave the list a rating of 3 or lower. Many felt like it wasn't relevant and there were many costumes missing from the list that were more popular than what was shown. The Avengers, anyone?
The Lyst and Pinterest report noted that consumer searches and pins gave a strong indication of what will be the most popular costume ideas ahead of time. While that may be true, the Glamour article failed to show readers how that data was applicable to them. One participant noted, "I don't know where they got their data from, but I think they need to go elsewhere."
It's key to pair qualitative insights with quantitative data to gain a full understanding of what your customers are actually looking for and the intent behind the search. Without qualitative data, you only get a small snapshot of consumers decisions and interests. Listening to why they're interested or uninterested in something, allows you to have better insight into the data. Human insights provide a true north, while data alone can sometimes leave you flying blind.
A picture is worth a thousand words
Images matter, especially when it comes to Halloween costume inspiration. Nearly every participant noted that they wished Glamour had put pictures of people in the actual costumes, so they could get inspiration.
What they got were random photos that didn't inspire creativity with some of the images being dated and "old-timey," while others were just plain confusing. The images left one participant saying, "Show me someone who's done it so I can do it."
This is a great example of what happens when you don't put yourself in the shoes of the reader. The content falls flat, in part, because it doesn't give readers inspiration, advice, or anything valuable they can take away from the article. Interestingly, the original report from Pinterest and Lyst included more contemporary images and even showed examples of the costumes in action. We asked another 10 participants the same questions, but also showed them the original report from Lyst and Pinterest and they didn't have any issue with the imagery used. In fact, they were much more inclined to consider a costume when they were able to envision themselves wearing it.
Brand loyalty isn't always enough
When people recognize something, they automatically attribute some emotion towards it, whether good or bad. In this case, people either recognized Glamour as a fashion authority or Pinterest as a platform that they'd previously searched on.
However, when it came to the trustworthiness of Glamour's Halloween list, participants weren't completely won over by brand loyalty. When asked to rate the trustworthiness of the list on a scale of 1 - 5 (5 being the most trustworthy), 55% of participants felt the list was not, or only somewhat, trustworthy (scores 3 and below). While brand loyalty can help some consumers overlook a poor experience, it won't absolve them of it completely. Every negative experience can chip away at a consumer's confidence in a brand, so a continued commitment to a customer-centered product or service is essential to ongoing brand loyalty.
Great CX is always a treat
Great CX this Halloween, and every other day of the year, means thinking of your customer first, continuously gathering human insights from your target audience, and iteratively improving your products and services. Keep your customers front and center and they'll always feel like they got a treat—not tricked—in their experience.
Want to learn more?
If you'd like to learn more about how UserTesting can help you understand your customers through on-demand human insights, contact us here.