A recent survey, conducted by the National Retail Foundation revealed some shocking findings; consumers are expected to spend $8.8 billion on Halloween this year, $2.6 billion of which will be spent on candy. But it's not just candy and decorations that consumers are expected to buy this year—Fido's getting in on the Halloween spirit, too with nearly half a billion projected in spending on pet costumes.
That seemed like a lot of sugar—and a lot of tolerant pets—so we conducted a quantitative and qualitative study with 30 Halloween-loving consumers to find out how they'd be spending their money this season. Here's what we found: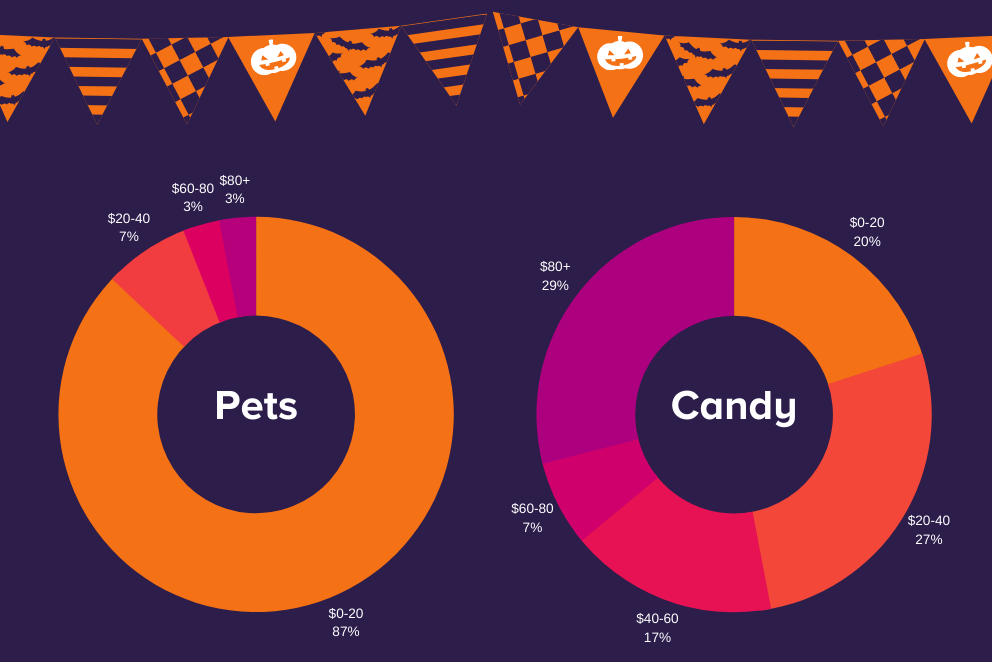 Strong opinions on that sweet tooth
Next to ghouls and pumpkin spice lattes, candy is one of the most memorable and nostalgic hallmarks of this fall holiday. With $2.6 billion in estimated spending on candy alone, it wasn't surprising that over half our participants planned to spend over $40 on candy this year. In fact, 30% of consumers in our study planned to spend $80 or more.
When you think of candy as a concept, it's most likely in a positive context. Happy families rummaging through pillowcases for their favorite treats and trading out their least favorites, for example. There was a wide range in preferences with chocolate and Snickers topping the list of favorites and candy corn and hard candies among the least liked.
Many other participants, however, reminisced about their favorite candies in a more positive way. Some of whom you can almost hear them smiling as they list off their favorites.
Yet when we asked participants to explain their choices some people had some strong opinions about the candy they disliked.
In talking about favorite candy types, it was fun to uncover some interesting family traditions. This particular participant noted that she lets her children pick out a few pieces to keep and lets them play with the rest before giving them to their dentist in a Halloween candy buyback program.
Pet costumes seem to be more for people than pets
With a projection of half a billion in spending on pet costumes, it was surprising to see that 87% of the people in our study reported they weren't planning to purchase a costume.
Despite most participants noting that they didn't plan to purchase a costume for their pet, for some that was mostly their pet's decision. A few participants commented that although they'd love to dress up their pets, their furry friends weren't interested in playing dress-up.
Of the 13% of consumers who did plan to get their furry friends in costumes, sentiment ranged from feeling vaguely guilty to excited. This participant admitted to feeling a bit guilty for subjecting her cat to wearing a costume.
Human insights let you peek behind the curtain
You don't need to be Dorothy to look behind the curtain to understand what's really going on with your customers. Leverage sales and survey data to learn even more about customer habits, preferences, and personalities—you might be surprised at what you find!
And, in case you came here in hopes of seeing cute pets in costume, we wouldn't dare disappoint—Halloween is a serious tradition at UserTesting! We'll leave you with an assortment of some of our beloved pets of UserTesting in their Halloween finery, enjoy!