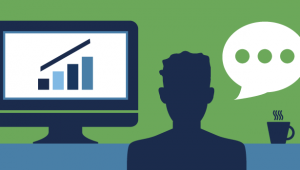 In the world of online marketing, nothing can be more troubling than low conversion rates. Customer purchases come at a premium, and online marketers lean on social media, retargeting, word of mouth, and plenty of other channels to entice visitors to visit their sites. But website traffic alone is not enough. Understanding your site visitors' intent can open a lot of doors for website optimization, ultimately leading to an increase in conversion.
Here at UserTesting, we often talk about the fact that usability testing allows you to learn more than what analytics alone can teach you. What we don't talk about enough is that analytics can—and should—guide usability testing efforts.
Analytics tell you what is happening on your site, while user testing tells you why.
It's important to understand both pieces to get a complete picture of how you can improve your conversions.
Exploring analytics is a great starting point that you can use to reveal what's happening on your site and to pinpoint problems that interrupt functionality and user intent. It's a good idea to take a look at pages that have a high chance of boosting your optimization rates.
Here are three simple stats to look at:
1. High pageviews
A high number of pageviews could indicate that a page is important to your visitors.
The sheer volume of visits means that the page should be thoroughly tested and optimized, even if it is just for micro-conversions.
What to test: You could ask people to explain what they would expect from these landing pages and then see whether their expectations are met or exceeded. Or, ask them to explain what they think the page is about based on what they see. You'll learn a lot about how people digest information.
2. Low pageviews
An unexpectedly low number of pageviews could indicate that a page is difficult to find. This is obvious, but identifying these pages isn't always obvious. Noticing that something is missing (e.g., a page that should be in the top 10 for number of visits) is more difficult than seeing something that's there.
To find out which pages are difficult to find, list the pages that you think should be among the top 10 or 20 most popular, and then compare that list against your analytics. When you notice what's missing, you've found something worth testing.
What to test: Have participants start at your homepage. Ask them to navigate to one of the pages that you think should be among the top 10 or 20 most popular. Can they find it? If so, do they find the page valuable?
3. Internal search data
Another way to identify difficult-to-find pages is to look at your internal search data. Find out which queries are occurring most frequently. Analytics is telling you that plenty of people are resorting to search to find certain information, but why is that happening?
What to test: Are visitors browsing first, or are they immediately relying upon search? During the test, have users try to find the items that the queries suggest they're looking for. Find out where they're looking, and why and when they're giving up.
Once you have these insights, it's time to optimize.
The main goal of using customer intent to optimize for conversion is to reduce the amount of friction your product puts between visitors and their must-have experience. This is a tried-and-true way to ensure that what you deliver is exactly what your customers are hoping for. Do this well, and you'll reap the benefits: satisfied customers and higher conversions!