I was fortunate enough to speak at INDUSTRY last month with Brent Tworetzky, EVP Product at XO Group. While I 'blew up' the A/V system by pressing the wrong button on the presentation clicker, I eventually recovered, and we successfully introduced the audience to the concept of User Science.
There are three key takeaways from the presentation.
User Science is driving the development of better products and experiences
User Science is changing the way product managers—and more importantly, squads of product managers, UX researchers, design, and engineers—develop great experiences. Brent's framework is what UserTesting sees innovators adopt as their go-to product design and development methodology
Brent defines User Science as the practice of understanding user needs and user behaviors. This understanding comes in the form of both quantitative and qualitative research and analysis. As you can see in the picture below, there isn't a linear flow to gain this deep understanding.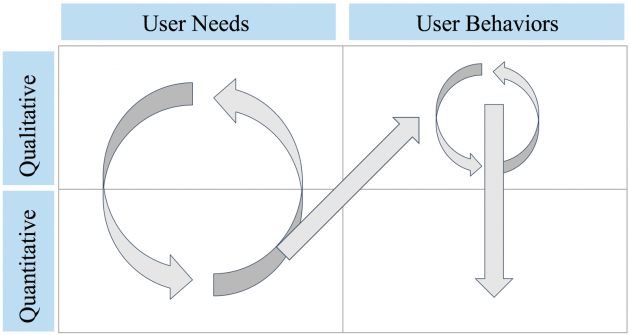 Via Brent Tworetzky.
What Brent sees, and what UserTesting can attest to, is that product development moves through this 2x2 grid in every way possible. This back and forth between innovation on the left side and iteration—sometimes referred to as growth hacking—on the right side, as well as learning 'why' on the top and 'what' on the bottom, is what makes product development so challenging and yet such an incredible opportunity.
Teams have multiple tools to gather data and insights
There are many methodologies and platforms that companies can leverage at all stages of this flow. As I work at UserTesting, I'll obviously mention moderated and unmoderated 1:1 interviews and usability testing for gathering requirements, creating alignment, validating functionality, uncovering opportunities, prioritizing key features, and reducing rework.
But then there's focus groups, contextual interviews, surveys, A/B testing, analytics, and more. Beyond UserTesting, Brent uses UserVoice, Typeform, Qualaroo, Google Analytics, Mixpanel, and Optimizely. At the Enterprise level, we also see companies use SurveyMonkey, Qualtrics, Adobe Target, Medallia, and Foresee. In other words, there isn't a one-size-fits-all solution.
Successful teams connect the 'what' with the 'why'
The most successful product management teams we work with are marrying the 'what' with the 'why' to develop a 360-degree view of their customers.
You can't use UserTesting in a silo. And you can't use Adobe Target or Qualtrics in a silo. In my mind, marrying the 'what' with the 'why' is the key to User Science.
Underlying the User Science framework, all the methodologies, and all the platforms that I've mentioned are customers (or users, or guests, or humans!). It's an intense customer obsession, putting your customers at the center of every decision, which allows great companies to out-innovate the competition and great product teams to create experiences that drive revenue and increase loyalty.
To watch the full "Product Manager's Superpower" INDUSTRY presentation, visit Product Collective's YouTube channel.
Want to learn more?
If you're interested in learning even more about User Science, check out the 100 PM podcast by Suzanne Abate.