In our third annual industry survey, we surveyed 7,725 professionals to find out how their companies handled UX in 2015, including budget allocations, frequency of usability testing, and more.
While most of the questions focused on what companies did in 2015, we also wanted to take a bigger look ahead and see what changes the industry anticipates in the coming years. We asked our respondents:
What do you think will be the most important online trends affecting UX research in the next 5 years?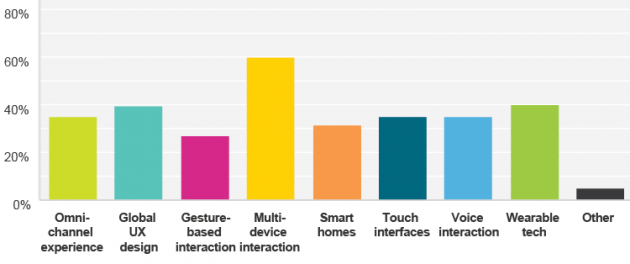 Multi-device interaction has held the lead in this question for the past three years. This year, 60% of respondents thought it would be a leading trend. Companies are racing to provide a seamless user experience from mobile to desktop to smartwatch and beyond.
And it's not just interactions with digital devices that can expect a rise in research. With 35% of respondents stating that omnichannel experiences will be an important trend in UX research, it's clear that businesses are looking to improve the entire CX, including customer interactions with physical products and locations.
This supports the idea that the line between digital and physical experiences is blurring, with more and more brand interactions spanning multiple devices and extending into the real world. Consumer journeys frequently span devices and channels, yet consumers don't view these as separate experiences.
What does this tell us? Companies can't treat digital and physical channels as separate entities anymore—and it's increasingly important to provide an excellent, reliable experience across all channels.
For more insights on the state of the UX industry, get the full 2015 UX Industry Survey Report here.