For insurance sites, trust is everything. In order for a potential customer to feel comfortable handing over their personal information—and ultimately their money—they need to trust their insurance provider or broker.
A website can make or break that trust in a matter of seconds.
Since most consumers are familiar with major insurance providers from commercials, billboards, and word of mouth, it can be an uphill battle for startups, agencies, and brokers that aren't household names. Despite the fact that consumers can often find better rates through brokers, they may be reluctant to do business with them if they don't feel a sufficient amount of trust.
To build that essential trust with website visitors, here are five tips that insurance companies of all sizes—from established companies to tiny startups—can implement.
1. Invest in improving your UX
The insurance sector isn't known for being at the forefront of user experience. Most online insurance shoppers are expecting to encounter confusing terminology, outdated web pages, and long forms to fill out.
On the one hand, that means users are often in a bad mood when they arrive on your site. On the other hand, it also means there's a lot of opportunity to beat the competition and pleasantly surprise your user.
Updating your site frequently is one way to establish trust with users. An old-looking website gives users the feeling that the company is backwards, difficult to work with, and even "scammy."
If you've inherited an older site and have trouble getting buy-in for a redesign, you can achieve some quick wins by gathering user feedback, showing your research to your stakeholders, and fixing the most obvious UX problems one at a time. Then you'll have results to show when it's time to embark on a full overhaul.
Pro tip: Insurance shoppers spend a lot of time filling out forms, so you can make huge improvements to your UX by implementing these best practices for form usability.
2. Offer the right amount of content
Some insurance shoppers understand exactly what they need, know the lingo, and don't want to get bogged down with lots of elementary definitions. Others don't know the difference between a premium and a deductible; they just know they need coverage. Your challenge is to provide the right amount of information to everyone.
One solution is to provide a glossary that users can access if and when they need it. This will conserve space on the page while keeping less-knowledgeable users from becoming lost or intimidated.
Another idea is to break down the major types of plans you offer and provide side-by-side comparisons of the differences. An explanation of who can benefit from each plan, like Progressive does in the clip below, can guide users to the right choice.
Pro tip: Test the readability of your content using a tool like Hemingway Editor to make sure users don't get bogged down in jargon.
3. Answer the question, "Why this company?"
What makes your company stand out from your competitors? Is it faster to get coverage? Do you offer more affordable plans? Are your representatives easier to work with?
It's especially important for smaller brokers who don't have the advantage of name recognition to state their unique value proposition right up front.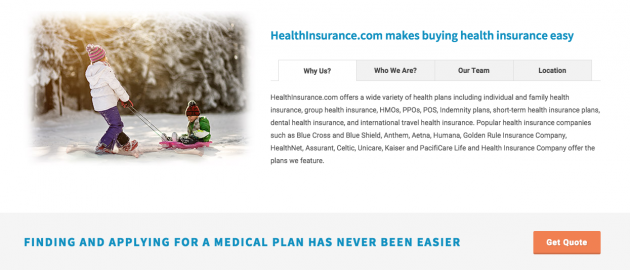 HealthInsurance.com makes their value proposition clear: It's easy.
Insurance shoppers usually start their purchase journey with a lot of biases: companies they've previously worked with, coverage offered by their employer, ad campaigns they've seen, and so on. In just a few words, your homepage or landing page needs to convey exactly what your company can offer that no one else can.
Pro tip: To find out if your unique value proposition hits home, have users look at your landing page for five seconds, then look away and describe your company in their own words.
4. Provide a clear explanation of what to expect
Consumers get nervous when it comes to giving out their personal information. Who will be contacting them, and how often? Will they become inundated with phone calls and emails? When should they expect to be able to decide on a plan?
Set clear expectations, as often as possible, at the different stages of the user journey on your site. Try to predict the most pressing question in your user's head, and then answer that question right away.
USAA breaks down each of the different steps of the life insurance buyer's journey.
5. Use trust marks, testimonials, and logos
Don't assume your users will take your word for it. To build trust with customers, display your credentials. Trust marks from the Better Business Bureau, VeriSign, TRUSTe, and other security or accreditation marks can go a long way toward easing consumers' fears.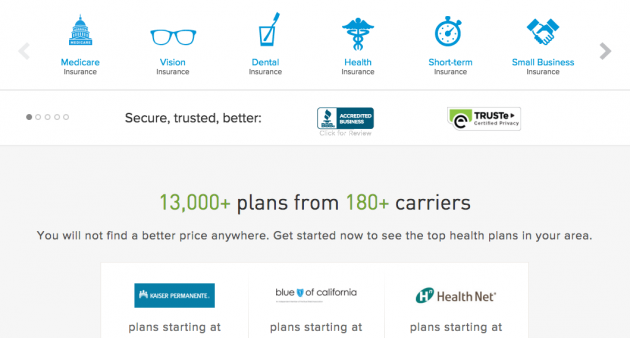 eHealth uses a rotating banner to display their trust marks, number of customers, press coverage, and latest activity.
Testimonials from happy customers can be extremely helpful in establishing trust, especially when users can imagine themselves in those happy customers' shoes.
For brokers, including logos of the carriers you work with will also set users up with a sense of what that to expect.
Consumer trust can be your competitive advantage
Any changes you make to improve customer trust on your website will also give you a leg up on the competition. Plus, by making a great first impression with your website, you'll prime your customers to feel comfortable working with your company on an ongoing basis.
Use these tips to gain a competitive advantage and start your customer relationship off on the right foot!