In a recent AdAge column, Peter Fader, professor at the Wharton School of UPenn and author of Customer Centricity, counsels all product marketers to "ditch your company's product-centric marketing mindset and replace it with a customer-centric marketing mindset."
Fader writes, "Organize around the customer, not the product."
This customer-centric mindset is exactly what makes Jet.com a gold winner. Every day, Jet organizes around the customer by building experiences that are beautiful, engaging, and deliver on Jet's core value proposition.
To ensure each touchpoint—from the discovery experience to the website and mobile app shopping experiences—is seamless, consistent, and delightful from end to end, Jet relies heavily on continuous user research from UserTesting. For instance, Jet used insights from UserTesting to validate its core messaging and improve its couponing process and product detail pages. After implementing these insights, Jet saw record increases in customer savings and basket size.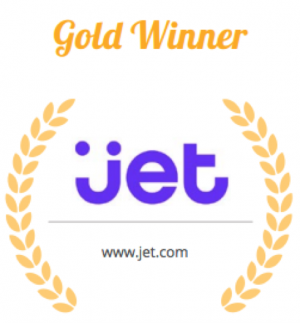 The industry has taken note! Top retail industry site Retail TouchPoints recognized 11 retailers that are reaching lofty goals using a variety of customer engagement strategies to satisfy, surprise and delight shoppers. This year, with its unwavering commitment to consistently improving the customer experience with UserTesting, Jet.com takes home the Gold!
Jet joins other winners Samsung, Guess, Kohl's, Macy's, Books-A-Million, Serta Simmons, Everlast Worldwide, Suitsupply, Adore Me, and Guaranteed Foods.
Join us in congratulating Jet.com for winning a Gold Customer Engagement Award!