With UserTesting's Live Conversation, you can now capture human insights with your own customers, employees or partners.
Customer insights are in a state of evolution. Too often, the tools that we use to measure customer insights are static and one dimensional. We create a set of activities for a participant to complete without getting the full context and may make assumptions with a limited set of data points on how a participant has reacted to those tasks.
Although the approach scales, sometimes the ability to have a dialogue with a few participants to have a better sense of what they are thinking, how they are feeling, and dig deeper into certain areas allows us to curate better customer experiences.
Real-time insights from your custom demographic
We've listened to the feedback from our customers and made substantial improvements to Live Conversation to enable an interactive dialogue with participants. We're excited to announce that UserTesting customers now have the ability to capture human insights one-on-one through live video with anyone outside of the UserTesting panel, simply by sharing a link through email, social or any additional channel.
It's now easier to have a free-flowing dialogue with your own customers, employees, or partners without the hassle of scheduling and managing participant schedules.
The customer is always right:

Reaching specific segments within your customer or partner base helps to ensure you're getting to your ideal target audience—whether you're bringing a new product to market or testing a new solution experience or message.

One stop shop for all insights:

Store all existing customer, employee, and partner videos on the UserTesting platform to keep all your insights in one place. Easily use transcripts, video playback, and clips to share insights across the organization.

Save time and remove hassle:

Live Conversation interview time slots are filled quickly and participants are prompted to download a Zoom link. Calendar reminders are automatically sent.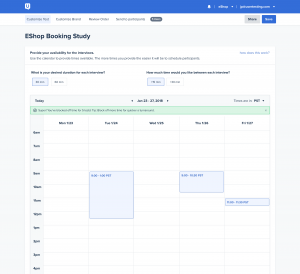 UserTesting offers greater choice in reaching your exact customer through access to our robust panel or your own customers.
Interested in learning more? Read the Tips and Tricks Guide to get started today on best practices for getting customer insight through live video conversations with your customers!