Big data is the new buzzword -- and for good reason. It's opening doors for increased efficiency, cost reductions, and revenue growth that have never been available before.
What you don't hear about, however, is little data, or what to do when there's very little data from which to make decisions.
Because after all, every company wants to be data-driven, but some just don't know where to get their data.
Business schools teach that market research consists of collecting quantitative, as well as qualitative, data.
Online, your quantitative data starts with analytics, where you find profitable and unprofitable traffic sources and where people are dropping out of your conversion funnel.
It also comes from running A/B or multivariate tests. But most conversion optimization specialists agree that tests should run until they reach 95% confidence. This means there's 1 chance in 20 for a mistake. Those are pretty good odds. If a test is stopped at 90% confidence however, there's a 1 in 10 chance of error, which is substantially higher. 80% confidence equals a 1 in 5 chance, which starts getting awfully risky to base important decisions on.
However, in order to reach 95% confidence, you need enough traffic and conversions to do the math. For example, this A/B test time estimate tool shows a site with a conversion rate of 1.5% and 100 visitors a day. They want to run a simple A/B test with only 2 variations and are expecting a mere 25% increase in conversion rate.
Notice that with those numbers, this test would take almost a year to run! No business can wait that long.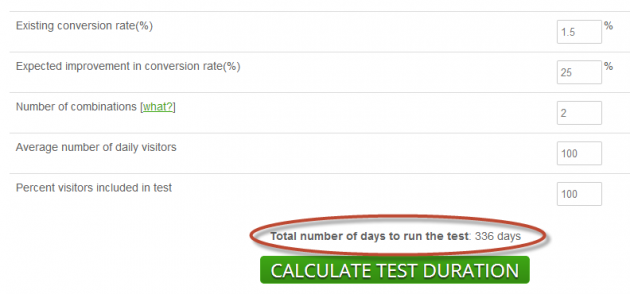 ConversionMax's A/B test time estimate tool at work
So what do small businesses do when they recognize the importance of understanding their target market and increasing their site's conversion rate, but they don't have enough traffic to collect meaningful data?
They collect qualitative data, which provides more insight than you may have thought possible.
Here are some of my favorite methods for collecting qualitative data:
1. Make sure people can see your site
First, how reliable is your web hosting? If you're using a low-cost hosting provider, your site might be down more often than it should be. Use Site24x7 to monitor downtime. If your site is down an unacceptable amount of time, upgrade to better hosting.
Second, how quickly does your site load? For every second it takes a site to load, the conversion rate drops by 7%. Every second matters! Use GTMetrix.com to see how quickly your site loads. I like this tool because it doesn't just tell you page load times; it also provides suggestions on how to decrease them. And it's not tech-speak; the suggestions are easy to understand: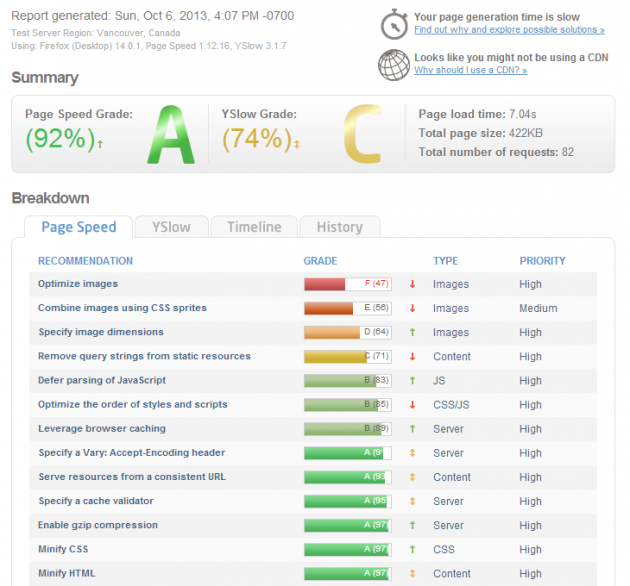 Each recommendation expands for more detail
Third, how does your site look on different browsers, operating systems, and screen sizes?
The poor-man's crossbrowser test entails going to Best Buy and pulling up your site on the various computers on display. However, this takes more time than I like to spend. And you won't be able to see how your site looks on older browsers. So I recommend paying $29/mo to run your pages through CrossBrowserTesting.com, which only takes a few minutes, and gives more browser and operating system options than you'll find at Best Buy.
2. Make sure people see what you want them to see
If you have an ecommerce site, you want your product images and "Add to Cart" buttons to stand out. If you do lead gen, you want people to notice your form, phone number, or chat icons. Use an eye tracking tool like Attention Wizard or Feng-gui, which predicts which elements on your page get the most visual attention. For example, the button on the UserTesting.com homepage gets the most attention, followed by the headline, video, and logo. Exactly what they were aiming for, I'm sure!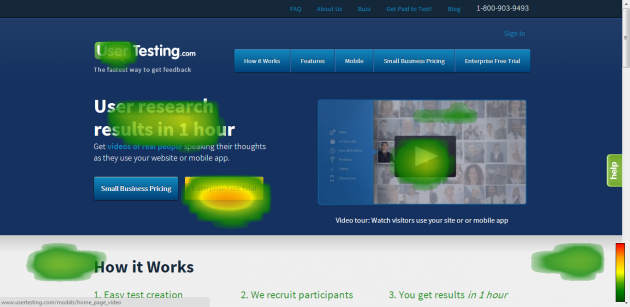 AttentionWizard's heatmap of UserTesting.com's homepage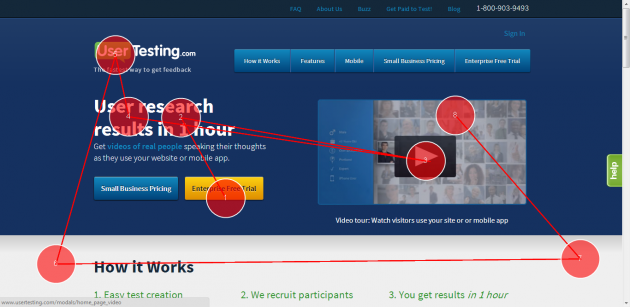 Feng-GUI predicts how visitors will browse UserTesting.com's homepage
3. Ask random, anonymous people for feedback
Ask for people's first impression and where they'd click
Some studies show that visitors decide whether to stay on a site or hit the back button in fractions of a second. Other studies are more generous and say that people take up to five seconds to make that decision. Either way, you have to convey what you do and convince visitors to stay on your site immediately. FiveSecondTest.com lets you show random, anonymous people your web page for 5 seconds then ask what they remembered, what they liked, etc. Other tests on the same site let you ask people to interact with your pages by clicking on certain elements in answer to a question or suggestion you give them. You can take tests to earn free "karma points", or you can buy tests for $20 - $200/mo, which gives you 100 – 1000 test responses. This is an affordable way to collect a lot of feedback.
Watch and listen to random, anonymous people on your site
For more in-depth feedback, use UserTesting.com. Choose the demographics of the testers you want, then watch as they follow the tasks you assigned and talk aloud while recording their screen. Not only do they tell you where they get confused or frustrated, you can also see where they get sidetracked, even if they don't know it. Warning: at some point when you watch the test, you'll be shouting at the tester because they don't see something that's so obvious to you. Which is exactly why this is so valuable: the tester can't hear you – and neither can any of the rest of your site's visitors. Seeing first-hand where people get confused gives you the opportunity to fix those problems.
Survey your site's visitors
A simple survey tool like Qualaroo can give you insight from your site's visitors with a small pop-up that won't annoy them or distract them from what they came to do: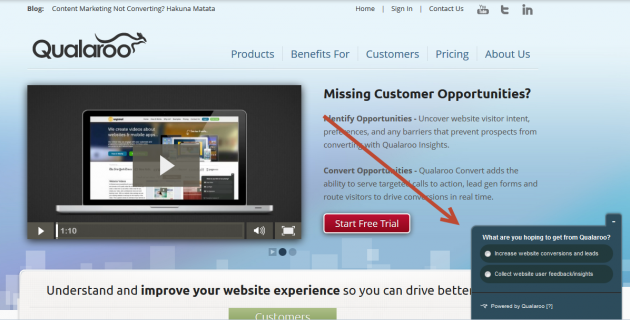 It's easy to gain insights by using Qualaroo's unobtrusive pop ups
Collect qualitative and quantitative data if you can
In an ideal world, you'd have enough traffic and conversions to gather meaningful quantitative data from analytics, which would tell you which pages are problematic on your site. Then you'd use various tools listed above to collect qualitative data and drill down on WHY those pages cause problems. You'd use that feedback to form your testing hypotheses and run A/B or multivariate tests until they reached 95% confidence – ideally in a few weeks.
But in reality, if your site is brand new or in a small niche, you simply don't have enough data to follow that process. Don't use that as an excuse not to improve your site's conversion rate, however. Collect qualitative data on an ongoing basis and I promise your site will improve – and your revenues will increase.