If you're a wildlife lover, you've probably had this experience: you're out for a stroll and you see a beautiful bird, but you have no way of identifying it. By the time you can get to a nature guide, you've already forgotten the details about what it looks like.
That's exactly the problem the Merlin Bird ID app solves.
After asking users a few simple questions about what the bird looked like, and where it was discovered, Merlin connects users with a list of possible species that match the user's description.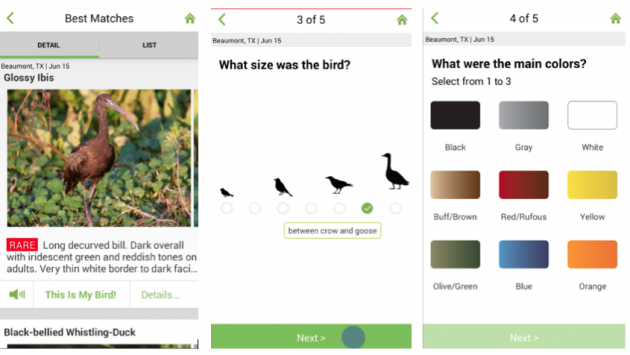 Identifying a bird in the Merlin app
What's interesting about the Merlin app?
For this study, we were primarily interested in understanding how birders engage with the Merlin app in the wild. We wanted to see how Merlin contributes to bird identification and broader knowledge of conservation efforts. Along the way, we took advantage of the awesome capabilities of our new mobile recorder, as we tasked users with sharing camera views of their birds with us.
We asked users to pause and resume their mobile recorder throughout the duration of the test so they could find a bird to observe at their leisure, and then use the app when they were ready in a natural way. Birding is an interesting hobby, and with apps like Merlin, it offers the ability to connect technology with wildlife, and even conservation. One user noted that he enjoys birding because, "I like being able to identify the nature, and it's a piece of the experience of being educated about the animals. Knowing their habits, what's different about them, what's special about them. It helps me appreciate the diversity in the nature that surrounds me." Apps like Merlin help users identify species and gather more information about them, making it easier for people to understand the exciting and diverse environment around us.
Setting up the study
For this study, we recruited three users by sending out a screener to the UserTesting panel.
The first screener gave users a list of eight different hobbies, and accepted users who selected bird watching as a primary hobby.
Next, we wanted to make sure our group of bird watchers had some experience using birding apps. This would give us well-informed users who might even be able to offer some additional insight into how Merlin compares to other birding apps on the market.
Lastly, we implemented a few screener questions that addressed some more technical issues. We needed to ensure that users would be available within a certain timeframe to go to a location that might have potential bird sightings. We gave users a 2-week timeframe, and our users happily met this requirement.
Using Merlin in the wild
The Merlin app can easily be opened and used anywhere, but because Merlin uses geolocation to narrow down possible species, it was important for users to make sure their phone was able to detect their location. So we let users know ahead of time that this would be a requirement.
We also told users that before using the app, they would be asked a series of questions about their birding habits, and then would need to be in a birding location to show us a species they found. The ability for users to pause our mobile recorder and come back to the test at a later point was extremely helpful so we didn't have to follow users in their search for birds in the wild.
To start the test, users answered questions about where they bird and what they liked about this particular hobby. After the background questions, users paused the recording until they found a bird, and then resumed once they located a species in their proximity.
Once they had a bird in sight, we asked them to open their camera app so the mobile recorder would display an image of what they were seeing in real time.
Seeing the birds users had found was definitely one of the coolest parts of the test!
Next, Merlin led users through a series of questions to help identify potential species matches. Users verified their location, selected the bird's size from seven different possibilities, chose the colors of the bird, and selected what the bird was doing. Once users filled out this information, Merlin showed users a list of potential species based on information collected from bird sighting databases.
After users selected a bird, they could get more details about the bird, including where it lives. They could even hear recordings of the bird's call, which proved to be a really helpful feature for some participants who couldn't get very close to their birds.
How the app changed birders' habits
Our three users really enjoyed their experience on the Merlin app, and in general, found it easier to use than some other birding apps. Merlin is extremely simple, especially because it requires users to answer each question about their birds before allowing them to proceed to the next question. Best of all, Merlin's app is completely free to use.
Users felt that apps such as Merlin offered a great way to help them identify birds in the wild, and even replaced their desire to carry books. Being able to hear the bird's call was especially helpful for users who might not have had a good view of a bird, or couldn't identify it based on the images provided.
One user noted that for him, apps and websites are the next phase of birding. He said, "If you take the concept of the field guide with the laminated outsides to protect them from the weather, and those trifolds, and you combine that information with the interactivity of a mobile device—with the GPS, the camera —you could take it to a whole new level."
Overall, the Merlin app (and birding apps in general) was appealing to users because they felt it helped them assist with broader conservation efforts. Bird watching becomes more than just a hobby, and using apps like Merlin offers birders the ability to contribute to data-collection that can track bird environments.
One user said he wished Merlin had a feature to allow him to see the birds that other users have catalogued. He also wanted to be able to review birds that he's spotted in the past. Unfortunately, Merlin does not currently offer birders the ability to see birds they have catalogued using the app. But being able to collaborate with other users to confirm species nearby could be another exciting step in understanding bird environments, and also keeping birders enthusiastic about bird watching.