Every Tuesday, UserTesting's Research Team studies a different topic to share here on the blog. We hope you'll learn some nifty research techniques and get inspired to run some insightful tests of your own. Enjoy, and check back in next Tuesday!
---
It's hard to imagine modern life without Netflix. For many of us, cozying up with a laptop (or smartphone, or tablet, or smart TV) and binge-watching a TV series is the perfect weeknight pastime.
And with over 62 million users worldwide and 10 billion hours of movies and shows streamed in Q1 2015, it's clear that Netflix has been doing something right.
That's why Netflix's recent website redesign could be considered a risky move. By changing something so popular, Netflix ran the risk of confusing and alienating existing users who loved the old design. With stiff competition from Hulu, Amazon Prime, and other streaming services, it was critical for Netflix to keep their existing customers happy while also attracting new ones.
The stakes are high, but the redesign has been getting a lot of good reviews. Netflix customers and design critics have been praising the modern look, the streamlined browsing experience, and the app-like feel of the new interface.
To see how users reacted to the change, we followed along as five Netflix subscribers explored the new website on their desktop computers.
What's different
Even at first glance, the new Netflix site looks dramatically different from the old version.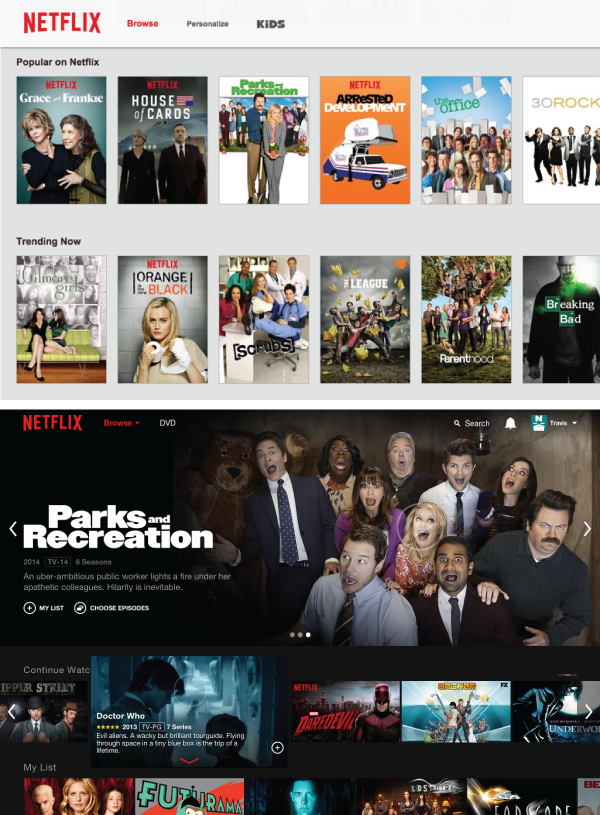 Netflix's old version (top) and new version (bottom)
Black background and large images
The new Netflix was designed to present a richer visual experience. The dark background and large images make the website look and feel much more like Netflix's mobile, console, and smart TV apps. This creates a more unified omnichannel experience for customers who use Netflix on different devices. Most of our test participants said the new design felt newer, sleeker, and more up to date.
But the design didn't win over everyone. One user remarked that while the design was appealing, she wasn't sure if the large images represented a recommended show for her, or if it was something shown to everyone.
No more slow-scrolling carousel
Another big difference is the way users scroll through recommended movies on the homepage. Formerly, users hovered over an arrow to scroll very slowly through an unknown number of options. With the new design, users click to advance through movies in batches of two to six at a time.
All of the users in our study easily figured out how to scroll through movies in each category. One appreciated that there's now a visual indicator of where he was in the order.
Hovering for more info
In the new design, users can hover over an image to expand a slideshow of select clips, along with more information on the movie. While users liked the idea of being able to learn more about a movie at a glance, the interface may take some getting used to.
Four participants accidentally started playing the movie when they were attempting to find more info.
Others lost their place when they accidentally hovered over a different movie while viewing details of one.
What's the same
All five of our test participants pointed out that they were glad the redesign still offered a great browsing experience. All participants found it "very easy" (an average of 5 on a scale of 1-5) to find a movie to watch by browsing through genres and sorting results by rating. One user stated he loved the ability to filter by subgenres like Dark Comedies or Sci-Fi Thrillers, and he was happy that this feature was still included in the new design.
Our test participants also found it very easy to find movies that matched their personal taste preferences.
What's still missing
Our test participants' response to the new Netflix site was overwhelmingly positive: four out of five said they prefer the new site. (The last one didn't prefer one version over the other.) Still, they agreed that there was one area that had room for improvement: the "My List" feature could be a little overwhelming.
Three users initially looked in the wrong place for My List, thinking it belonged in the top right corner under their profile image. Two users said they wished there was a My List shortcut on the navigation bar.
One user mentioned that he had multiple Netflix profiles because his My List was so large and unwieldy. He wanted a way to organize and sort the movies in My List, so he resorted to keeping separate profiles for his different tastes and moods.
Building a modern omnichannel experience
With more and more people interacting with companies on multiple devices, it's more important than ever to create a consistent experience across all channels.
Netflix's redesign is just one of many new websites to incorporate an app-like interface to create a consistent experience. The new site looks and feels much more like Netflix's mobile, console, and smart TV apps than the old site did. While no design is perfect, users appreciate knowing what to expect from a company. The "modern, sleek" feel that users noticed in the new site may be doing just that.
A redesign of any hugely popular site can be a risky proposition, but Netflix will delight users if it continues to focus on the omnichannel experience and improving its usability.