If you're like most companies who are conducting UX research, you've likely come up with about a million ideas for making improvements and running future studies. In this lesson, we're going to lay out some guiding principles to help you organize your work to have the biggest impact.
If you've been keeping a backlog of all your new ideas on how to improve your brand's cross-channel experience, then it's time to pull that list out!
Look for the intersection of business need and user experience
It's important to make sure that the work you do is both user-centric and drives business. It might seem like a stretch, but in the long run, it's not always great for business to solely prioritize user needs over business needs. While satisfying the users' needs is very important (!), it won't matter as much if they don't end up driving business.
Here's a simple yet effective way start prioritizing:
List all ideas and have stakeholders indicate potential impact to business (high, medium, low)
Circle the items in the list that would have high engagement from users
Take note of the high impact, high engagement items for further research
Add these items to a grid like the one below to gauge implementation complexity
Don't jump to conclusions without proper intel
Chances are you've got a few ideas that might be great, but you're still not sure. If there are some that you question, consider doing some initial research to find out if there's product-market fit with a few users. This type of initial research can be as simple as a short 3-question survey, a few user tests asking users to describe how they accomplish certain tasks.
This type of initial research can be as simple as a short 3-question survey, a few user tests asking users to describe how they accomplish certain tasks or running a basic prototype through some click tests to see if people engage with your idea.
Create your optimization roadmap
An optimization roadmap doesn't have to be fancy. In its purest form, the document should highlight your key business needs and indicate which findings you plan to take action on in priority order. This might look like a bulleted list of Business Areas with specific projects listed beneath each. Or, you might make a grid of projects and then indicate which teams would be responsible for achieving results.
Here's one example you can reference: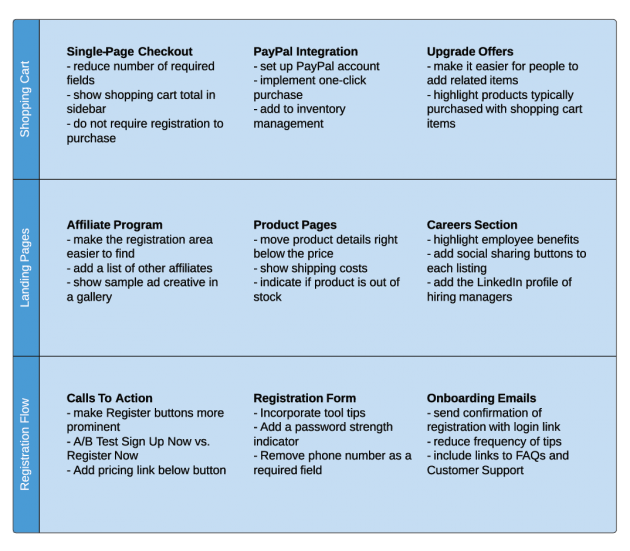 Sample optimization roadmap
Consider your timeline
You may find that some of your initial research and journey mapping will lead directly to no-brainer website updates whereas other changes may cause you to take a more measured approach. In that case, balance out the workload. Landing some quick wins right off the bat by focusing on high-impact, easy-to-implement changes will bolster spirits and organization-wide support for your initiative.
There will be some experiences that you've identified that will require more extensive research, interdepartmental collaboration, and executive buy-in. Don't give up just because it sounds tough – the payoff to your company's reputation (and bottom line!) will be worth it.