Sometimes, timing is everything. Ensuring that your studies are launched to participants exactly when you want them to just got a whole lot easier.
We're pleased to announce our newest feature, Schedule Test, that enables you to schedule the launch of your tests in advance.
Who it's for
Scheduling studies in advance is great if you want to:
Ensure that your study is available at a time that's convenient to your target audience.

For example, if you're in a different timezone than your target audience you don't want to wake up early to manually launch a study at at a time that's convenient for them.

Launch studies asynchronously to optimize your workflow.

Instead of setting aside time to create and launch a study at a specific time, schedule them in advance once you've set them up.
How it works
After you've created your study, select Schedule Test to select the date and time you want to launch your study.

Next, select the date and time that you'd like your study to launch and be shared with participants.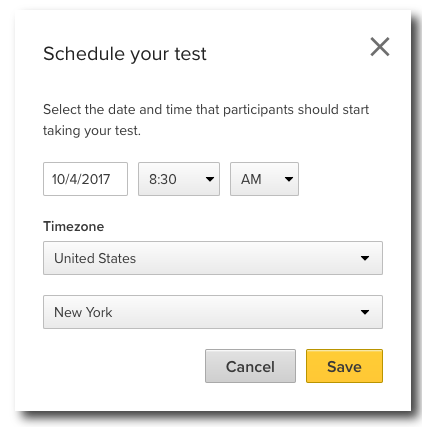 Next, just save and review your study details, including launch date and time. If everything looks good, then select Confirm and your study will be scheduled to launch on the date and time you selected. If you'd like to make changes to your schedule, just select Remove Scheduling to adjust the date and time of your test.

Let us know what you think!
We'd love to know what you think of the the schedule study feature, so give it try and share your feedback with us by emailing support@usertesting.com.