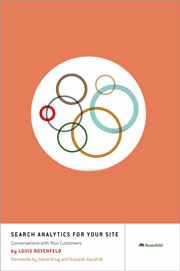 Conversations With Your Customers
by Louis Rosenfeld
Your customers are constantly talking to you about your web site's usability by searching for content. Learn how to tap into the goldmine of search data to learn what your customers want to find and what they're having trouble finding. Avoid the pitfall of having great content that users of your intranet, extranet, or web site can't find. Leverage the information from these silent conversations to immediately and constantly improve your site, and begin anticipating your customers' moves so that you can design experiences that exceed expectations.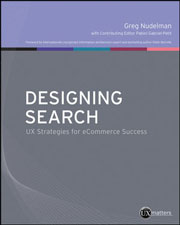 UX Strategies for eCommerce Success
by Greg Nudelman and Pabini Gabriel-Petit
E-commerce industry guru Greg Nudelman tackles one of the most challenging and revenue-impacting aspects of e-commerce: the search experience. Drawing from his own knowledge from years in the field, and using examples of failures and successes in e-commerce search, Nudelman deftly explains how to design search that provides a delightful experience for your customers, which ultimately results in better sales and happier, more loyal customers.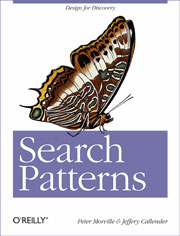 Design for Discovery
by Peter Morville and Jeffery Callender
Search Patterns provides a comprehensive overview of how search influences people's behaviors and beliefs. The authors lay the foundation by examining human behavior, and build upon the foundation by providing practical, research-driven recommendations for building search that works. Unlike some other books on the subject of search, it's useful for just about anyone building or modifying a system requiring users to discover content--from app programmers to graphic designers to web usability experts.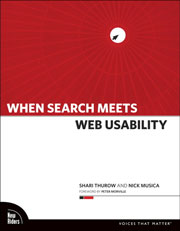 by Shari Thurow and Nick Musica
Too often, SEO and internal search are treated as completely separate issues, yet your customers seamlessly move from the search engine to your site, then to your internal search. Understanding how those customers seek information is a prerequisite to designing a site that fits their behaviors. Learn how to design a delightful customer experience along the entire search path, and ensure that once a user lands on your site from a search engine, they can actually find the information they originally set out to find.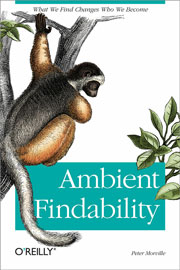 What We Find Changes Who We Become
by Peter Morville
Ambient Findability answers the "why" of search and information architecture more than it answers "how to." Morville explores how humans find information in our connected society, and explains what impact our search patterns have on us individually and collectively. Findability is changing as rapidly as technology is advancing, and any business or product hoping to remain findable will find Morville's musings instructive and thought-provoking.