Do people like your redesigned website? Is it satisfying visitors' needs? Could pages be converting more effectively? Are your competitors' sites doing things better?
These sorts of questions vex every digital marketer (myself included) after a site revamp; yet most of the time they go unanswered. Too often, companies relaunch and pray, hoping that newly updated features connect with consumers.
Not ShopKeep. After a major redesign of its website, the cloud-based point of sale firm wanted to know---really know---what was working and what was not. The company had quantitative data on which pages were being visited most often and how well they were converting to trials, but it didn't have direct feedback from potential purchasers.
Enter UserTesting.
ShopKeep initially decided to use our platform to test its redesigned homepage and most-trafficked pages with non-customers who were in its target demographic.
The good news was that testers were fans of the new site, though there were some parts that they liked more (and less) than others. This initial feedback sparked a set of valuable changes, and the company decided to do more testing.
As Richard Berger, Product Marketing Manager at ShopKeep, put it, "UserTesting offered a wealth of qualitative data that we did not have access to before. After a few tests, we quickly expanded to testing competitor sites as well, allowing us to gather new insights."
Over the past 15 months, ShopKeep has further tested its marketing website as well as its trial onboarding flow and BackOffice product, leading to adjustments big and small.
As Berger notes, "We've made a number of changes to specific language and product messaging based on feedback from all those tests. For example, UserTesting helped inspire us to continue expanding our online chat presence, which has been a great way for us to start conversations with potential customers earlier in the process."
Insights and collaboration
Another big win was a key insight into how customers think about the product. Testing of the website revealed that potential customers were more quickly focusing on their own business type than the Marketing team anticipated. This led to a bigger focus on vertical-specific content throughout the site and increased engagement.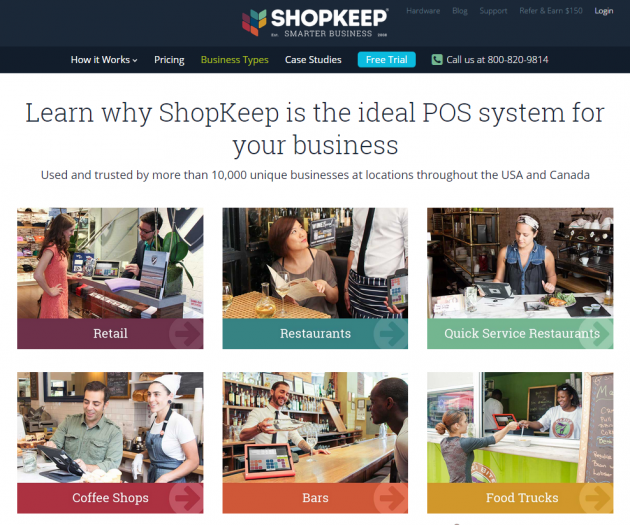 ShopKeep redesigned their Business Types page to help users quickly find how ShopKeep can help them.
While UserTesting was initially used by Marketing only, the findings were soon shared with the Sales, Product, and E-commerce groups. Now, teams across the company are consistently using UserTesting to assess offerings.
Always be testing
Coming up next for the ShopKeep team is another series of tests on product changes. As with earlier rounds, ShopKeep plans to pair the UserTesting feedback with traffic data, then make changes.
Says Berger, "UserTesting has saved us a lot of time and money by providing easy access to a wide variety of quality testers. We think that the combination of qualitative and quantitative data is critical to offering the best possible updates to our product and website."
Want to see how UserTesting can help your business? Get started with a free trial today!