We've been working away on an exciting project with our friends from UXPin and Optimal Workshop: a UX design exercise in which we imagine a complete redesign of Yelp's website. The eBook detailing the process will be available for download soon.
Over the last week, we've outlined the overview of our process and showed how we started by defining the product.
Today, we'd like to share how we went about gathering the user feedback on the current site that would inform our redesign. We'll go into more detail about the specific tests in the upcoming eBook.
Gathering qualitative feedback
For our remote user tests, we started by defining who our target user should be, and then we chose tasks to watch them try to complete.
Choosing the demographics
Because Yelp has such a large existing user base, it was really important for our redesign to be appealing to current Yelp users. For the purposes of this study, we decided to focus on the average, semi-frequent Yelp user, rather than a brand new user or a power user (someone who uses the product every day). We didn't set any other demographic requirements since Yelp has a widely varied user base.
Since we were gathering qualitative behavioral feedback through our user tests, we chose to follow industry best practices and test with five users. (According to Nielsen Norman Group, a test with 5 users will reveal 85% of a site's usability problems.)
Setting up the user tests
For this tests, our primary objective was to learn which features were most important to users trying to complete common tasks. To uncover these insights, we chose to observe how users:
Find a business based on very specific parameters

Find a business without being given very many guidelines

Look up a specific location to learn a specific piece of information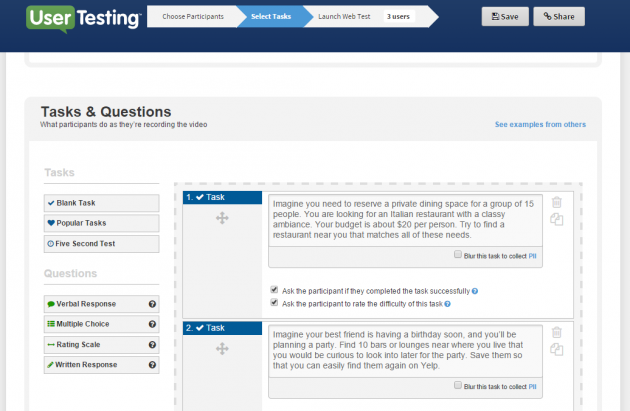 Setting up the user tests in the UserTesting dashboard
As a secondary objective, we wanted to find out whether users were able to figure out how to use a more advanced feature to complete a less common task. We had two options for this objective:
Saving several businesses to return to later (this task was assigned to users who already had a Yelp account, since the Bookmarking feature requires an account)

Finding an event nearby (this task was assigned to users who did not have a Yelp account)
Gathering quantitative feedback
For the second part of our research, Optimal Workshop ran card sorting tests, tree tests, and click tests. Each test had a minimum of 30 participants.
Card sorting
Optimal Workshop ran two types of card sorting tests: closed and open.
The closed card sort showed how users organize information based on the existing categories. For this exercise, we wanted to learn which of Yelp's filters were most important to the users.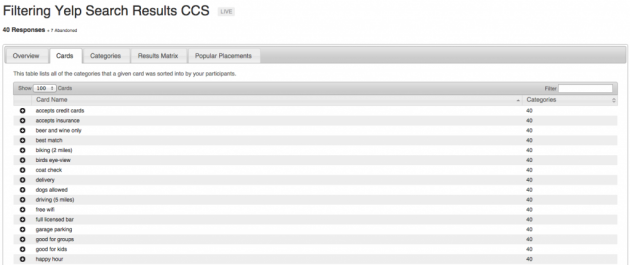 Card sorting results in Optimal Workshop
The open card sort allowed users to establish their own categories to group information into. We ran this test on Yelp's support page to find out how users would logically organize the questions that can be found on this page.
Tree testing
The purpose of a tree test is to learn how users would find information using only navigation, not search. Optimal Workshop ran a tree test on the support page to supplement the information from the open card sort.
Click testing
We were very curious to discover the very first thing users would do upon arriving at Yelp's website. To measure this, Optimal Workshop ran a click test, which indicated the first feature users clicked on.
Next up, we'll share what we learned from all of this research. Don't forget to sign up for the eBook to learn all the details of our UX design process!