If you've been following UserTesting on social media, you might have heard that we went to ConveyUX last week. For those who couldn't make it, ConveyUX was an awesome three-day conference exploring current trends and future predictions in the field of user experience.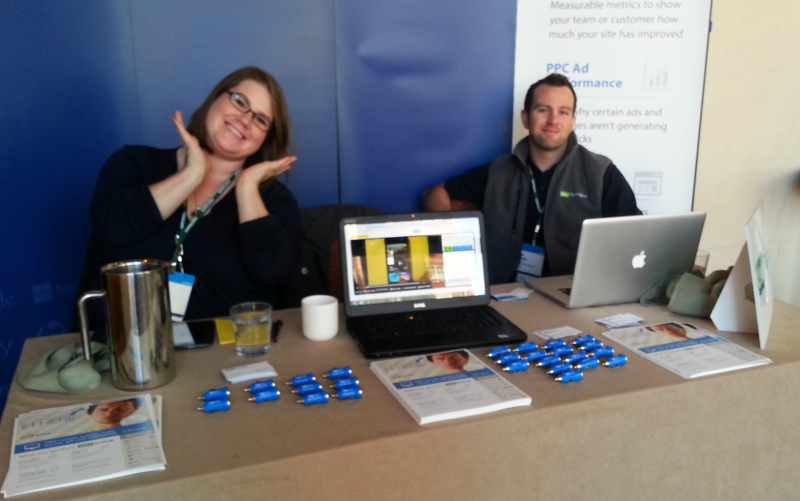 Our team had too much fun showing off the UserTesting dashboard at our booth!
We had the chance to listen to several sessions, with topics ranging from card sorting to mobile interaction to the psychology of design. While each session had unique and innovative content, we noticed a common theme throughout the conference:
It's not enough to ask how to improve the usability of a website, app, or device. We have to research and address the user's thought processes, actual needs, and natural inclinations.
This point was illustrated with a classic case of "lazy developers." In the example given, a team created a complicated web form that users didn't understand. To solve the usability problem, the developers inserted a large block of text above the form explaining how to fill it out.
Naturally, their solution addressed the issue, but it didn't improve the user experience whatsoever -- like a doctor who treats the patient's symptoms rather than curing the condition. A better solution would be to engineer the form to be self-explanatory, rather than inserting a training manual!
Successful developers start by asking how the user would normally think to accomplish their goal. The user's ultimate goal isn't to navigate a website; it's to book a flight, find a new apartment, play a game, donate to charity, or any number of other day-to-day activities. Good developers analyze the mindset, expectations, and emotions of the user from the outset of the activity, rather than just the user's actions on the website.
If you're running tests (you are testing, aren't you?), try this:
Instead of beginning your test from your homepage or starting screen, set a scene for your users. For example, you might tell them they're shopping for a piece of jewelry as a gift and ask them to talk about their expectations of the experience. Ask them how they would embark on this task, and maybe ask for an example of a time they've done a similar thing in the past. If you can dig into the emotional connections users have with the activity, you'll get a more inclusive picture of their experience -- and a better idea of how to predict their needs -- than if you simply tested to see if they could navigate your site.
Many of the presenters and attendees at ConveyUX predicted that the future of UX will include a move toward a more personalized, emotionally engaging connection between humans and technology. Rather than forcing users to adjust to unnatural interfaces, successful products will meet users where they are. Find out what your users think, feel, and need. Yes, it's important to make sure they can navigate through your site or app. But uncovering the truly human element of the user experience will help you immerse, engage, and delight people.
By the end of the conference, we were bubbling over with excitement and inspiration from all of the new information we learned! Plus, we were so proud of our mobile expert, Mike Mace, who gave an awesome presentation on the top four things to avoid when designing mobile apps and websites. If you missed out on the conference and would like to get a little taste of the experience, you can download the Four Mobile Traps eBook here.
Did you go to ConveyUX? Tell us what you learned in the comments below!