At last, they're here. We're in the midst of the happiest time of the year. From spending time with family, friends, and ultimately consuming an egregious amount of food, if you haven't noticed, the holiday season is upon us. Whatever winter holiday you celebrate, there's one common thread that binds a majority of them together, and that's holiday shopping. This seemingly leisure pastime has evolved into a marathon of sorts. Consumer events like Black Friday and Cyber Monday cause visions of discounts to dance in our heads.
Holiday shopping habits: our approach
With that in mind we asked, what are your holiday shopping habits? To answer this question, we combined the forces of qualitative and quantitative research methods. Qualitative research methods are excellent tools to have in your toolbox for gathering descriptive data tied to an individual's thoughts and feelings. But for this study, we also wanted to include measurable quantitative data in the form of a survey. The quantitative data from the survey helped reveal trends from the large sample population.
Methodology
We asked six participants with mobile devices to provide insights on their typical holiday shopping habits. Study participants were between the ages of 18-50 and reported that they would be buying gifts this holiday season. Additionally, we launched a quantitative survey and received 1109 responses (68% Millennials, 23% Generation X, 7% Baby Boomer, .5% Silent Generation, 1.5% Other). This survey helped solidify common themes explored in the qualitative sessions.
We were curious to see what was included in people's shopping habits:
What are people's strategies for holiday gift shopping?
How do people decide what gifts to buy?
What do people look forward to most about the holiday season?
What are people's strategies for holiday gift shopping?
Gift ideas
It's no surprise that the internet is king. Nearly 98% (1,084) of the survey respondents used online means to get gift ideas, while friends, stores, and family members were other popular options. (Note: survey respondents were allowed to select multiple answers.)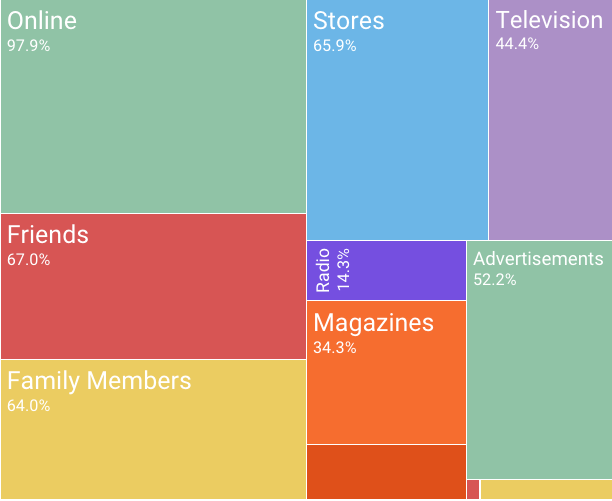 Our six study participants, however, got most of their ideas from the person they were buying the gift for. Several study participants took mental notes of what the person liked through conversations over time or by simply asking them. However, study participants did use sites such as Pinterest and Google to get ideas. As far as organizing these gift ideas, all but one participant trusted either their memory or the classic pen and paper combination as their tool of choice.
Research
Four out of six of the study participants used Google in some form during their preliminary research phase. Google was used to search for general gift ideas, and also as a method for comparing prices across multiple retailers simultaneously.
One participant who had a better idea of what he wanted embarked on a robust process across three different platforms; a specific retailer's website, Google, and then ebay all in the hope of finding the lowest price possible.
How do people decide what gifts to buy?
Gift factors
Price was a common theme among all six study participants for how they decide on what gift to buy. Price was so important that people sought out sales and shopped around to ensure they wouldn't spend more than they intended. Four out of six study participants took part in the Black Friday madness in stores and online. Of those study participants, two also partook in Cyber Monday. Large crowds and long lines deterred the two remaining study participants, and could explain why 16% of survey respondents didn't take part in either shopping extravaganza. This aligned with 51% of survey respondents who took part in Black Friday and Cyber Monday.
Aside from price and getting the best deal possible, the interests of the gift recipient had an equally important effect on what study participants purchased. It was important to all participants to purchase an item they knew the recipient would like.
Shopping spots
With the constant increase of online shopping, it's no surprise that 97% of all survey respondents and all six study participants shop online for holiday gifts. Most study participants said they try to avoid stores because of long lines, large crowds, and the chance of the item they want being out of stock. However, in-store purchases weren't far behind with 81% for survey respondents purchasing at a brick-and-mortar store.
Below is a list of the top five retailers (online and brick-and-mortar) places participants people like to shop shopped with for holiday gifts and the number of survey respondents who mentioned each retailer.
Amazon - 601
Target - 344
Walmart - 229
Best Buy - 166
Macy's - 133
What do people look forward to most about the holiday season?
And finally, the holidays are a special time for all who participate, and we wanted to share the parts of the season people enjoy the most. Here are a few responses from both study participants and survey respondents. We hope they leave you with warm and fuzzy feelings. From all of us at UserTesting, we hope you have a wonderful holiday season!
"I love to see the looks on people's faces, especially when you have found the perfect gift for them. I love giving to others. I love helping others. I don't want anything for Christmas; I just want to give. The most enjoyable thing about holiday shopping is finding how happy I can make someone else and finding those perfect presents, whatever it takes."
"I'm most looking forward to spending time with my children who will be home for the holidays. I also look forward to the gift of "time" after being so short on it throughout the month of December! I also look forward to GIVING as I take great satisfaction in knowing I've found the "perfect gift" for family and friends after all of my shopping. Mostly I just feel grateful and look forward to enjoying the season."
"Seeing the joy on people's faces as we spend a lovely seasonal holiday by gift giving, sharing meals, and also donating to those in need in this joyous winter month."