Introducing User Tested—a new book about creating great experiences by Janelle Estes and Andy MacMillan
Image
The following is an excerpt from the new book, User Tested: How the World's Top Companies Use Human Insight to Create Great Experiences, co-authored by Janelle Estes, Chief Insights Officer, and Andy MacMillan, Chief Executive Officer of UserTesting. User Tested is now available here.
Imagine…
… You sit down to your annual company meeting and before the CEO even speaks, you're captivated by a video of your very own customers talking about how much they love the experiences you provide. And suggestions on how to make the experience better …
… Your company launches a new product and everyone at your company has access to customer feedback through a shared Slack channel. In the channel, you can watch real customers using the new product and sharing their perspectives…
… Anytime you'd like, you're given the opportunity to connect with customers yourself. You can ask for their opinions and get input on any aspect of your work quickly and easily ...
… Your customers can opt-in or volunteer to provide these rich perspectives, and freely do so because they're invested in the experience you provide and want to make it better ...
And imagine this is all done in an effort to create a company-wide, shared understanding of who your customers are as human beings, not data points, so you can make better, more empathetic decisions.
So you can bring humanity into the business. And so you can do it in a way that enables everyone to build a true and meaningful connection to the customers they serve. This shared understanding ultimately helps people at your company act with more urgency and with the needs of the customer infusing every discussion, activity, and decision. And not only is there a shared understanding, but there's also a shared desire to augment that understanding so the business can continually learn about and improve upon the experiences it provides.
The age of the customer demands human insight
For far too long, we have relied on understanding our customers—who they are, what they do, what they need—in the form of big data, analytics, and surveys. And while this information is valuable, it's incomplete. We're missing a critical dimension. We're missing the human perspective.
We're living in an age where customers are in control, yet we're simultaneously losing touch with them. As the world continues to digitally transform at lightspeed and tech continues to physically separate us from our customers, the divide between our teams and the customers we serve will continue to grow. 
So what do we do? How do we fill this gap? The answer is simple.
We need to bring authentic customer perspectives back into key decisions. We need to pair the myriads of data we have at our fingertips with the literal voice of the customer. We need to connect with our customers, human to human, so we can make decisions that deliver better experiences.
We need human insight.
Meet the authors
Janelle Estes, Chief Insights Officer 
I've been fascinated by human behavior my entire life. People are amazing and quirky and utterly intriguing, and I've always wanted to better understand them. So I studied the fascinating intersection between cognitive science, human factors, and design at Bentley University. I worked at Nielsen Norman Group and Forrester as a researcher and UX specialist, often running lab-based user testing that took weeks to complete. (Translation: I was deeply nerdy about this stuff long before it had any cachet.) I decided to move to UserTesting when I saw more and more companies adopt remote user testing solutions, and I've seen a massive shift in how companies connect with their customers—through tech-enabled solutions—to meet the speed and scale required for business today.
Regardless of how this work is done, I have seen the "lightbulb" go off time and time again when people observe user tests, and it never fails to inspire me. As someone who has always believed in the importance of human insight, it's been amazing to watch my field of expertise grow from a little niche superpower to something that many companies see as hugely valuable and business-critical.
Yet there is still so much untapped potential; we can grow exponentially from here. My passion for bringing humanity back into business decisions hasn't waned, and I see this book as the perfect way to engage an even wider audience.
Andy MacMillan, Chief Executive Officer
Andy, the book's co-author, told me that the importance of customer feedback especially resonates with him because he spent his entire career in software product development. As a former product executive at Oracle and Salesforce, he saw firsthand the critical role that customer understanding plays in creating great experiences. He notes that technology does amazing things but it's where technology meets people—the customer experience—that makes technology most valuable to us as individuals. 
Andy has learned that the secret to doing this is putting the customer and their interests at the center of every decision. As the CEO of UserTesting, he genuinely loves giving companies the ability to find and interact with their own customers in a way that facilitates human insight on any aspect of the experience they provide. He knows that ability is a critical one in the modern marketplace, as the speed of technology has often eclipsed the quality of the human interactions with that technology. Putting your customers at the center of your experiences can change that.
Human insight: the future of customer experience
Our hope is that, in reading this book, you'll help build a better, brighter, customer-focused future. It'll be one where companies pull human insight into their everyday work and decision-making, organically and consistently.
That's the future we envision, and it's well within reach right now. All we have to do is commit to deepening our understanding of our customers by truly observing and listening to what they're telling us and using that to make well-informed, customer-centric decisions.
It's difficult to predict the technologies and experiences that will emerge in the coming years, but one thing is certain: Human insight is the key to staying connected to our customers in the Experience Economy.
Order User Tested today
Learn how the world's top companies use human insight to create great experiences.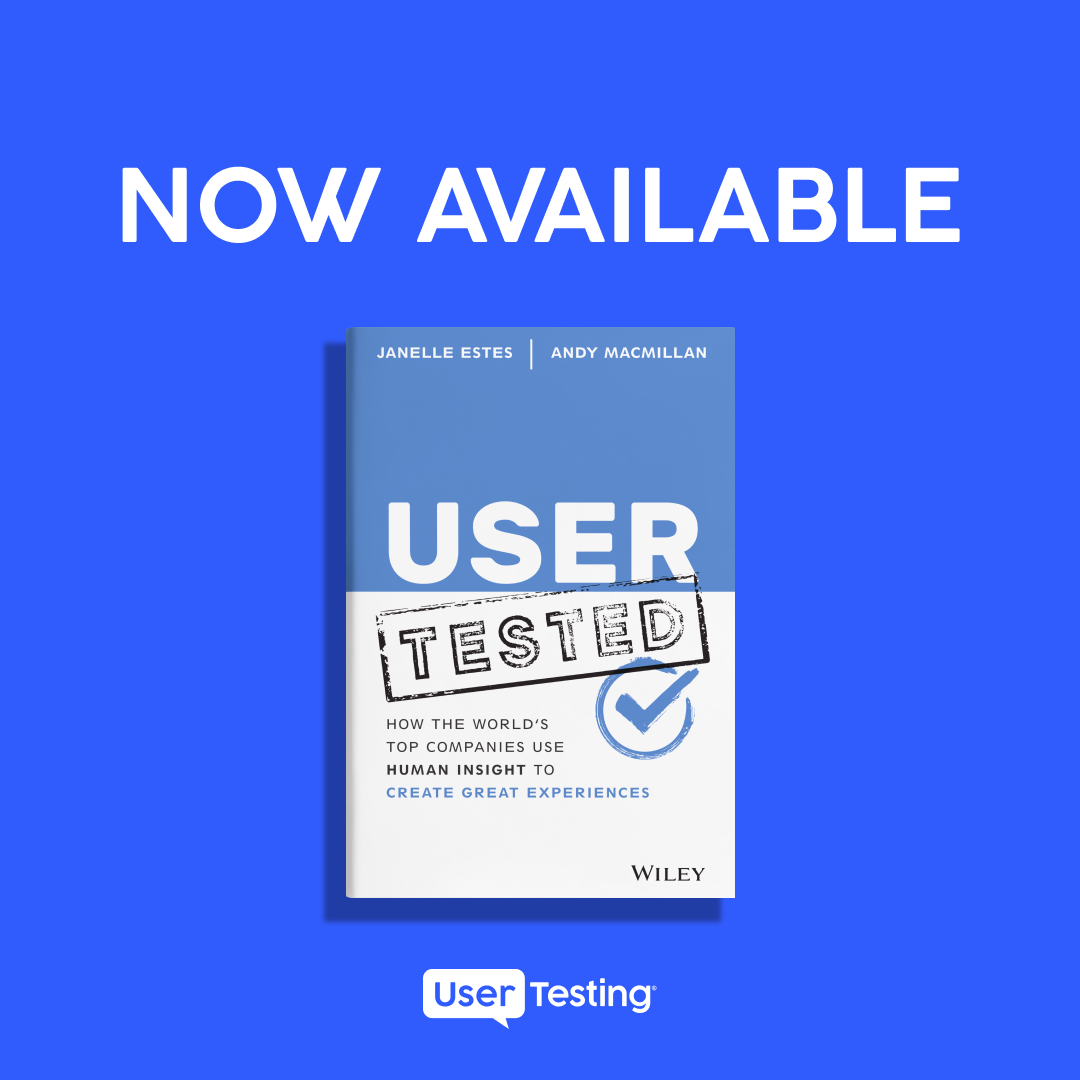 About the author(s)
Janelle Estes
Janelle is UserTesting's Chief Insights Officer and an expert research practitioner fascinated by human behavior and intrigued by data insight. She brings over 15 years of experience conducting large-scale customer research initiatives with both B2C and B2B companies across a variety of industries to help them transform their customer, user, and brand experiences.