Access to human insight can be transformative for every team within an organization. Marketers build campaigns that resonate. Product managers eliminate guesswork. Designers resolve disputes with opinions from actual users. The list goes on.
But empowering all teams with human insight requires more than technology alone. 
Using a human insight platform that enables teams to see, hear, and talk to customers can make collecting customer feedback easier, but to get the most out of your investment—whether you're highly skilled or new to customer feedback—it helps to have a little support and training throughout the process.
Become a customer feedback expert
Last year we launched UserTesting University, a collection of on-demand self-paced courses filled with articles, videos, and hands-on exercises. These courses have proved to be invaluable for educating teams on the best practices for collecting customer feedback. Since its launch, nearly twenty thousand lessons have been completed on the UserTesting University platform. 
"I've found UserTesting University to be an excellent way to learn all about the UserTesting platform, allowing me to create the most useful tests and gain good, actionable insights for my team," said Penny Rance, UX Researcher at the Post Office Ltd. "The content covers everything you would want to know—whether you're a beginner or experienced researcher." 
With dispersed and diverse workforces, we understand why learning environments need to be flexible and accessible to a worldwide audience. Not to mention, accommodate different learning styles to truly enable workforces. 
Introducing UserTesting University Live
Today, we're excited to announce that we're expanding our educational offerings with the launch of UserTesting University Live!

This new approach to learning affords UserTesting customers the opportunity to get live, virtual training sessions led by skilled instructors. You'll find courses that meet your needs ranging from onboarding to UserTesting product deep dives to research best practices.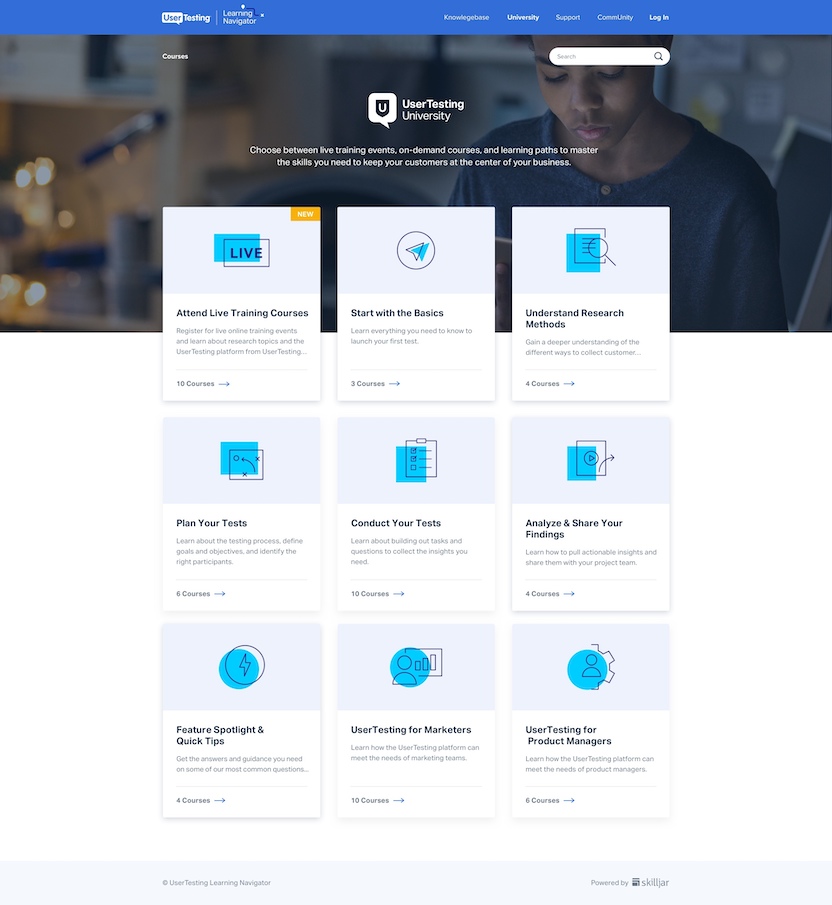 This is your chance to leverage unlimited access to learn from experts, get your questions answered, collaborate with your peers, and gain the skills required to uncover the human perspective needed to create products and experiences with confidence. 
With UserTesting University Live, you can:
Level-up your customer feedback skills to do the best work your career
Onboard new team members to the UserTesting platform with unlimited access to live and interactive on-demand courses
Empower more teams to drive their own customer research in an effort to build more human-centered products and services
Connect with peers through engaging and collaborative sessions
Customers can sign up for free with unlimited access. And our course content will continue to evolve and grow based on feedback from attendees, new product offerings and feature updates, and most importantly, our customer needs.