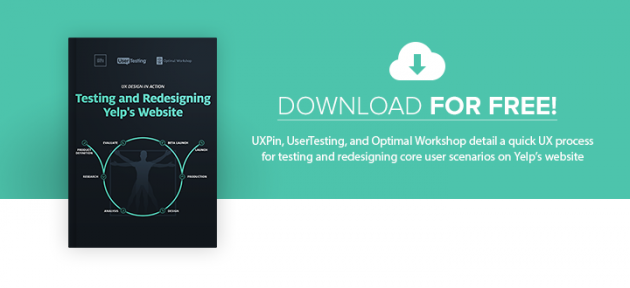 When it comes to designing a user experience, the final product is only as good as the user believes it is. To make sure your product will stand up to the most critical users, it's essential to get feedback early and often during the development process.
UserTesting recently participated in a UX design project with UXPin and Optimal Workshop to illustrate one way of redesigning a site based on user feedback. For this project, we chose to imagine a redesign of Yelp.
We'll go into all of the details in an upcoming eBook, but for now, we wanted to share the big picture of the process we took.
1. Product definition
We started by picking apart what Yelp does, who their audience is, and how they make money. This was a great starting point because it forced us to remember the big picture, rather than getting bogged down in the details.
2. Research
With the big picture in mind, we researched Yelp's current site through user testing, card sorting, and tree testing to learn how users interact with the site and where they get confused.
3. Analysis
We compiled the findings from our research to pinpoint some features of the site that could be changed and improved. The top priority in the redesign was to address the parts of the workflow that were especially difficult for users to complete.
4. Design
In this phase, the team at UXPin created a couple of versions of low-fidelity wireframes to test and iterate until they landed on a high-fidelity prototype.
5. Iteration
Closely tied into the Design phase, we tested the wireframes and prototypes early in the process so we could quickly iterate and fix any issues that arose. In our short design sprint, we focused on quick improvements rather than perfection at any one stage.
We're excited to share the details of our process with you soon. The eBook will be complete in the next couple of weeks. Sign up here to be the first to get it!