Ever wondered what it's like managing the design process for a product used by millions of users? We sat down with Frank Yoo, Head of UX and Product Design at Lyft for a quick Q&A to get a sneak peek of his appearance on UX in Action: Lyft.
How many people are on the UX team at Lyft and how are you organized? What are your keys to managing a UX team?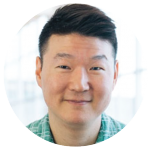 Product Design at Lyft is 13 people today, seven of whom joined in the last 10 months! Our group is a tight-knit bunch with a reputation for incredible team culture. We're organized at a high level by core competency: Design and UX Research. Then we have "pods" where we have three small teams of two to four designers, each focused on one of our core user experiences: Passenger, Driver, and Enterprise. Our organization is purposefully flat, but the pods ensure we're maintaining quality within each vertical such that every touchpoint you experience as a passenger, driver, or business partner feels polished, cohesive, and tailored to your use-case. We also optimize our team for genuinely good-natured people with a high hustle quotient, that also happen to be amazing full-stack designers and researchers. The goal being to bring on teammates that can assume total project ownership and full accountability of their solutions, snout to tail. And we're all very supportive of one another, never letting a teammate fall too far while struggling with challenging particulars. So, our flexible team structure and deep-seeded culture keep us motivated and moving with confidence.
For me, managing a design team entails three fundamental responsibilities:
Creating space;

Maintaining transparency; and

Being a champion for the team.
It's my job to do what's necessary to enable individuals on the team to do their best work. Assuming we've done a good job finding the right people, a manager simply needs to obliterate speed bumps and clear a path. Sometimes that means I'm an umbrella, sometimes it means I'm a funnel, occasionally it means I buy dinner. Whatever the team needs, it's my job to cover the gaps. The team has all the talent and the tools to execute successfully. Like in basketball, if you effectively spread the floor and let the team run the offense, they'll score baskets.
Startup environments are dynamic and high-pressure. Information and priorities change and you need to always be ready for some discomfort. So, it's important to keep lines of communication free and open, and most importantly, to be candid. Delivering timely information provides, at least, some opportunity to absorb and mentally prepare a plan amidst the thrash, and gives everyone the proper context to act and feel empowered to make a positive contribution.
Finally, you have to protect the team and be its biggest champion. That means taking accountability for the team's shortcomings, as well as banging the drum and making sure the team is recognized for its wins. This is the manager's burden, not the team's. No exceptions.
What are the different types of user research that you and your team do on a regular basis?
We're lucky to have a stellar research trio on the team. Monal, our lead and most experienced researcher at Lyft, has instituted a three-pronged approach to gathering qualitative insights that inform UX decisions and the product roadmap: weekly in-person usability studies; regular focus groups with key stakeholders and specified user segments; and online surveys. Usability helps us refine and course-correct execution of our in-flight projects that are actively undergoing design iterations. We employ focus groups to answer broader questions that inform roadmap decisions ahead of each quarter. Surveys help us get some quantitative signal on a larger scale at the beginning and end phases of the product development cycle. And we do all of these studies with zero engineering cost. All prototyping and research instruments are built by the design team with input from UX research; this is a core competency of every designer at Lyft.
What are some surprising insights you've had from your UX research recently?
We recently launched a complete redesign of the passenger app, specifically focusing on the ride request flow. One of the more interesting insights we gleaned from the 400+ hours of research was captured in "stress testing" the flow with non-typical user segments. We wanted to make sure the core request experience was seamless for the full spectrum of passenger types, newbies to power users. So for one of our studies, we ran tests with users that were completely new to smartphones, apps, and most certainly, ride-sharing. We found that even these people—that had little to no exposure to apps such as Lyft—could still negotiate the UX flow and successfully request a Lyft with few issues. And their feedback did, in fact, help us identify some minor usability flaws to polish the final result—kind of like applying a fine-grained sandpaper just after taming the gnarlier burrs with a coarser grit. The experience was a lot of fun, and certainly gave the team a big nod of confidence that we were on the right track.
How do you incorporate information from your UX research into the design process?
The impact of UX research at Lyft is predicated on two outcomes, and they are complementary sides of the same coin. First, the insights themselves must be actionable; achievable, and not too academic, as well as trustworthy and collected with sufficient due diligence and rigor. You don't want to end up in a "garbage in, garbage out" situation with poorly conducted research, which results in wasted effort across the board. Second, the team must be willing to actually act on the insights to improve the product. You can't have one without the other. This requires some stakeholder education and awareness, thoughtful and timely reporting, and sufficient planning to accommodate the time needed to implement and re-validate subsequent iterations. Now that our solutions are more consistently informed by insights, our design team output has noticeably improved and it's reflected in the quality of our products going out the door. We're now actively looking to scale our research capability and increase our coverage. Exciting times ahead!