It's Valentine's Day once again and if you're like millions of others (and me), you've waited until the last minute to get a gift for your valentine. Though we may aspire to be better next year, all the eCommerce retailers out there know that we'll probably be in this exact same situation next year and should prepare accordingly.
Though our lack of planning may seem careless, our hearts are in the right place! So when we're browsing at the 11th hour trying to find the perfect gift (with the most reasonable shipping price), the last thing we need is poor product findability, unclear product details, and laborious checkout flows. To better understand the pain points of last-minute shoppers this Valentine's Day, we ran a study on Proflowers.com and Teleflora.com on the customer experience of finding a gift, customizing it, and purchasing.
Finding a gift
Since we're in a rush, being able to quickly and easily narrow down the options to the exact item we're looking for is a must.
Categories and filtering
ProFlowers had great categories to choose from, such as "For Him," and different price ranges through which to search.
However, participants preferred Teleflora's filter setup, as the Proflowers categories didn't allow participants to search for prices ranges within categories. Allowing customers to filter the full section by their preferences makes it easier to scan through the relevant items to find the perfect gift.
Details, details, details
Another great feature that participants appreciated on ProFlowers' site was the level of detail included for each item on the results page. Without having to navigate to the product details page, participants were able to see the other vases they could choose from and other gifts they could add on to their purchase.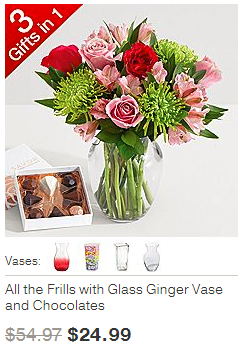 ProFlowers- items on the search results page included additional details to make the gift finding experience quicker.
Customizing your gift
The hard part is over and you've found the perfect gift! Now it's time to finalize a few details and order the item.
Having all the details of the gift on one page really helps move the process along. Photos, dimensions, and other details about the gift give customers confidence in the item and help move along the purchase process.
The lack of necessary details can do the exact opposite. Participants were disappointed that they couldn't see pictures or additional details of the add-ons they selected in Teleflora's order flow.
For example, adding a small box of chocolates to your bouquet costs $9.99, but if you have a chocolate appetite like myself, you'll want to know how many pieces are in a box. Including the number of chocolates in the box was important for participants to decide whether or not they wanted to include this item with their gift.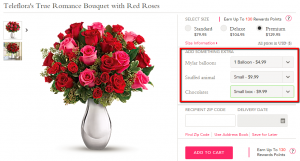 Teleflora- There were no pictures or details of the add-ons which made customers wary of including them in their purchase.
Checkout
This is the homestretch! The gift has been picked and personalized, all that's left to do is pay for it, so get me there as quickly as possible! Participants were discouraged by the number of pages they had to go through on ProFlowers' site to complete the checkout process. What's more, the shipping and service fees presented at the end of the process were considered ambiguous to both ProFlowers and Teleflower customers.
The sections were considered "catch alls" and participants were unsure of what was included in additional fees.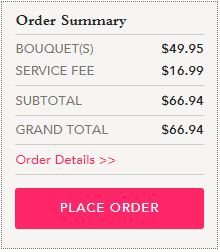 Teleflora- the "Service fee" included in the order summary was too vague.
Less time=less patience (not less love)
To eCommerce retailers, I say, "enable us!" Help your last-minute shoppers by creating sites with:
Filters that make it easy for us to narrow down our options,
Product pages that have enough details to make us feel confident in our purchase, and
Checkout flows that are streamlined and transparent.
As a last-minute shopper myself, I'd like to emphasize that lack of planning doesn't detract from how much we care about our loved ones. If anything, it should count as double since we're paying almost double the shipping cost ;) Happy Valentine's Day everyone!