Today's guest post was written by Mike Cassidy, Storyteller at BloomReach. Enjoy!
---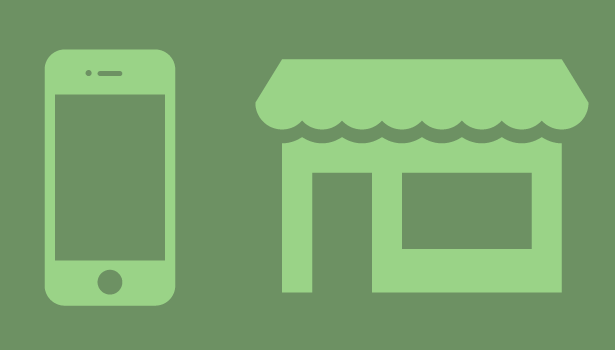 If you were looking for further proof that retail is evolving at the speed of tech, think back to the days when "showrooming" was a big, scary thing.
Yeah, remember showrooming? Three years ago, Amazon Price Check was all the rage and physical stores were doomed because shoppers could browse in a brick-and-mortar shop and then turn around and buy a product at a better price online.
But stores haven't disappeared. In fact, rather than showroom, a number of studies indicate that consumers are more likely to use the Web to research products and then go buy something in a physical store---a practice known as "webrooming."
Where do shoppers actually browse and purchase?
A Nielsen survey concluded that 60 percent of consumers browsed online before making an in-store purchase. Only 51 percent worked it the other way---browse in-store; buy online. Accenture reported that 88 percent of those it surveyed shopped virtually and bought physically, while 73 percent looked over items in a store before buying online.
It's no wonder that online retailers like Warby Parker, Birchbox and even Amazon are opening brick-and-mortar outlets to provide a real-world experience for customers.
Which doesn't mean that everyone can simply go back to business as usual. In retrospect it seems that showrooming vs. webrooming was never the right lens through which to view changing consumer behavior. First, some wonder how big a thing showrooming was in the first place.
In a 2013 survey by the location-based mobile ad firm xAd, 77 percent of smartphone owners said they made their most recent purchase in a brick-and-mortar store, while only 6 percent said they conducted their last mobile retail research in a store.
"We wanted to beat down some of the hype where people were saying, at that point, that mobile is going to take over; there is no room for brick-and-mortar," says Sarah Ohle, xAd's director of marketing research. "And our point was, yeah, people are using their devices in-store, but it's just not as big as you think."
Digital and physical channels complement, rather than compete
Yes, survey statistics can be all over the map, depending on definitions and the questions asked, but what the numbers show is that consumers are rapidly changing the way they shop and that they are very much in control of when, where, on what device and in what venue they make a purchase.
Consider the Nielsen and Accenture studies. Sure, more respondents are browsing online and buying in-store, but 51 percent and 73 percent respectively are browsing in-store and buying online. In other words, digital---and mobile in particular---is a huge factor in consumers' purchasing process.
"It just shows that mobile is not necessarily a threat to brick and mortar, but more of a complement," Ohle says. "People are using it in-store. They are also using it at home. They are also using it while on the go, at work, everywhere along the purchase process for a retail purchase."
Yes, e-commerce is growing year-by-year, but more than 90 percent of retail sales still happen in physical stores. That said, research shows mobile devices are now driving a significant portion of those sales. Deloitte Digital says that as much as 21 percent of in-store sales next year will be influenced by smartphones.
Shopping is shopping, regardless of the channel
Recognizing different channels and devices might still be valuable for strategic purposes, but it's time for retailers to accept that consumers see shopping as shopping, no matter the channel or device they use to research and buy.
Never mind webrooming and showrooming.
"I see those two terms becoming more and more interchangeable," says Carl Boutet, a retail strategist with Mega Group in Canada.
Boutet points to Ask Zappos, a service launched last year by the Amazon-owned online shoe seller. The mobile feature allows consumers to take a picture of shoes, a handbag or some other product they might like to buy and send it to Zappos by e-mail, text or social media.
"I can snap a picture of somebody wearing shoes or a woman with a handbag, snap a picture with the hashtag 'Ask Zappos,' and somebody will get back to me and say, 'That's a Michael Kors bag,' or whatever. Is that showrooming? Is that webrooming? Who cares really. It's the outcome that matters."
What should retailers do?
The desired outcome is making the sale and gaining a customer for life, whether online, on mobile or in the store. And so the key for retailers is to figure out how to take advantage of the ever-evolving ways of shopping. In particular, retailers need to think about:
Integrating their in-store, mobile and Web experience when it comes to advertising, branding, merchandising and inventory. Jeremy Hull, a digital marketing expert with iProspect, says he's still astounded that some retailers offer some items online that are not available in their stores and vice versa.

Building systems that let shoppers buy online and pick up in a brick-and-mortar store, or buy in the store and have it delivered to their homes.

Boosting the knowledge of their sales people and equipping them with the digital tools they need to better advise shoppers. Boutet says the era of sales clerks is over. It's time for concierge service.

Adopting technology that connects consumers across devices, so they don't feel like strangers every time the interrupt a shopping excursion on one device and pick it up on another.
Making the needed changes takes a certain nimbleness, no doubt. But consumers have already proven that they are ready to embrace new technologies and techniques. Retailers can't afford to be the ones playing catch-up.