UserTesting HITs: love is still in the air this Valentine's Day
Like many of the holidays celebrated over the last twelve months, the pandemic is impacting the upcoming Valentine's Day holiday. For those regions currently in a "shut down" mode, there aren't high expectations that restaurants, bars, theatres, and the like will reopen by Valentine's Day. UserTesting's Valentine's Day 2021 research sought to find out how couples will be spending the holiday this year as the pandemic continues.
What we learned
Key insights
Likely a romantic night in
In the US, the pandemic and corresponding shutdown of most outdoor activities will have an impact on Valentine's Day plans. If by chance restaurants, bars, theatres, and similar places were able to open by Valentine's Day, most respondents felt it would be better and safer to stay home this year. But closures didn't stop some participants from dreaming of date night, especially the men in the study, with the vast majority noting that they'd hit the town with their Valentine if they were able. Women, on the other hand, were more cautious with the overwhelming majority opting to stay in, even if it were possible to go out.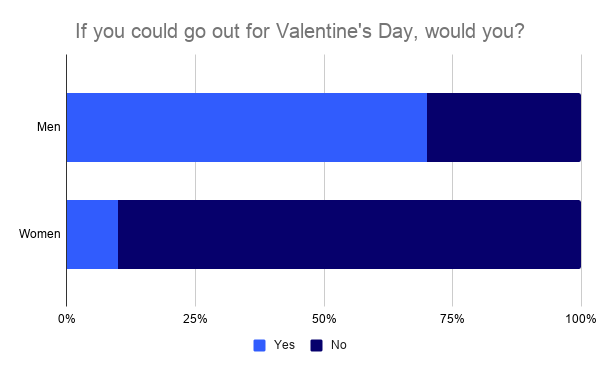 Given the limitations brought about by the pandemic, dinner at home was a top-listed activity planned by both men and women, which is no surprise considering that many states are still in lockdown or have restrictions on in-person dining. Here's a breakdown of the top-listed Valentine's Day activities broken out by male and female participants.
Gifts and spending
Buying the perfect Valentine's Day gift for your partner can be a challenge. Our study found a mix of gifts that women and men would like to receive. Women would prefer to receive chocolates/candies, flowers or plants, and gift cards over jewelry, clothes, and electronics. While half of the men in the study stated they preferred electronics over all other gift options. 
Men plan to spend more this holiday than women on gifts for their significant other. The majority of women, 60%, said they plan to spend $50 or less, while the majority of men said they plan to spend more than $50.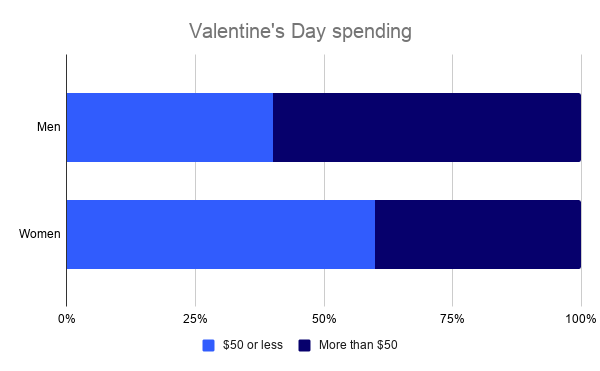 Men may be looking forward to Valentine's Day more than women
Men might be more excited about Valentine's Day than women in 2021. When asked how excited respondents were, ranging from Not Excited to Extremely, 60 percent of women were only somewhat excited. In comparison, 50 percent of men said they were excited or extremely excited about Valentine's Day.
Hear men talk about their Valentine's Day plans
Hear women talk about their Valentine's Day plans
UserTesting customers share how human insights help them build better digital experiences this Valentine's Day
"FragranceNet.com has been a User Testing customer for many many years and we continue to utilize the platform to help fuel our conversion rate optimization efforts," said Daniel Kab, director of business intelligences at FragranceNet.com. "UserTesting is a key component of our UI strategy and it takes the guesswork out of understanding our customers and website user experience.  It easily and seamlessly provides us with much-needed insights into customer behavior in near real-time with no involvement from IT.  We look forward to many more successful tests in the years to come!

"At Brilliant Earth, we use the UserTesting platform to ensure we have the best on-going feedback loops from new & existing digital experiences," said Lisa Perlmutter, VP of E-Commerce. "We know customers' expectations, especially in the last year, have shifted to a more digital-first shopping experience in jewelry and we need to meet and exceed the new normal. Getting insights out of real people validates or pushes us to make our digital experiences better."