Our job as marketers and designers is to get folks to act. We want our audience to sign up for a trial, make a purchase, or become more aware of our products and benefits. In order to make this happen, we have to invite them in with Calls to Action (CTAs).
Creating effective CTAs is an exercise in psychology and human behavior. And while most of us marketers aren't psychologists, we can use a few basic rules of thumb to get more people to click and engage.
Here is a list of seven ideas to try, tweak—and test—that may rev up the performance of your calls to action.
Include active language
This may seem obvious, but with any deal, you need to ask for the close—and in a way that motivates folks to act.
Michael Aagard from ContentVerve.com shows some examples of A/B tests on the language of CTAs. As he notes, changing the text from "Create My Account" to "Create My Account & Get Started" spiked conversions. Similarly, just saying "Download" may not motivate a person, but reminding them why they want to download ("Download to save time/money/sanity") could encourage people to click more often.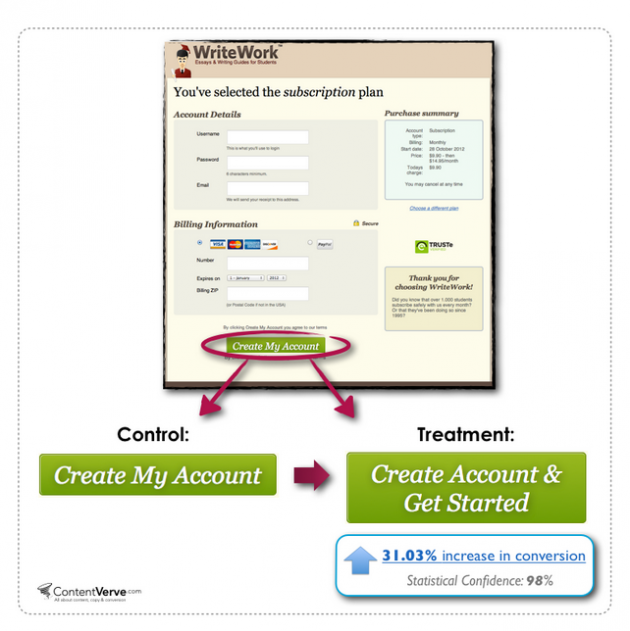 By including both of the actions users should take, this page saw a 31% increase in conversions.
Test out some different copy in your CTAs to see if it resonates with your customers. Try stating the specific actions you want users to take—and remind them what they'll receive once they click the button.
Show me the benefit (or, what's in it for me?)
Here at UserTesting, we love the Hubspot blog! They have intelligent and relevant content that they generously share with their audience. Not surprisingly, they ask for a little something in return: your name and contact information. But they know that in order for you to comfortably give up the info, they need to prove to you that it will be worthwhile (it totally is, by the way).
On the page below, they have given a short, informative summary of what you'll get when you download the offered templates. In addition to all this, the form is visible, easy to understand, and to-the-point.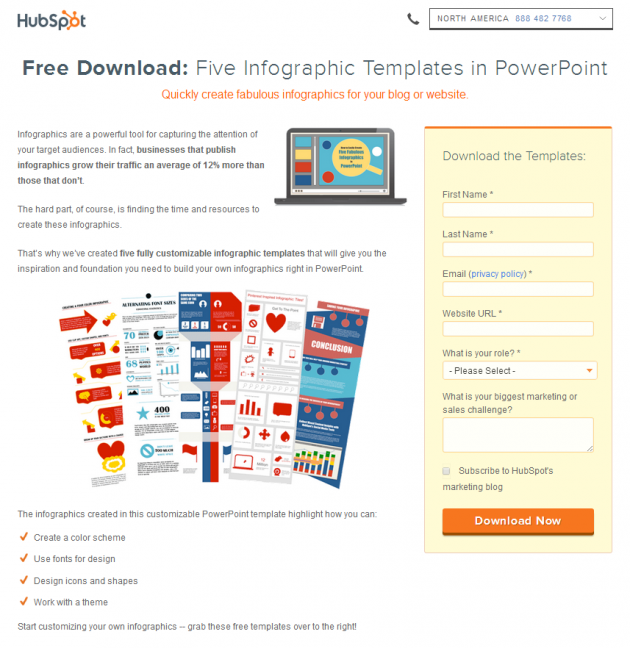 This landing page spells out exactly what you'll get and why you need it.
Clarity
A little different from communicating the benefit, people generally don't want to be surprised. They will make assumptions about what will happen when they click that button. If something completely unexpected happens, visitors aren't likely to trust the site and may start looking for the exit. You want the destination to match their expectations.
Clarity also means getting the right customers to the right places on your site. Khan Academy's redesign is super sleek, and they've accomplished a lot with very little. Their landing page is clean, their benefit is clear, and we're given three different choices of how to proceed. There are three buttons to click, one each for their specific audiences: students, teachers, parents.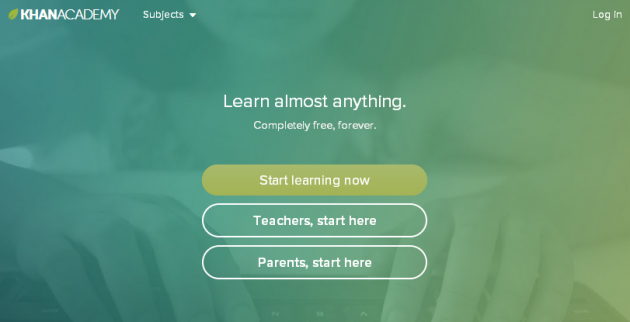 This page eliminates any guesswork for users.
Give it some space
We have talked before about how great Apple is at giving all their sites and product collateral room to breathe. They are the first brand to come to mind when I think about the good use of white space. They are (rightfully) lauded for being clear of clutter.
The iPod touch product page below is the typically clean and inviting design we've come to expect, and in a little bit of an unconventional call, they have made virtually everything on the page clickable. Instead of having a traditional "learn more" button, the image themselves act as the CTA.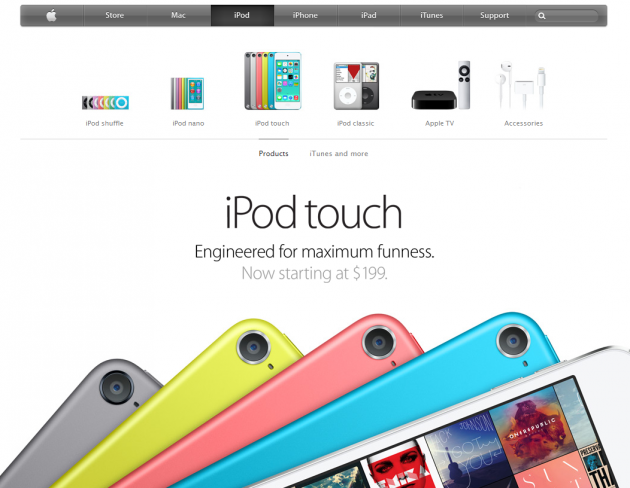 Apple invites you to click on the image of the iPods to learn more (without using any buttons).
Make it sparkle (or at least stand out)
We can't all be Apple. Sometimes you have to stand up and just be obvious. This is accomplished by differentiating size, color or shape, in order to make that CTA easy to find. There is no magic bullet button shape or color that is irresistible to customers. (If there were, this would have been a much shorter blog post!)
Below you can see the Yammer landing page only has one green object: the CTA.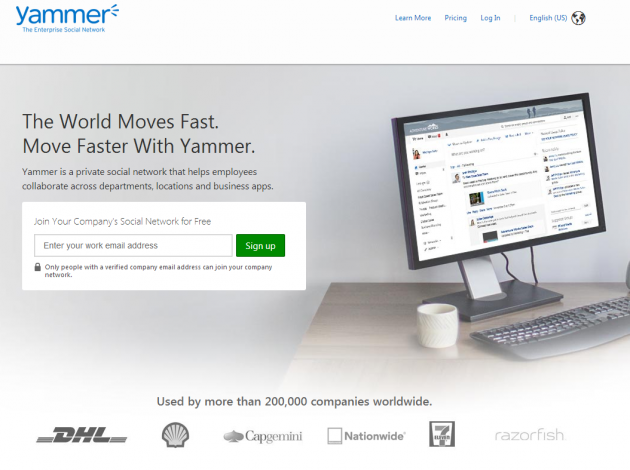 The green button looks very different from the rest of the page, drawing the eye to it.
On the other hand, BloomThat chose a bright orange button. While there are several other orange items on the page, the button sharply contrasts with the background.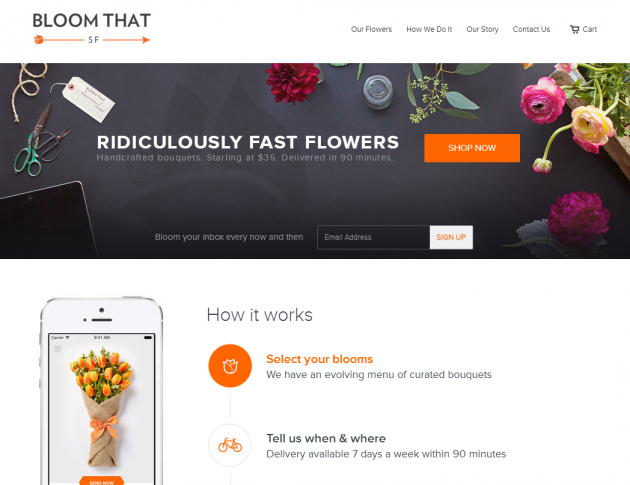 The orange "Shop Now" button looks like it belongs with the other orange objects, while still providing enough contrast to catch the user's attention.
Finding what fits and drives conversions for your own site, whether similar to the rest of your design or completely different, is the takeaway here.
Make it consistent
Once you have called out and focused attention to a particular type of CTA, it can be helpful to carry that format throughout the website.
Kickstarter has done a great job of carrying a very noticeable green button throughout the site. On Kickstarter, green means go.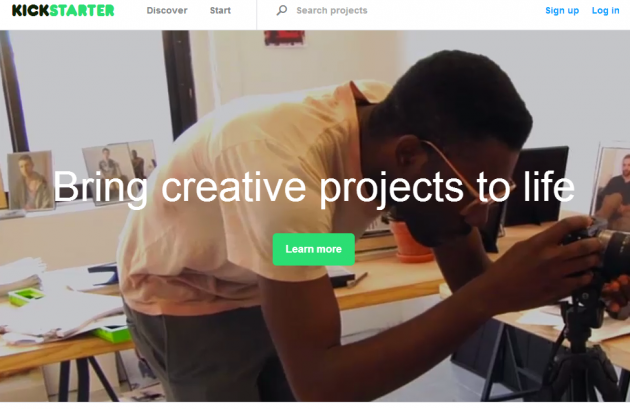 The green button is there if you need to learn more...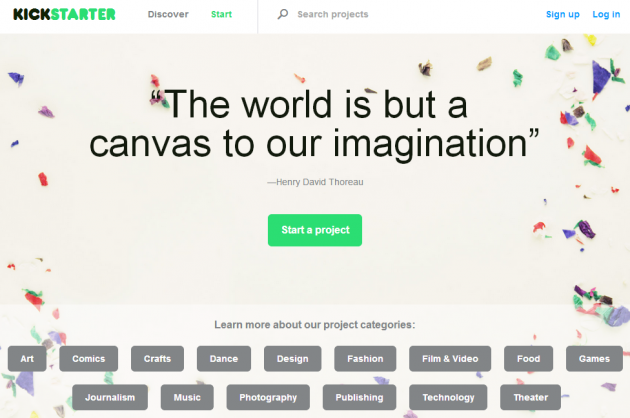 ... if you are looking to start a campaign...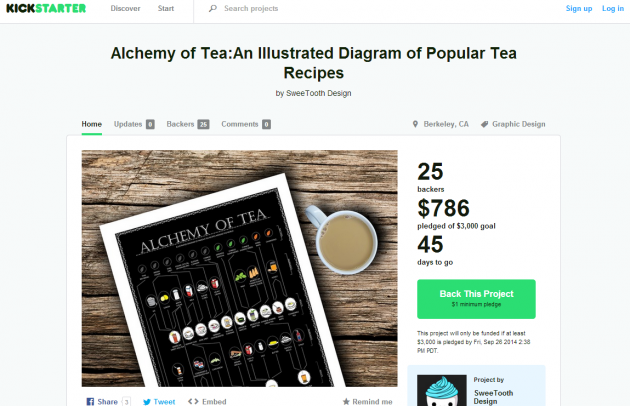 ... or if you're funding a campaign.
Consistency helps the user understand what to click.
Give opportunity—sometimes more is better!
Amazon does many things well, and many consider it the gold standard for ecommerce. One thing they seem to pull off is a very dynamic and densely packed homepage that includes multiple calls to action and less white space. Included are:
View offers
See comparison
Learn more
Shop now
Amazon's multiple calls to action reflect the wide variety of their users' interests and needs.
They couple these phrases with sectioned frames, so you know exactly what you are learning more about. They've used multiple compelling phrases inviting customers to engage with whatever they find interesting on the page. This quickly hooks customers and gets them to the specific parts of the site that interest them.
This is working for Amazon, but more isn't always better! Sometime too many options can overwhelm your users and distract them from their main goal.
In any of these cases, your customer is your focus. Seeing your page from their eyes and knowing what they are looking for is most important. You know when you can make the big ask (Add to Cart! Sign Up Now!), and when to provide more information.
What works for you?
The best advice to improve your CTA performance is to do some research, work with your designers, and test! Setting up an A/B test on your CTAs is a great way to see what works for your site. You can also run user tests with your target market to find out what colors, contrast, and copy attract their attention. Pair user feedback with data from your analytics tools to find out exactly why people are clicking (or not), and what works!
Do you have a go-to template that works to catch your customer's eyes—and clicks? Have you ever tweaked a CTA and were surprised by the response? Let us know in the comments below.