UserTesting Accessibility Statement
Our commitment
At UserTesting, we are committed to providing more inclusive and accessible experiences for our customers, users, and contributors. We believe that building empathy based on diverse perspectives is the key to creating exceptional customer experiences for everyone. Our commitment to providing accessible experiences is driven by this belief as well as our core values to: get better, put customers first, and to treat each other with respect.
How we make an impact
We understand that accessibility is integral at every point of the customer experience. Therefore, we're focused on continuously learning and evolving as a team, in order to do our part in making the world a more user-friendly place.
To accomplish this, we've adopted the Web Content Accessibility Guidelines (WCAG) 2.1 Level A+AA to help us ensure that we are creating more accessible digital experiences.
Here are just some of the ways we are engaging and empowering our organization in accessibility:
Created an accessibility team, dedicated to accessibility adoption and integration
Implemented continual accessibility testing and monitoring of our digital sites with focus on remediation
Integrating accessibility best practices across the product development lifecycle through awareness, training, and tools
Partnering with industry-leading accessibility experts, Deque, for consulting, monitoring, and certification
What can we help you with?
We value your perspective and feedback as we continue to improve the accessibility of our product experience. If you have accessibility questions, suggestions, or feedback, we want to hear from you. Please contact us using the methods provided below.
Call Us: 1 (888) 877-1882
Contact Us Form: https://www.usertesting.com/about-us/contact-us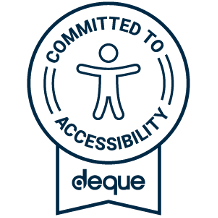 This page was last updated on December 14, 2022.