Platform: UserZoom
Innovation fueled by UX insights
UserZoom empowers your team with sophisticated UX insights to create digital experiences that delight customers and drive business growth.
Remote video URL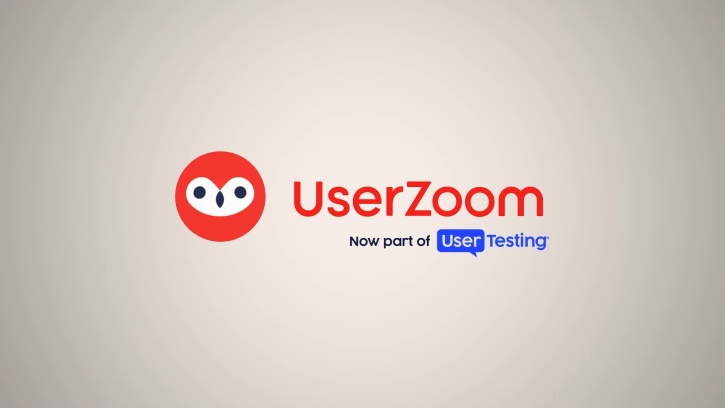 Why UserZoom?
Advanced UX research capabilities
Make confident, data-driven decisions by leveraging a suite of advanced, mixed-method UX research capabilities.
Quantify your impact
Measure and benchmark your digital experience with QXscore™, a standardized score of both behavioral and attitudinal measures of user experience so you can tie performance to business results.
Differentiate with design
Design experiences your users love through a deep understanding of their wants, needs, and behaviors.
Create accessible experiences
Ensure your digital experiences are accessible and useful to all users with access to diverse audiences.
Secure, safe data
Research with the confidence of knowing you have enterprise-level security for customer data with our SOC2 Type 2 certified, TRUSTe Privacy Seal, US-EU Privacy Shield, and HIPAA-compliant platform.
How it works
Design your study
Choose from the widest range of UX research methods on the market—from video-based usability tests to advanced methods like click tests, tree tests, and card sorts. You can combine multiple methods in one study to get more powerful and trustworthy results.
Recruit your target audience
Quickly fill your studies with top-quality participants from a global network of participants who have opted-in to provide feedback. Our machine-learning-powered distribution engine helps you find the right audiences using 200+ demographic filters for any type of test.
You can also invite your audiences through live intercepts or share a custom study link via email, text, Slack, and social media.
Seamlessly launch and schedule studies
UserZoom will automatically send study invites and reminders to participants. For moderated studies, invite your team to collaborate during sessions from a virtual observation room–completely out of sight from the participant.
Get automated insights
Accelerate your analysis with automated transcripts, synced playback, timestamped notes, and auto-generated charts and heatmaps. Involve stakeholders in the process by inviting them to view results in real time.
Evangelize insights
Use video clips, highlight reels, and quotes to create engaging and impactful narratives with your research insights and empower your team with the data they need to make quick, confident decisions.
Pricing to scale with your business
Whether you're an early-stage startup or an established enterprise business, we have the right plan to meet your needs and scale research across global teams as your business grows.
Solutions for every team
Researchers
Make user research faster, easier, and more inclusive for your entire organization.
Designers
Gather feedback, validate designs, and move projects forward quickly and efficiently.
Product managers
De-risk and prioritize product investment decisions with confidence.
Marketers
Improve digital experience, campaign, and brand performance.
Insights that drive business outcomes
Remote video URL

Remote video URL

Remote video URL
The world's most innovative companies trust UserZoom
"The combination of both rapid and qualitative research with remote testing at scale and quantitative metrics provides statistical significance for stakeholders."
"UserZoom is the high-performance supercar of research platforms. And you're just an incredible partner too. People are excited to use the tool and then they're also excited to get to talk to your UX research experts.
"UserZoom's research tools have transformed our delivery of insight, and our roles would be virtually impossible to perform without them. Outputs from our UserZoom testing help us positively impact the lives of our customers every day."