Every Tuesday, UserTesting's Research Team studies a different topic to share here on the blog. We hope you'll learn some nifty research techniques and get inspired to run some insightful tests of your own. Enjoy, and check back in next Tuesday!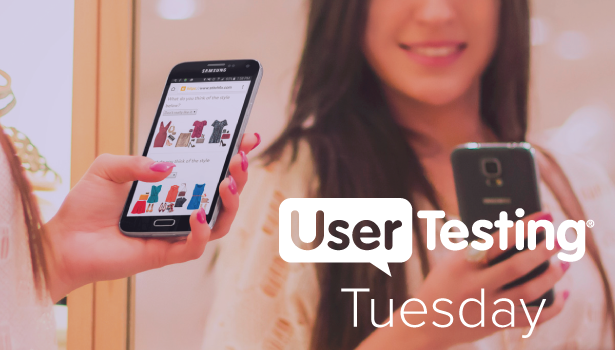 Personal styling used to be reserved only for those who could afford very expensive luxury services. Everyone else shopped in stores or online.
Stitch Fix is looking to disrupt that model. Branding itself as "the affordable and accessible personal styling service," the company fills a specific need: curated fashion choices for everyday women who are too busy to shop.
Along with similar subscription services like Trunk Club and Birchbox, Stitch Fix appeals to customers who want convenient, personalized shopping experiences.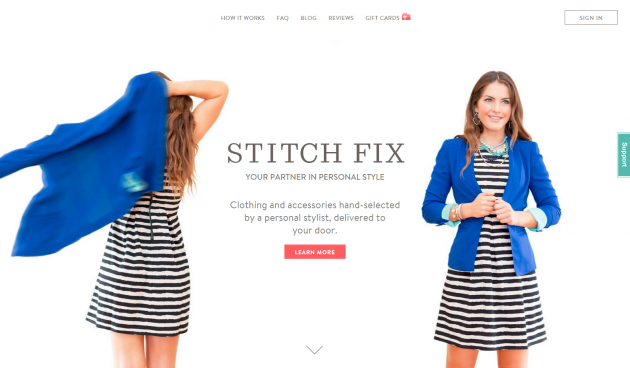 Stitch Fix offers affordable personal styling for women who don't have time to shop.
Here's how it works: the customer indicates her personal preferences online, the stylist at Stitch Fix ships a selection of items (a "fix") that match the customer's taste, and the customer keeps only the items she wants.
So does Stitch Fix actually fill a need in customers' lives? And is the customer experience good enough to keep shoppers coming back for more?
We wanted to see how real women use Stitch Fix from start to finish. We conducted a two-part study on desktop and mobile with four first-time Stitch Fix users.
Part 1: Setting up and scheduling a fix
At first glance, the test participants were interested and engaged with the Stitch Fix business model: Fill out your style profile, order a fix, and try on clothing at home. They appreciated the idea of Stitch Fix as an economical way to find clothing and get affordable personal styling.
To get started with Stitch Fix, customers fill out a Style Profile form: a series of questions about their sizing and their style preferences.
Overall, users were delighted by the detailed questions and thorough Style Profile form.
However, there were two confusing areas:
Terminology
Several sections of the Style Profile form used specific terminology that wasn't familiar to all users. For example, users were confused by the difference between "animal print" and "critter print" or what exactly was meant by words like "chic."
One user turned to Google to look up terms she wasn't familiar with. Another suggested including small illustrations to help users determine what styles they preferred or didn't.
Sizing
All users, at one point or another, were confused by sizing on the Style Profile. Some users didn't know their sizes for both letter (S, M, L) and number (size 0-12), and couldn't find a proper resource to find them. While Stitch Fix offers a sizing chart, it only includes letter sizes, not number sizes. Some just took a guess at their size to move on with the form.
Part 2: Receiving and unboxing the fix
The customer experience doesn't end after the purchase is made! In the second part of the test, we wanted to learn how users felt about the style and price of their items, compared with their expectations.
Convenience
Each Stitch Fix shipment comes with an info card illustrating suggestions for how to wear each garment in the fix. Our participants found the card helpful, with four participants rating it a 5 (very useful) on a scale of 1-5.
Returns
Users also loved that the shipment came with a prepaid shipping bag to return any unwanted items. They noted that this saves them a trip to the post office and eliminates the hassle usually involved in returning clothing.
Final thoughts
Stitch Fix presents itself as a convenient, affordable solution for women who don't have time to shop. However, the fashion terminology and sizing conventions could prove a bit confusing for customers who don't shop for clothes on their own very often.
Regardless, Stitch Fix's service is in high demand. For many customers, the delightful interface, personalized selections, and smooth ordering process give Stitch Fix a huge advantage over shopping in a crowded mall or scrolling through hundreds of items online!