Our fifth annual Customer Experience (CX) Industry Report shows that we're in the midst of a sea change in customer experience that spans all industries, roles, and company sizes. Understanding every customer touchpoint, reaction, and expectation has transitioned from being a cutting-edge advantage to a necessary part of every business decision. In fact, Forrester found that "improving CX improves profitability: the revenue growth of CX leaders is 5.1 times that of laggards."
To find out more about how organizations across a wide variety of industries are approaching customer experience and conducting CX research, we asked nearly 4,000 professionals in Product, Marketing, Design and other roles to tell us more.
In addition to an overwhelming consensus that great CX is critical to business success, the respondents expressed these key ideas:
Strong support for democratizing CX research
Fast human insight is so important that an overwhelming 90% want to empower employees throughout the company to conduct their own CX research.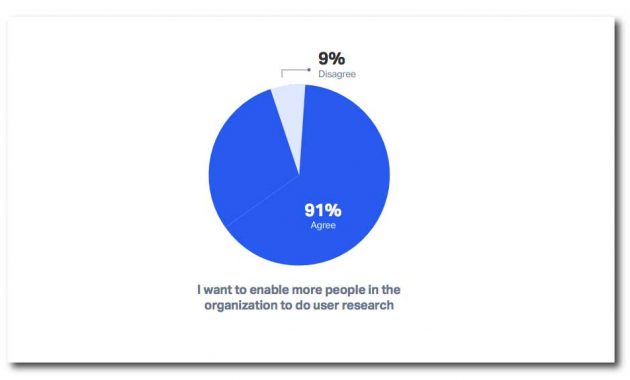 CX research grows far beyond usability
The number-one driver is understanding customers and their needs; followed by usability testing of websites, prototypes, and products; CX research on customer journeys; and benchmarking against competitors.

CX research frequency and budgets continue to increase
For the fifth year in a row, respondents reported that customer experience research is increasing. About half of companies reported the CX research budget increased last year, compared to 5% who said it declined.

Too much emphasis on quantitative data?
About half of respondents said their company puts too much emphasis on quantitative evidence when making business decisions. There are significant failure rates in quantitative testing (such as A/B tests) and surveys and analytics often fail to explain customer behavior.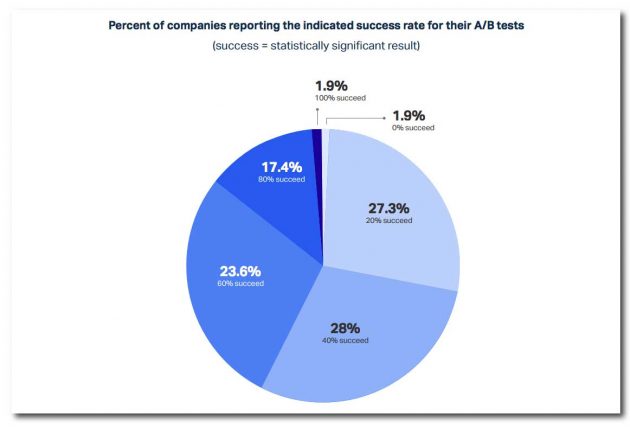 Artificial Intelligence (AI) most likely to impact CX
AI continues as a top technology trend, with over 60% reporting it will be the most important trend impacting customer experience over the next five years. Surprisingly, omnichannel experiences declined sharply since last year's survey. Download the full report to learn more.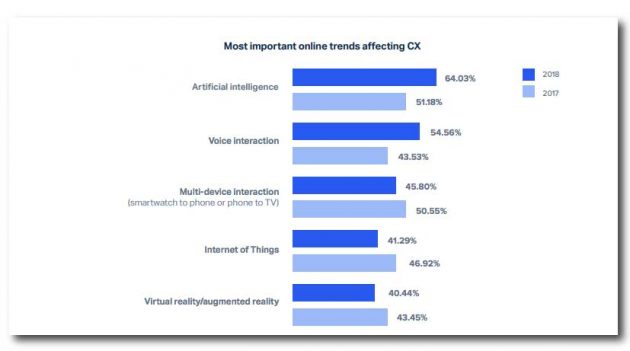 To learn specific trends by job discipline—including Product organizations, Marketers, Designers, and Market/UX Researchers–see the detailed findings section of the report. Download a copy of the full report, including charts, here.
In 2018, CX is front and center
This year we've seen a strong shift in thinking when it comes to customer experience. What was once a strategic advantage is now a necessary part of every business decision. What was once a function of a specialized few employees, is now being democratized and spread out across all departments and roles throughout organizations. The challenges companies are facing have transitioned from convincing teams and stakeholders of the importance of CX to finding ways to effectively integrate continuous human insights into daily processes.