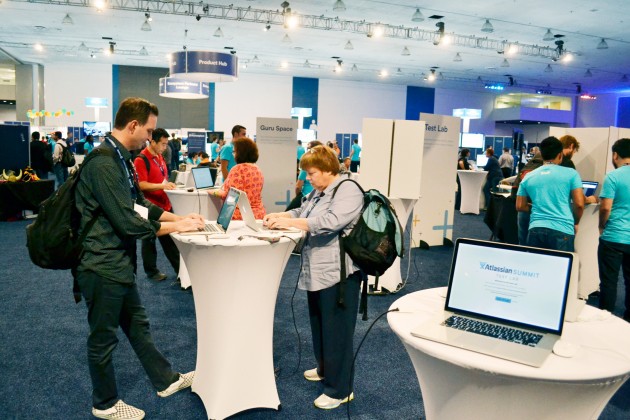 The challenge
Atlassian, the company that makes JIRA, Confluence, and other enterprise software, has a niche market. They need to be able to get user feedback on their products, but sometimes it can be difficult for them to find users from their target market to participate in tests.
The solution
A forum for user feedback
This year, Atlassian's annual client Summit brought over 2,100 Atlassian customers together for a 3-day experience. Finding target audiences for user testing their enterprise software can be tough going; but at Summit, they had everyone in one place.
Atlassian was looking for a way to collect actionable customer feedback and empower as many customers as possible to voice their thoughts and opinions on early- and late-stage features.
Welcome to the Test Lab
The Atlassian Test Lab, complete with kiosk stations, was set up to facilitate unmoderated sessions on-demand.
UserTesting's cloud-based solution enabled Atlassian's global team to resolve issues related to their studies on the fly. They could capture results, edit prototypes and scripts remotely, and make necessary adjustments to their tests, all without wasting their customers' time.
The result: over 200 test sessions
Atlassian collected actionable, meaningful feedback across 16 different usability tests. Among which, they validated late-stage features, like JIRA Agile reports.
The team even learned how they were using the wrong iconography for a high-profile campaign. They are now considering hosting a booth at other corporate events that they sponsor, like Getting Git Right, so they never lose a chance to gain customer feedback again.