Meet Mathilde Mouw. She grew up in Minneapolis and studied biology in college; however, after discovering a passion for coding, she decided to move to San Francisco for Dev Bootcamp. From there her career took off in ways she never imagined. She's been with UserTesting since January of 2016, where she began her journey as a Software Engineer and was recently promoted to Sr. Software Engineer.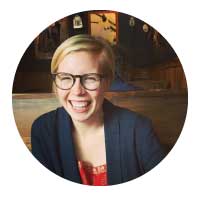 How did you get into coding?
I was studying biology in college and worked with a program called ArcGIS to create maps of geographical data. I quickly realized that if I wanted to get the most out of the program, I had to learn Python, which inspired me to learn how to code. Once I realized that I had a passion for learning more, I moved out to San Francisco for Dev Bootcamp. The program was 12 weeks of homework beforehand, followed by nine weeks onsite. I didn't really know anyone in the city, so I spent every waking hour on campus learning to code.
What was your first role at UserTesting and what are some of the things that you've worked on?
I was brought on as a Software Engineer. One of my first projects was helping to add SAML or single sign-on. Since then I've worked on our integration with Invision, balanced comparison, cleaned up a lot of technical debt, and now I'm working on the Slack integration which is really exciting!
How has UserTesting improved your Engineering skills?
The team I work with is really knowledgeable, and I learn from them every day. Pairing that with people who are more experienced than me has really helped me build a skillset.
  I've also learned a great deal from taking older parts of the product that haven't been worked on recently and adding new layers to it. This has really taught me the basics of how to clean up as you go, so products have a solid foundation, as opposed to creating teetering towers held together by chewing gum.
What's unique about working at UserTesting?
Having come from Dev Bootcamp and staying in touch with a lot of my fellow bootcampers, I have a lot of insight into other companies. I think that our team is unique because we are really focused on learning and growing, and having a good balance between shipping solid products and moving forward quickly, while still being able to grow and truly understand our code. The engineers I work with are really exceptional people. It's hard to find a place where people are so supportive of each other.
What was the most challenging project you've worked on and what was the biggest lesson you've learned from that?
Working on our new study launcher really stretched my skill set because I hadn't worked on a big product launch from its conception. That was also my first time working closely with the product and design team. Their approach is to consider the brand and push the limits of what's possible and interesting, whereas an engineer has to bring it back to what's feasible. I hadn't worked as much with that side of the product team before which was really enlightening. It helped me view their jobs differently and discover ways that we could collaborate on our approaches.
What advice would you give to someone who is looking to get into Engineering?
My best advice is to find an environment that works for you, and that's supportive. You can get familiar with coding, but if you're interacting with unsupportive people who don't respect your knowledge, you're not going to grow and get better.